Student art exhibit joins fight to end violence against women
News Desk

The Jakarta Post
Jakarta |

Sun, December 2, 2018

| 02:08 pm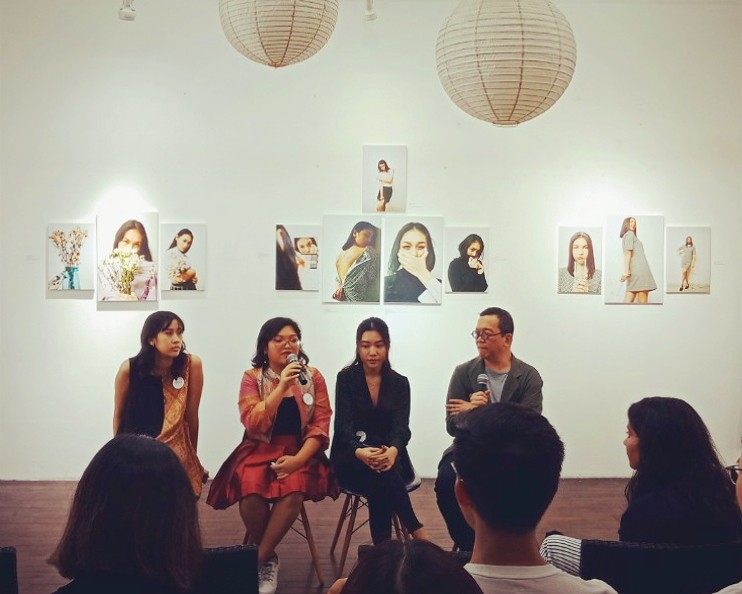 Jakarta Intercultural School (JIS) students (from left) Riandara Pratama, Dewi Sofia Laurente and Joyce Tan take part in a discussion mediated by curator Amir Sidharta. (JP/Ana Cecilia Regalado)
Twelve students from the Jakarta Intercultural School (JIS) recently held an exhibition in collaboration with the National Commission on Violence Against Women (Komnas Perempuan) and Indonesia for Humanity (IKA).
The latter is the initiator of Pundi Perempuan (Women's Savings), a public funding program that supports the Women's Crisis Center (WCC).
Titled Lantern, the group exhibition displayed thought-provoking works in a variety of artistic media, including photography, sketches, paintings and 3D art, at D'Gallerie in South Jakarta from Saturday to Monday.
Through the works, the students expressed their concerns about violence against women to raise awareness on Komnas Perempuan among the younger generation.
Social Affairs Minister Agus Gumiwang inaugurated the exhibition and said that in 2017, the number of reports of violence against women in Indonesia had increased from 259,150 to 348,446.
"Showcasing sensitive issues such as violence against women in the form of art allows us to teach without sounding preachy or proud," Agus said at the event.
Read also: Violence against women, children in Jakarta mostly carried out by youths: Report
Riandara Pratama, co-founder of the Lantern Project, which initiated the exhibition, said that Lantern was a social initiative dedicated to empowering women through different forms of art. She also thinks that organizing the exhibition was important to her as a global citizen.
A high school senior at JIS, Riandara also took part in the exhibition by displaying a series of photographs-on-canvas created using 35-millimeter film, one of which was titled "A Woman's Superhero Mask", which depicts a young woman applying concealer over a black eye.
Meanwhile, Cheryl Melwani, also a co-founder of the Lantern Project, conceded that she had heard rumors of women being undermined or abused in her own community.
"Boys have come up to me saying that my dreams of becoming an international lawyer specializing in human rights were ridiculous because all I was meant to be was a housewife," she said.
Komnas Perempuan chairwoman Azriana Manalu explained that in her experience, youths who grew up in a stable environment are less likely to struggle firsthand with issues such as violence or abuse.
"To think of bringing this issue up in the form of an art exhibition where it can receive a lot of exposure is incredible to me," Azriana said of the exhibition.
Proceeds from the exhibition will go to Pundi Perempuan to support the organization's efforts in protecting abused women. (acr/mut)
Join the discussions