EDITORIAL: Consolidating state companies
EDITORIAL

The Jakarta Post
Jakarta |

Mon, November 27, 2017

| 08:02 am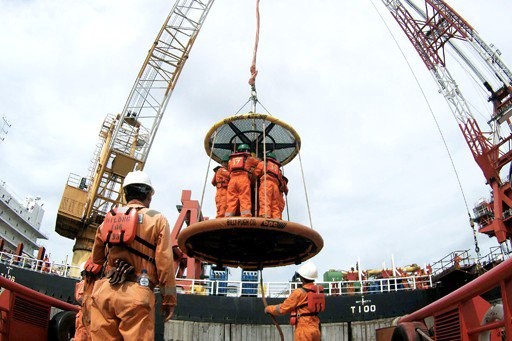 Back to work: Pertamina Hulu Energi West Madura Offshore (PHE WMO) workers are moved in a personnel basket from a ship to the company's oil rig off the coast of Madura Island in East Java. (JP/Wahyoe Boediwardhana)
It is encouraging to learn that the government will accelerate the reform of state-owned enterprises (SOEs) by consolidating SOEs in similar business lines. Two holding companies are expected to be established before the end of this year: one for SOEs operating in mining and the other for oil and gas industries. Four more holding companies are to be set up next year in financial services, public housing, construction and toll road development.
While not a great feat in itself, if this small target is achieved, it will still be rather impressive, because over the past 19 years only two holding companies — in the fertilizer and plantation industries — have taken shape. Then-president Soeharto merged two state-owned cement companies into PT Semen Gresik in 1995, but only after 2012 was it able to operate as a holding company under the new name PT Semen Indonesia.
That shows how challenging the consolidation effort is, mainly because of opposition from vested interest groups in the bureaucracy and at the House of Representatives that wish to keep SOEs as their cash cows. President Joko "Jokowi" Widodo has, however, given SOE Minister Rini Soemarno a strong mandate to push ahead with the consolidation process.
Most analysts agree that consolidating SOEs operating in similar business lines into holding companies will improve efficiency, create stronger synergy in production, marketing, procurement and financing and strengthen internal control.
The objective of the whole consolidation is to eventually streamline SOEs, so that their total number could be slashed from more than 150, including subsidiaries, at present. If the program succeeds, the SOE Ministry will no longer be necessary. In its place, we would have at the most a dozen holding companies, like Temasek in Singapore and Khazanah in Malaysia.
Certainly, the consolidation effort requires a set of corporate actions, such as due diligence on the holding companies' formation and structure, benchmarking holding companies to similar corporations at the global or regional level and new tax audits etc. The government also should see to it that the new structure would not lengthen decision-making processes, thereby rendering SOEs less able to adjust to changing environments. Holding companies should not maintain virtual monopolies or oligopolies at the expense of sound competition.
But the most sensitive and daunting aspect of the process is to convince politicians and trade unions of the gains of the reform, explaining that employees would also benefit, as SOEs managed and supervised under holding companies would be more efficient and competitive than ever before in the domestic and global market.
Such a persuasive campaign is needed, because consolidation, like most reforms, always initially has destabilizing impacts, as redundant employees and complacent managers at inefficient companies are afraid of losing jobs, and many senior officials with political power over SOEs are worried about losing their cash cows.
What we badly need is the consistent leadership of President Jokowi to maintain a strong and broad legal and political framework for the reform process and provide clear-cut guidelines and transparency in structuring the holding companies.
Topics :
Join the discussions