EDITORIAL: Time for recovery in oil industry
EDITORIAL

The Jakarta Post
Jakarta |

Fri, May 4, 2018

| 08:09 am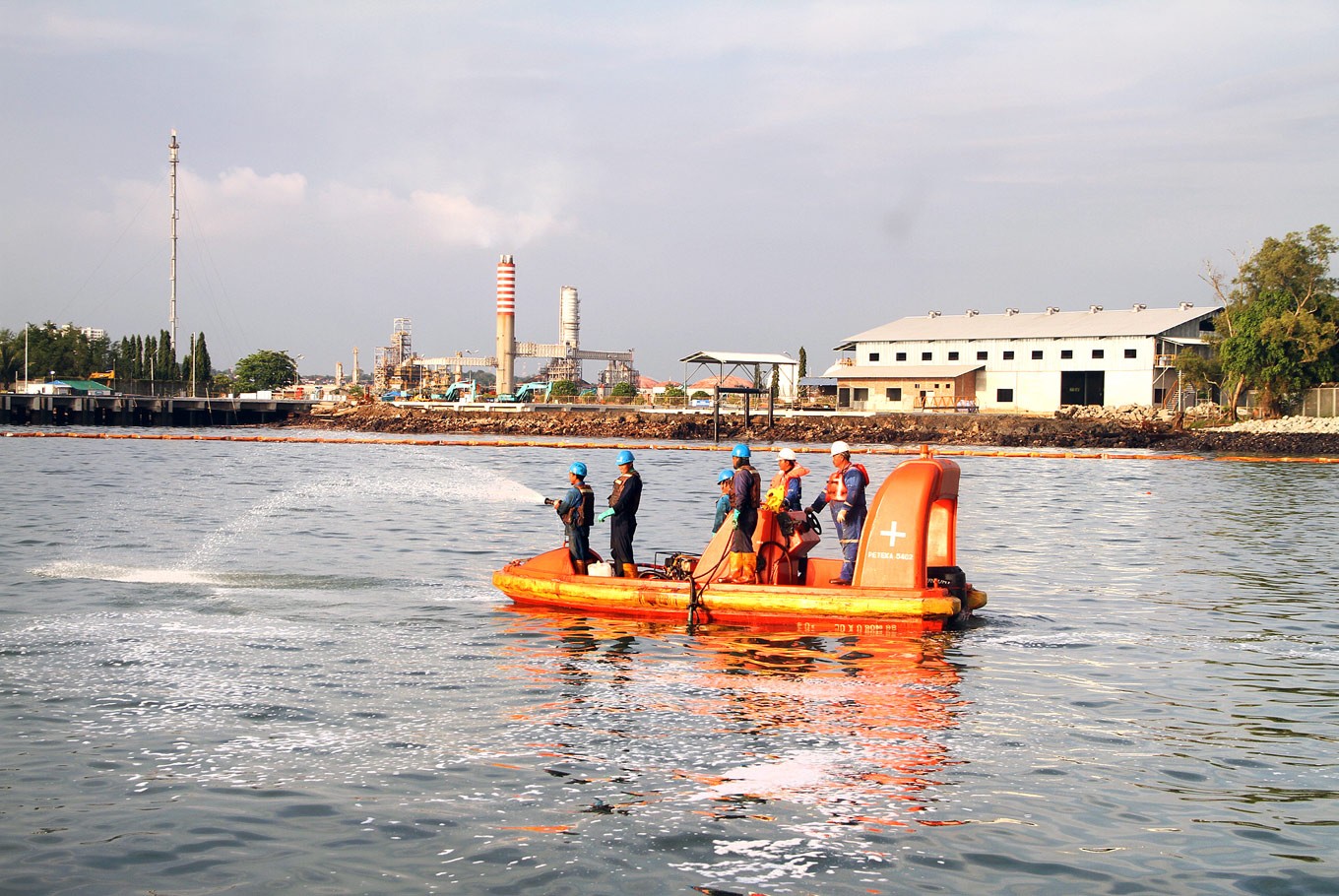 Cleaning up the mess: Officials from state-owned oil and gas company Pertamina spray dispersant fluid to clear an oil spill in Balikpapan Bay, East Kalimantan, last week. The oil reportedly leaked from a broken pipe belonging to Pertamina. (JP/N. Adri)
The surge in crude oil prices in recent months has contributed significantly to the rise in investment in oil and gas exploration in Indonesia after two years of slowdown in the industry. Brent crude oil futures averaged US$75 per barrel last week, soaring by about 170 percent from the lowest level in early 2016. Although the current price is still far from the historic high of $115 per barrel recorded in early 2014, many analysts predict the upward trend in crude oil prices will continue.
On the back of the promising crude oil price outlook, the Energy and Mineral Resources Ministry has set a target for investment in the oil and gas sector to reach $17.04 billion this year. Investment in oil and gas plunged to $17.38 billion in 2015 and to $12.74 billion in 2016 from $20.72 billion in 2014. The sector recorded its lowestever investment figure in 2017 at only $7.98 billion.
The drop in investment has contributed to the sharp decline in the country's oil production, which currently totals only around 800,000 barrels per day (bpd), less than half of the peak level of 1.7 million bpd recorded in 1974.
The surge in crude prices provides an opportunity for the government to attract new investment into the oil and gas sector. However, it will be difficult to convince investors if no significant improvements are made to oil and gas policy. In fact, the ministry has revoked dozens of regulations, believed to have impeded exploration activities, in order to speed up business licensing processes.
However, in addition to simplifying the business permit process, the government also needs to further improve its fiscal policy, either for existing oil and gas wells or for new exploration activities, to improve efficiency. More effort is needed to make the country's oil and gas sector more competitive.
These challenges and opportunities facing the country's oil and gas sector are addressed in the agenda of the 42nd annual Convention and Exhibition of the Indonesian Petroleum Association (IPA) now underway at the Jakarta Convention Center.
Themed "Driving Indonesia's Oil and Gas Competitiveness", the annual oil and gas event was opened by President Joko "Jokowi" Widodo on Tuesday. Set to conclude on Friday, the convention and exhibition provides a forum for the government to listen to and identify the problems investors face in the field.
In his address, the President encouraged the oil and gas community to use the convention as a forum to share their experiences and the problems they faced in their respective businesses.
The President may have offered assistance, but the question is whether the bureaucracy governing the oil and gas sector shares and can realize this commitment. Inconsistent regulations, compounded by low crude oil prices, has rendered the country's oil and gas industry unattractive for investment.
The strengthening crude price provides an opportunity for recovery that Indonesia cannot afford to miss.
Topics :
Join the discussions