Blasphemy Law's victory
Editorial Board

The Jakarta Post
Jakarta |

Fri, July 27, 2018

| 08:14 am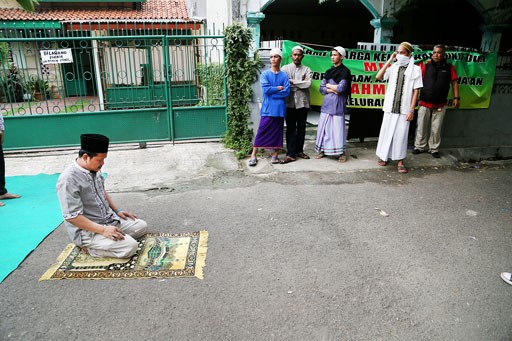 An Ahmadiyah follower says Friday prayers on the street in Bukit Duri Tanjakan, South Jakarta, on Friday, June 12, 2015, while several local people look on. Later the local people forced the Ahmadiyah practitioners to disperse from the area. (JP/P. J. Leo)
The Constitutional Court ruling announced on Monday assures the majority of its undisturbed right to worship, as the court rejected a judicial review petition to strike down the 1965 Blasphemy Law.

The review was filed by nine Ahmadis from West and Central Java who claimed the law violated their constitutional right to freedom of religion. The ruling is lamentable — but could we have expected anything different?

This was the third attempt to annul the law, issued under then-president Sukarno's period of martial law, when the state faced a number of armed resistance movements. In 2009, the court upheld the 1965 Law while a Shiite leader also failed to have it annulled.

The court's most recent unanimous ruling was backed by a similar reasoning: that the law does not violate the Constitution and that the country would be even more chaotic without a law that defined blasphemy, however vaguely, and that complaints about the law are "merely a matter of implementation and not a matter of the constitutionality of the law's norms".

Unsurprisingly, minorities are very confused. The court failed to recognize that local public order authorities and police have largely stood by the closing, vandalizing and razing of churches and mosques, and forced eviction of minority faith followers — as they cite bylaws restricting these communities based on the 1965 Law.

Extreme examples include the 2011 murders of three Ahmadi members in Cikeusik, Banten, which instead led to a provincial bylaw banning the Islamic minority, based on a government regulation restricting propagation of their belief — which itself is based on the Blasphemy Law.

Other examples are the persecution and eviction of Ahmadi communities of West Nusa Tenggara, which has continued under so-called "moderate" Islamic leader Governor M. Zainul Majdi, popularly known as Tuan Guru Badjang.

To fundamentally change things, minority groups need creative campaigners to shape public awareness about glaring injustices against fellow Indonesians behind the national refrain of Bhinneka Tunggal Ika (Unity in Diversity) and equality for all as touted in the Constitution.

As it stands, the mainstream Islamic majority has its religious interpretations uncontested as anything different is "blasphemy". The Court stated that the law should indeed be revised to be made clearer.

At least now law enforcers should restrain people from taking the law into their own hands. They should also ensure non-discrimination in public services for all citizens regardless of their faith, including freedom of worship.

Of course, this includes ending the persecution of minorities. While eyeing a second term, President Joko "Jokowi" Widodo should not turn a blind eye to entire families and communities who are homeless just because of their different faiths and entire congregations with nowhere to hold their religious services.

A more creative group should also learn to strategize better, to win one more battle for a nation priding itself on pluralism.
Topics :
Join the discussions