Why assessing your staff's English-language skills can help you expand your business globally
---
English is regarded as the international language of business, so for organizations seeking to integrate into the global business community, having a workforce with strong English-language skills is essential.
But are businesses in Indonesia truly committed to developing English-language proficiency in the workplace?
The findings of a recent global survey conducted by Educational Testing Service (ETS), the creator of the TOEIC® tests, and Ipsos Public Affairs suggested that they are, but also highlighted areas for improvement.
72 HR decision makers from multinational organizations based in Indonesia took part in the study, and their answers revealed a concerning trend. While many businesses provide formal English-language training to employees, a considerable proportion miss the opportunity to assess workers' competence upon completion. This difference is known as the assessment gap.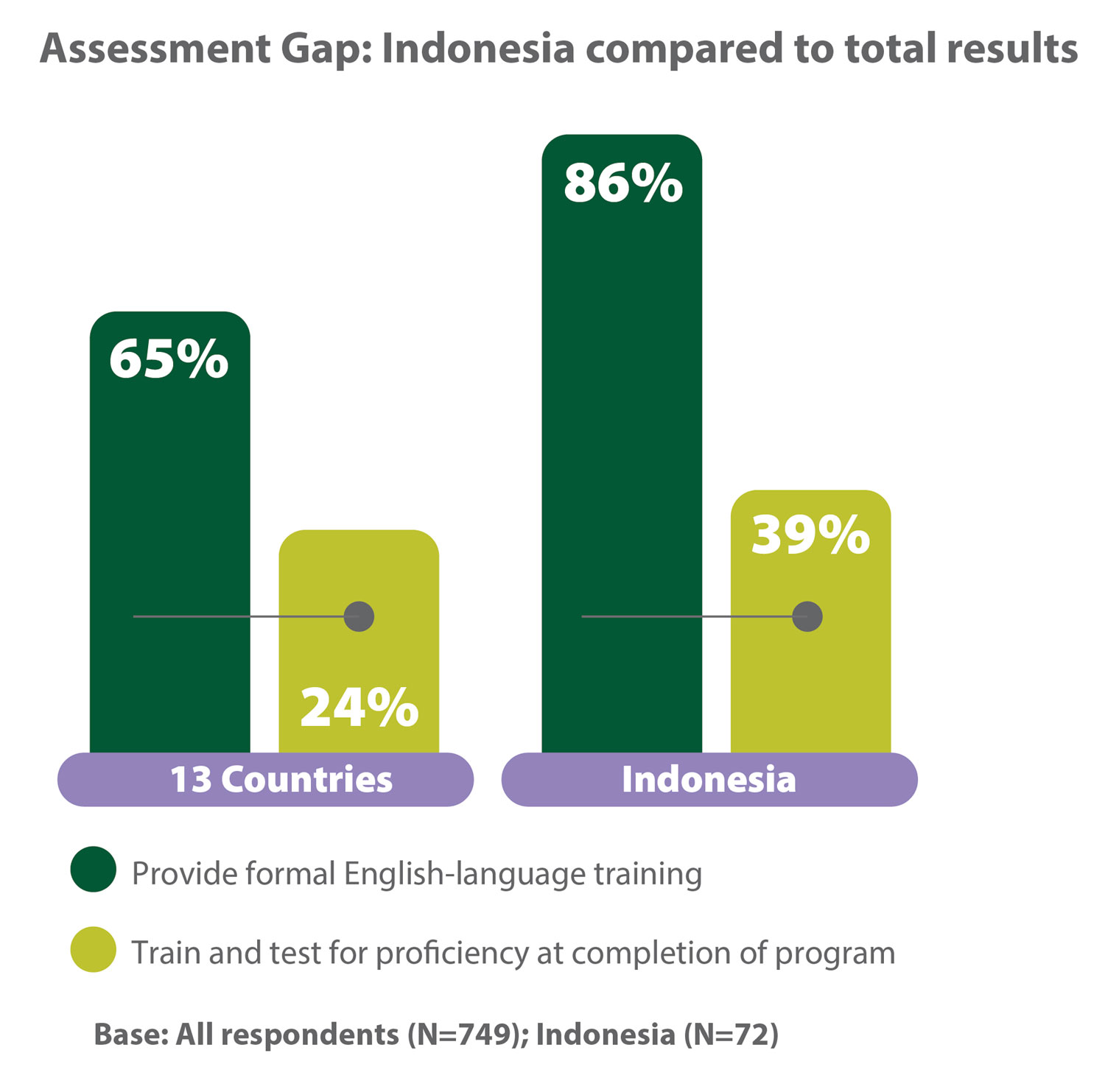 86 percent of respondents provide formal English-language training, but only 39 percent assess their workforce at the end of the training. This means almost half of the respondents – 47 percent – do not have a full picture of their employees' communication skillset.
If companies assume that employees possess the English-language skills they need for their role, simply because they have undergone training, they run the risk of overestimating their staff's proficiency levels. This can lead to misunderstandings and miscommunications with partners and clients, and even lost business. Also, companies that do not assess their staff cannot easily evaluate the effectiveness of their English training program. Not being able to evaluate the program's effectiveness means not understanding its value.
Forward thinking businesses know that to take advantage of the opportunities that globalization presents, staff must be able to communicate effectively in English.
With 86% of respondents providing staff with formal English-language training (21% higher than the global average), Indonesian businesses clearly understand the value in English proficiency. However, the survey's findings also revealed that many Indonesian organizations have an excellent opportunity to improve proficiency levels with a more complete approach to training.
Standardized testing is an important part of the solution. Research-based assessments help verify the effectiveness of training programs, so organizations can feel confident in their staff's English communication skills. Furthermore, standardized assessments can help ensure that the right people are in the right roles, improving performance in the global market and driving organizational growth.
High quality standardized tests give organizations the data they need to make the best HR decisions, and prove the value of their English training programs.
To learn more about the benefits of standardized testing and how it can help your organization integrate more fully into the global business community, download the Global Markets, Global Standards eBook http://toeicglobal.com/globalstandards/.
For over 35 years as industry leader, the TOEIC® program has set the standard for assessing English-language communication skills needed in the workplace. With about 7 million tests administered every year, the TOEIC® tests are the most widely used worldwide with 14,000+ organizations across more than 160 countries trusting TOEIC® scores to make talent decisions.
To find out more about how the TOEIC® program helps businesses build a more effective workforce, visit www.TOEICglobal.com.
Copyright© 2018 by Educational Testing Service. All rights reserved. ETS and TOEIC are registered trademarks of Educational Testing Service (ETS) in the United States and other countries.