Cultural significance in maritime spice trade
Jalur Rempah

The Jakarta Post
Jakarta, Indonesia |

Fri, October 13, 2017

| 12:15 am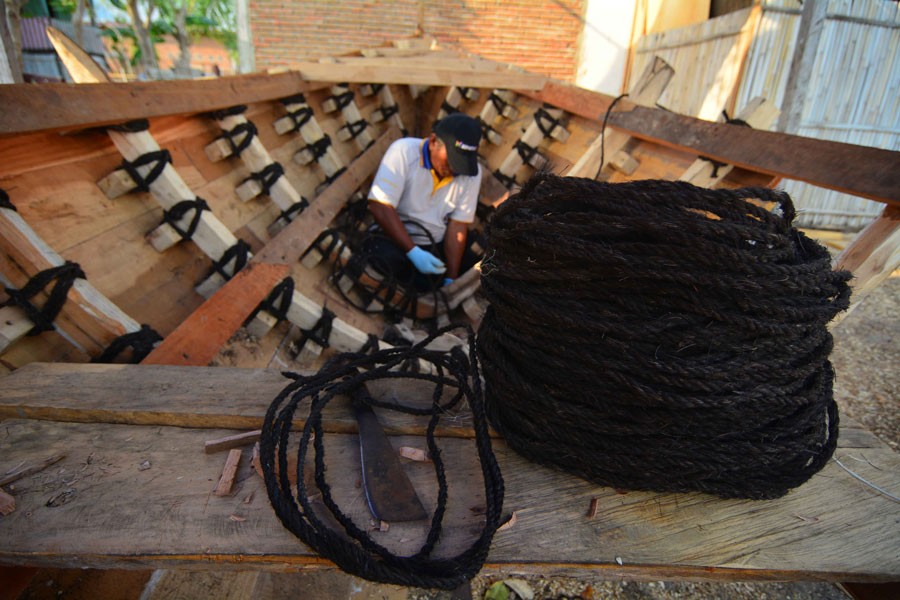 Hands on: A worker constructs the frame of a padewakang ship, traditionally designed by the people of Sulawesi. (Courtesy of Muhammad Ridwan Alimuddin/.)
Maritime trade involving spices and other commodities along the Sriwijaya Kindom's route from the 7th century to around the 12th century, turned out to be fertile ground for cross-cultural exchange among its traders.
National Archaeology Center researcher Bambang Budi Utomo pointed out that maritime trade of the era produced what is known to be Southeast Asian ship technology, which was discovered in what are now Indonesia, Malaysia and the Philippines.
"The Southeast Asian technology showcases advancement in terms of maritime technology. Prior to these Southeast Asian ships, which were discovered around the 6th century, vessels were manufactured by digging out timber. The dugout method was inefficient because the size of the ships would be limited by the size of the timber," Bambang explained.
The more advanced Southeast Asian ship technology uses ropes made of palm fibers to connect many separate pieces of timber, resulting in much larger ships. This is called the sewn-plank and lashed-lug technique.
Buddhism and Islam also made their way into Sriwijaya through the maritime trade. Bambang said Indonesia's Islam embodies the Shia tradition brought over by Persian traders.
"We can see the influence from rituals such as thanksgiving involving the birth of a baby, the Maulid Nabi celebration, as well as the sacredness of the month of Muharram in the Islamic calendar, when people fast [on the 10th day]," he added.
Indonesia was also actively involved in contributing to the global cultural scene embodied by Buddhism at that time.
"Indonesia built three sacred temples in what is now known as the Nakonsitamarat area of Southern Thailand [previously known as Wat Sema Muang], around the 8th and 9th centuries. Sriwijaya also played a part in constructing a boarding house for foreign students who studied Buddhism in the Nalanda University in India," he said.
The cultural significance of the spice trail does not stop at the fluid interaction of different cultures and beliefs in ancient times. In the present, the spice trail could also be used to promote Indonesian food, arts and culture.
The Culture and Education Ministry's general-director of culture, Hilmar Farid, said that the ministry had a mission to nominate the spice trail to be recognized as a United Nations Educational, Scientific and Cultural Organization (UNESCO) world heritage site.
"Currently, many city administrations in Indonesia want to nominate either a building or a site as a world heritage. Actually, we want to propose the spice trail to represent our common heritage, to strengthen our attempts at preserving it. The question is: what is our common heritage? To determine this, we need to undergo research studies, which require energy and time," he said.
Hilmar conceded that it may take some time for the spice trail to be acknowledged as a world heritage site, as the recognition process would involve marking the long route.
The first step toward creating awareness about the spice trail's history will involve a number of napak tilas (public journey), spanning from Southeast Asia to South Asia. — JP/Sebastian Partogi

. (./.)
You might also like :