Policymakers must regulate fintech to minimize risks, maximize contribution to society

Jakarta, Indonesia |

Sat, May 12, 2018

| 12:03 am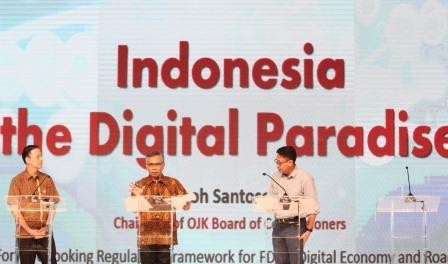 Regulatory framework for FDI: Financial Services Authority (OJK) chairman Wimboh Santoso (center) speaks at the first Next Indonesian Unicorn (NextICorn) Summit in Nusa Dua, Bali, on Thursday, accompanied on stage by Investment Coordinating Board (BPKM) chairman Thomas Lembong (left) and Bank Indonesia's head of Payment Systems Policy Onny Widanarko. Wimboh spoke on the regulatory framework for foreign direct investment (FDI) in the digital economy (JP/Zul Trio Anggono)
Sebastian Partogi
The Jakarta Post/Nusa Dua, Bali
Policymakers and regulatory bodies must formulate regulations to make sure that the financial technology (fintech) sector complies with security standards as well as contributes to society's greater good.
That conclusion was reached by a group of panelists comprising Investment Coordinating Board (BKPM) Chairman Thomas Lembong, Financial Services Authority (OJK) Board of Commissioners Chairman Wimboh Santoso as well as Bank Indonesia (BI) Governor Agus Martowardojo -- who was not present during the event but had his statements read out by a BI representative -- during a discussion on fintech regulation during the Next Indonesian Unicorn International Summit on Thursday.
The summit was organized by the Indonesian Venture Capital and Startups Association (Amvesindo) and the Ministry of Communications and Information and held at the Bali Nusa Dua Convention Center in Nusa Dua, Bali, from May 9 to 10.
The first summit of its kind, which providing a communication platform for Indonesian digital start-up companies and international investors, attracted around 70 local start-ups and around 70 international venture capitalists -- from countries such as China, India, the United States and Singapore.
Throughout the summit, over 1,023 meetings took place between local businesses and foreign venture capitalists to explore cooperation opportunities.
The growing fintech sector comprises, among other things, people-to-people lending as well as crowdfunding platforms.
"Regulators and policymakers must understand how the digital economy works, so we can manage the risks associated with the fintech sector," Wimboh asserted.
He explained that the biggest risk for the fintech sector was that these companies, due to a lack of transparency, could create one-sided benefits at the expense of a wider public.
He added that fraud and financial failure remained the greatest risks, which could cause the wider public to suffer.
According to Thomas, policymakers tended to be slow in responding to the rapid changes in the digital economy.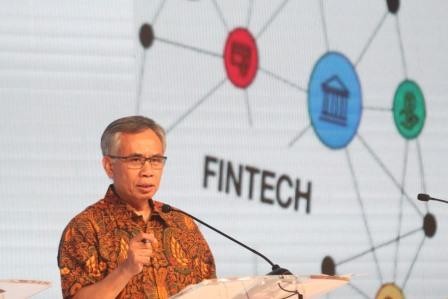 Making a point: Financial Services Authority (OJK) chairman Wimboh Santoso speaks at the first Next Indonesian Unicorn (NextICorn) Summit in Nusa Dua, Bali, on Thursday. (JP/Zul Trio Anggono)
"Therefore, regulators across the world have to constantly communicate with one another [to keep abreast of the latest trends in the fintech sector]. This is a lesson from the 2008 financial crisis, that a collapse of the banking system in one place would create a domino effect elsewhere," he said.
According to Wimboh, regulatory bodies and policymakers, including the OJK, could come up with relevant policies on the fintech sector by engaging with business players as well as other stakeholders. The regulations, however, needed to adhere to a number of principles, he added.
"The first principle is fairness, so the fintech companies would not abuse users. They must be transparent to their customers, so that by the time these customers decide to buy one of their products, the customers have already understood and assessed the risks brought by these products," Wimboh said.
He added that since investors also bore the risks in funding these fintech companies, the companies also had to be transparent to the investors, to allow the investors to hold them accountable for possible failures.
"For instance, people-to-people lending platforms must disclose not only their pricing mechanisms but also verify their borrowers' identity […] to guarantee their system's safety," he explained.
According to Wimboh, another important fintech regulatory principle was that policymakers should always bear in mind is that the sector must contribute to the improvement of society as a whole.
In his statement, read out by the BI representative, Agus, also acknowledged that the fintech sector could disrupt the labor market, thereby worsening socioeconomic inequality.
To avoid some of the negative and disruptive social impacts of the fintech sector, Agus suggested that conventional banks and fintech companies work together to find middle ground in their operations to create prosperity for the country.
Wimboh added that, while it would take some time for Indonesia to really synchronize its fintech regulations with those of the world, the country's government could start by discussing with its Southeast Asian counterparts first.
According to him, when regulated properly, the fintech sector could benefit society in a number of ways, especially in terms of financial inclusion.
"Indonesia is a scattered island country; fintech could help people in remote areas who can't access financial services and therefore are very poor. With the help of the internet, we can reach these people without having to be present physically in cities where they live," he said.
"Through fintech, small and medium enterprises (SMEs) could also benefit from crowdfunding mechanisms and [online] distribution channels," he explained further, adding that 70 percent of Indonesia's 50 million SMES were unable to get funds from conventional banks.
He said he believed fintech could help Indonesia absorb more people into the workforce through the SMEs, while helping the enterprises reach more customers through enhanced online presence.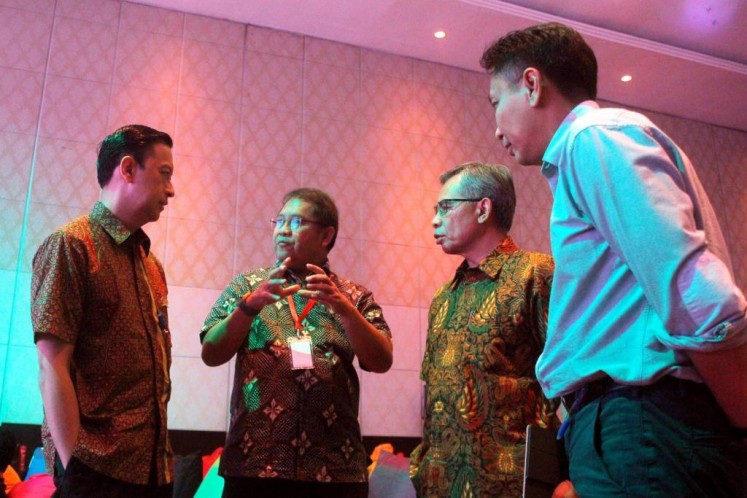 Big talk: Investment Coordinating Board (BPKM) chairman Thomas Lembong (left to right) in discussion with Communications and Information Minister Rudiantara, Financial Services Authority (OJK) chairman Wimboh Santoso and Bank Indonesia's head of Payment Systems Policy Onny Widanarko at the first Next Indonesian Unicorn (NextICorn) Summit in Nusa Dua, Bali, on Thursday. (JP/Zul Trio Anggono)
Meanwhile, Communications and Information Minister Rudiantara said his ministry had taken a number of actions, including simplifying digital business registration procedures, to help local startups, including fintech, and make maximum social impact.
"For example, previously the ministry had 40 ministerial regulations [on digital business registration], and we have condensed them into only one regulation. Whereas previously the ministry had 35 types of [digital business] permits, we have condensed them into only five types," he explained on the sidelines of the summit.
"We have also shortened digital business registration processes and made them more efficient. For instance, instead of sending your product to our ministry's laboratory to be examined, you could do it in your own laboratory and send the results to us to be analyzed instead," he added.
According to Rudiantara, the procedural simplification has made digital business registration faster.
"If you started the process before 12 p.m., you would have your permit issued by late afternoon," he said.
He added that the ministry strove to shift its paradigm from being merely a digital economy regulator, but also to become a facilitator and accelerator as well.
According to him, the ministry fulfills its facilitator role by organizing platforms like this summit, catalyzing engagement between local startups and foreign investors.
You might also like :