Police pursue possible blasphemy charges against Gafatar leaders
Elly Burhaini Faizal

The Jakarta Post
|

Mon, March 21, 2016

| 09:36 pm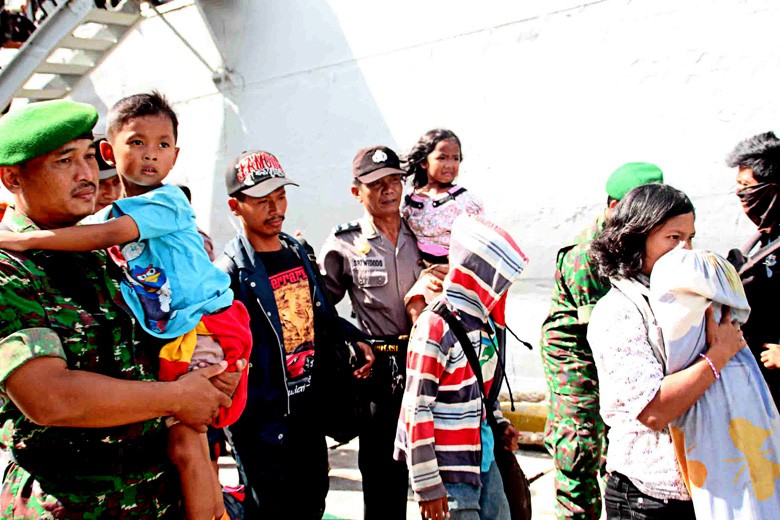 Heretical?: Indonesian Military and National Police personnel help Fajar Nusantara Movement (Gafatar) followers disembark from a naval vessel that transported them from Pontianak, West Kalimantan, to Tanjung Emas Port in Semarang, Central Java, on Jan. 25. The National Police are attempting to build a case of blasphemy and religious defamation against the movement's leaders. (thejakartapost.com/Suherdjoko)
Investigators of the general crimes directorate at the National Police Criminal Investigation Corps (Bareskrim) are looking to establish legal grounds on which to ascertain whether leaders of the Fajar Nusantara Movement (Gafatar) committed blasphemy and religious defamation.
The police's general crimes director, Brig. Gen. Agus Andrianto, said police investigators had last week questioned two witnesses, comprising an expert from the Religious Affairs Ministry and another from the Indonesian Ulema Council (MUI).
"From the results of our further investigation into the two witnesses, hopefully it's getting clearer to our investigators whether blasphemy and religious defamation occurred in the Gafatar case," said Agus as quoted by kompas.com on Monday.
Despite the information obtained from the expert witnesses, Agus said, the police had yet to name any suspect in the case. Naming suspects in cases of blasphemy and religious defamation was different to other cases, he noted, and required a specific strategy.
While questioning expert witnesses, Agus said, the investigators were also continuing to seek evidence in Central Java, East Java and West Kalimantan.
"The investigation process at Bareskrim and in various areas is ongoing, simultaneously and in synergy," he said.
The police began to look into possible blasphemy and religious defamation committed by Gafatar leaders earlier this month. Their investigation into the case was based on a report submitted by a person initialed MH on Jan. 4. The Gafatar leaders are also accused of plotting to usurp the government, police investigators having found documents detailing the movement's eventual government structure, including ministers and president.
"We've found evidence that suggests designs on government," Bareskrim chief Comr. Gen. Anang Iskandar said as quoted by kompas.com on Feb. 4. Apart from documents on Gafatar's Cabinet structure, several notes containing the core teachings of the movement were also found in the police raid.
However, Anang, said the investigators still needed to examine further, including questioning expert witnesses, and this might take time. "We are still constructing the case. We will see later on whether or not the aspects of blasphemy and religious defamation hold water." (ebf)
You might also like :
Comments