Jokowi plays virtual ping-pong with Facebook founder
Anton Hermansyah

The Jakarta Post
Jakarta |

Mon, March 21, 2016

| 09:36 pm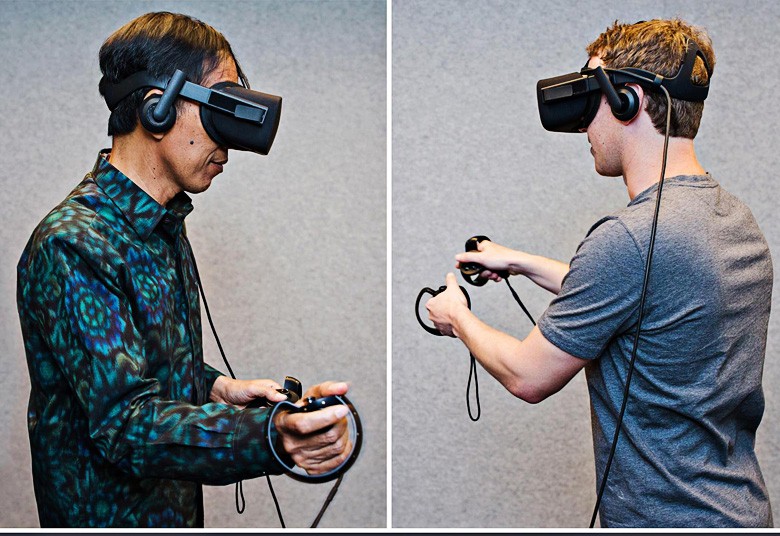 President Joko "Jokowi" Widodo and Facebook founder Mark Zuckerberg play zero-gravity ping-pong on virtual-reality headset Oculus Rift. (Courtesy of Facebook/Mark Zuckerberg/-)
Facebook founder Mark Zuckerberg invited President Joko "Jokowi" Widodo to join him for a game of zero-gravity ping-pong on a virtual-reality headset called Oculus Rift on Wednesday.
Following the US-ASEAN Summit, Jokowi visited three major IT companies - Google, Twitter and Facebook - on Wednesday. Zuckerberg welcomed Jokowi's visit by giving the President a tour of Facebook headquarters and asking him to play ping-pong in zero gravity through the virtual reality device.
"President Joko Widodo of Indonesia visited me at Facebook HQ today. We had a great meeting -- and then we played ping-pong in zero gravity in Oculus!" Zuckerberg said in his Facebook page on Wednesday.
Scheduled to be launched on March 28, the Oculus Rift is long awaited by the public, especially gamers, as it offers a new sensation in gaming. The development kits, DK1 ( 2012 ) and DK2 ( 2014 ), which were given to developers for testing, have also been in great demand among technology enthusiasts.
Founded in 2012 by Palmer Luckey, who was born in 1992, Oculus VR was bought by Facebook in 2014. The deal was reportedly valued around US$2 billion. In January 2015, the Oculus VR office was integrated to Facebook headquarters in Menlo Park.
Zuckerberg also recalled his first encounter with President Jokowi. "I first met President Widodo [sic] in Jakarta a couple of years ago when he took me on one of his famous impromptu walkabouts -- or "blusukan" -- where he meets and connects directly with people all around his country. We went to a market together and were immediately surrounded by hundreds of people. It was one of the most memorable experiences of my life," he wrote.
Along with the Oculus demo, Zuckerberg and Jokowi discussed ways to work together to increase connectivity and extend the opportunities of the Internet for Everyone program (Internet.org) in Indonesia. The Facebook founder promoted the program during his 2014 visit to Indonesia, during which he also carried out a private trip to Borobudur temple in Magelang, Central Java, and Yogyakarta.

"It was an honor to host President Widodo [sic] and great to see him again. My last visit to the country was special for me and I can't wait to travel there again," Zuckerberg said. (ebf)
Topics :
You might also like :
Comments