UNICEF kicks off musical campaign to raise spirit of giving
thejakartapost.com

The Jakarta Post
Jakarta |

Sat, April 23, 2016

| 11:51 am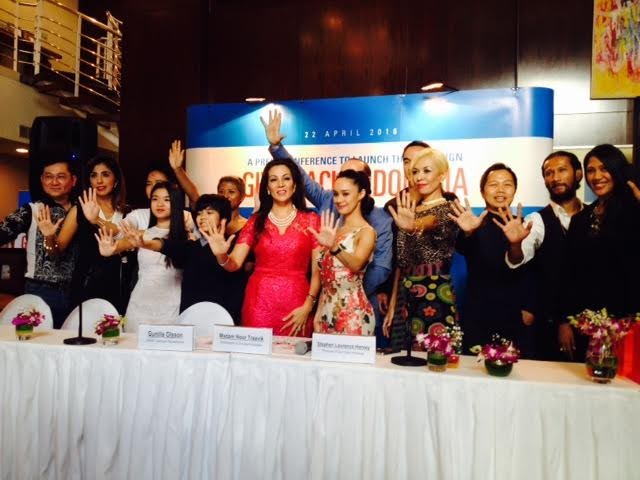 Local artists and musicians take part in a UNICEP Indonesia musical campaign to motivate people to help improve children's welfare on Friday. (thejakartapost.com/Sepsha Restian)
UNICEF Indonesia, in collaboration with local artists and musicians, has embarked on a musical campaign to help improve children's welfare.
More efforts are needed to lift children's health in a time when one of every three Indonesian children suffers stunted growth and malnutrition, UNICEF Indonesia representative Gunilla Olsson said in Jakarta Friday.
"The main goal is to raise awareness and encourage people in Indonesia to be committed to children and children's rights and to donate money to support UNICEF to take action that will benefit the wellbeing of children in Indonesia," she said.
Songs have powerful messages of hope and the Give Back campaign can convince the audience that everyone can contribute so that all children have a fair chance to grow up healthy and protected, she said.
A copy of the Give Back Indonesia music video produced by veteran Soul & R&B Producer & Songwriter Stephen Laurence Harvey was given to Noor Traavik, the Give Back Indonesia ambassador.
"A few pioneers among Indonesian philanthropists and celebrities are already engaged, and more people will join in showing solidarity with those who suffer," she said.
Harvey said the idea to create the music video came after he was asked by his friend Jonathan Liu to write a song to inspire people to help children.
Among the 40 artists who participating in the campaign are Joe Taslim, Syaharani Ibrahim, Sandy Sondhoro and Dira Sugandhi.
The video comes with a link to the UNICEF donation page to encourage people, businesses and the private sector to donate money to help Indonesian children. (sha/bbn)
Topics :
You might also like :
Comments