Limboto Lake: A migration stopover and a permanent habitat
Syamsul Huda M.Suhari

The Jakarta Post
Gorontalo |

Thu, May 5, 2016

| 11:04 pm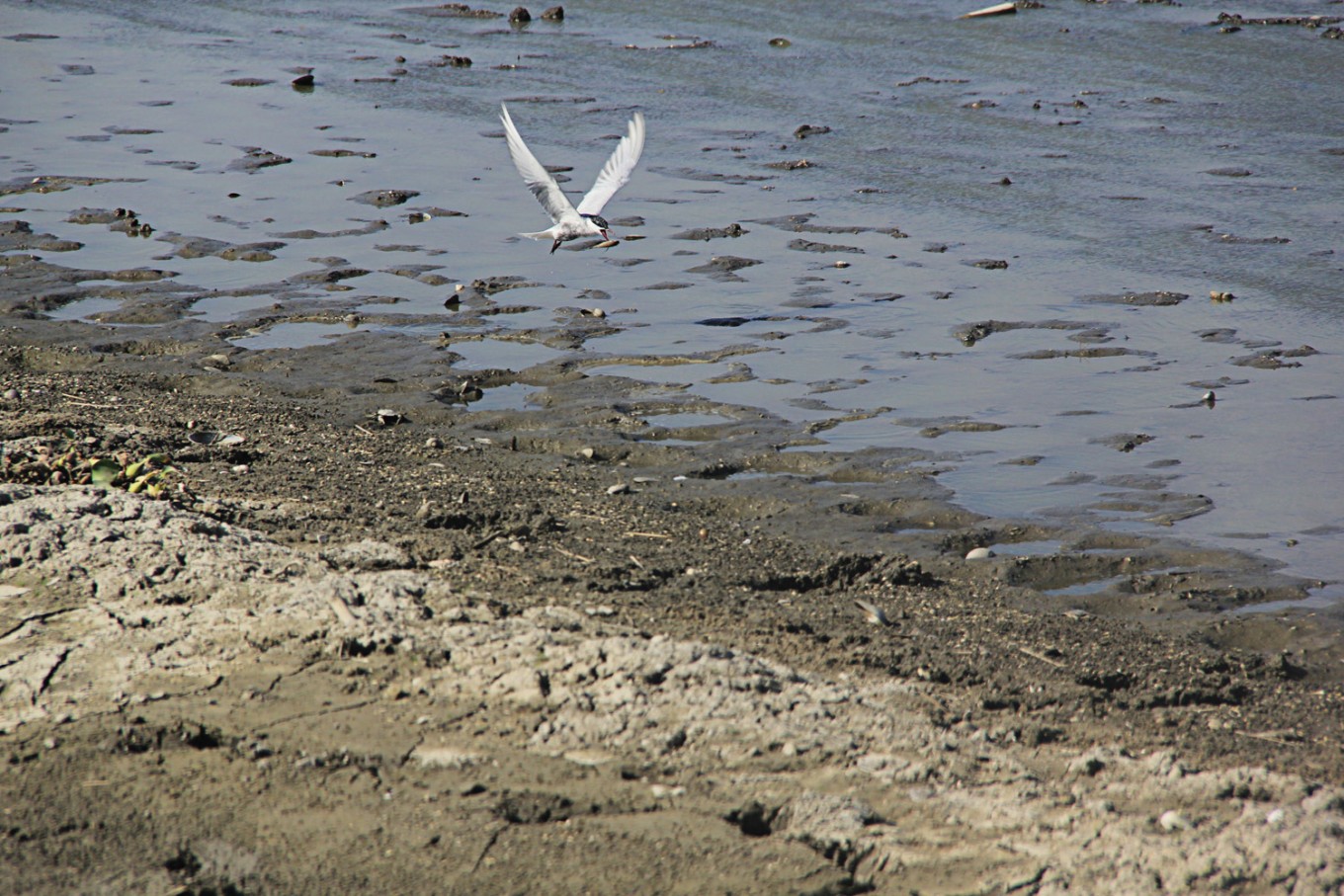 Natural beauty – A water bird flies over Limboto Lake in Gorontalo. Surveys show that Limboto Lake is, among other things, a stopover for water birds migrating from various northern-hemisphere countries. (thejakartapost.com/Syamsul Huda M.Suhari)
Despite alarming ecological concerns, Limboto Lake in Gorontalo remains either a stopover point or a permanent home for at least 85 bird species. Some of the birds are endemic to the region and many pass through Gorontalo when migrating.
The migratory birds, which rest at Limboto Lake, are water birds from Alaska, Siberia, Russia and Europe. Forty nine of the 85 species recorded at the lake are migratory birds.
They include the oriental pratincole, the whimbrel, the glossy ibis, the greater painted-snipe, the sharp-tailed sandpiper, the common sandpiper, the greater sand plover, the wood sandpiper, the oriental plover, the whiskered tern and the common sandpiper. Most of the birds rest at Limboto Lake before continuing their migration to various destinations.
"We can enjoy the migration phenomenon of the migrant birds during from October to December every year," bird conservation group Burung Indonesia biodiversity officer Panji Ahmad Fauzan told thejakartapost.com on Wednesday.
From 2014 to 2016, Burung Indonesia, supported by photographers and journalists, has carried out a number of surveys to uncover the number and types of birds people can find in Limboto Lake.
Panji said the surveys were important because there was no comprehensive data on the birds at the lake, where the water level has continued to fall.
Free as a bird – Water birds search for fish and other creatures in Limboto Lake.(thejakartapost.com/Syamsul Huda M.Suhari)
The presence of water birds at Limboto Lake had not been recorded by anyone else when conservation group Wetlands International carried out water bird surveys between 1987 and 2007.
According to Burung Indonesia, Limboto Lake is a natural habitat for 14 protected bird species and four Sulawesi endemic bird species. Those protected species are often still hunted people, for fun.
Debby Hariyanti Mano, a Gorontalo journalist and blogger who has documented birds at Limboto Lake, said wildlife hunting occurred there almost every day. When she goes to the lake to document bird species, Debby says she often meets hunters carrying air rifles and dead birds.
"Some of them proudly showed me pictures on social media of birds they hit while hunting," said Debby.
The lake's shallow and muddy nature has made it an ideal habitat for various water birds.
Unfortunately, the water at Limboto Lake has continued to recede and it will soon be dry. In the 1970s, the historical lake covered 5,600 hectares, and witnessed a peace agreement between two conflicting Gorontalo kingdoms.
Currently, Limboto Lake covers only 2,500 hectares. High sedimentation, forest clearing upstream and land conversion are among the major causes of silting in the lake. (ebf)
You might also like :
Comments