Five suspects named in Riau ivory trade case
Rizal Harahap

The Jakarta Post
Pekanbaru, Riau |

Tue, May 24, 2016

| 10:42 am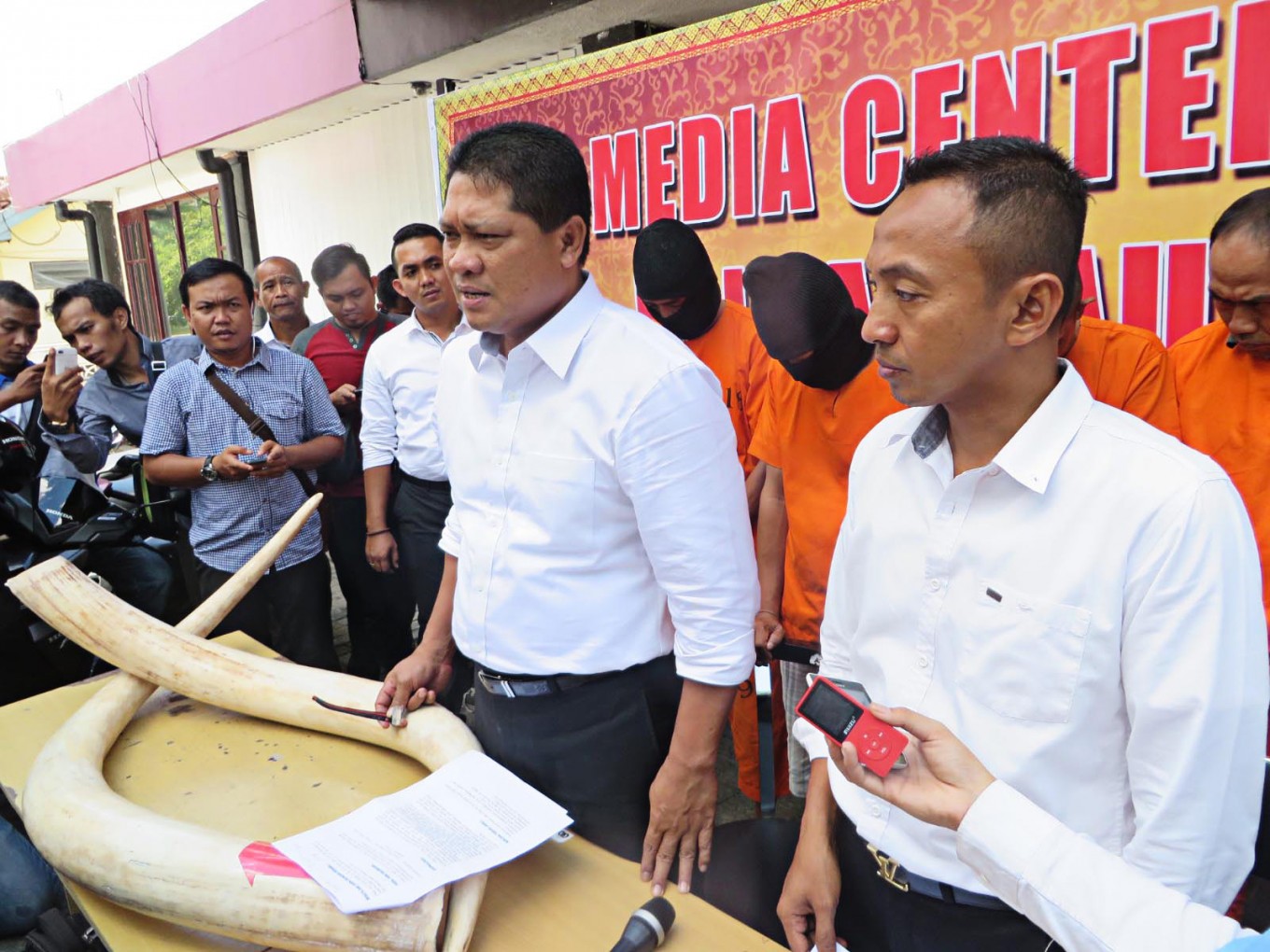 Riau Police during a press conference in Pekanbaru, Riau, on Monday. (thejakartapost.com/Rizal Harahap)
Following intensive questioning, Riau Police's special crime investigation directorate on Monday named five suspected members of a wildlife trading syndicate over their alleged involvement in the illegal trade of Rp 920 million (US$67,610) worth of elephant tusks.
The men have been identified as Makruf, 46, from Gayo Lues regency, Aceh; Syafrimen, 60, from Bungo regency, Jambi, Nizam Akbar, 43, head of Gema village in Kampar Kiri Hulu district, Kampar regency, Riau; Wartono, 45, from Kampar Kiri in Kampar regency, Riau; and Yusuf, 42, from Marpoyan Damai, Pekanbaru.
Police Special Crime Investigation Director Sr.Comr.Rivai Sinambela said that the five suspects had been arrested on Friday afternoon at Shushi Tei, a restaurant on Jl. Soekarno-Hatta, Pekanbaru, as they were about to sell a pair of ivory tusks. Weighing 46 kilograms in total, the elephant tusks, both almost two meters long, had allegedly been offered at a price of Rp 20 million per kilogram.
"This illegal trade was uncovered following an investigation into reports regarding elephant deaths across the country. After the protected animal species organ trading network was traced, we provoked the network's members to show up by contacting them for a business deal. Entrapped in the restaurant, the suspects could not deny their involvement [in the illegal wildlife trade] as they were in possession of a pair of elephant tusks. This was evidence," Rivai said in a press conference on Monday.
Based on information provided by the five suspects and coordination between the Riau police and the Riau Natural Resources Conservation Agency (BKSDA), it has been confirmed that the two elephant tusks were obtained in Aceh, the result of wildlife hunting.
"They intentionally brought the tusks to Pekanbaru to sell them in the city. They claim this was the first time they had engaged in protected animal special organ trading," said Rivai.
Makruf and Syafrimen, according to Rivai, had transported the tusks overland to Pekanbaru in a private minibus. Meanwhile, Nizam, Wartino and Yusuf each played broker roles and had been assigned to seek buyers of the tusks.
"We are still investigating the case. The five suspects have been detained. In the network, they are only vendors, not executors or elephant hunters," said Rivai, adding that the police were pursuing the elephant hunters.
Two elephant tusks seized in a recent operation are showcased in a press conference in Pekanbaru on Monday. The police named five suspected wildlife traders for their alleged involvement in the illegal trade of Rp 920 million (US$67,609.78) worth of ivory. (thejakartapost.com/Rizal Harahap)
Rivai said the suspects would be charged under the Conservation of Biodiversity and its Ecosystem Law, which carries a sentence of five years imprisonment and Rp 100 million in fines.
"Our investigators are scrutinizing the ivory market in Riau to reveal what the tusks are used for — as decoration or for other purposes," said Rivai.
World Wildlife Fund (WWF) Wildlife Crime Team Coordinator for Central Sumatra, Osmantri, said the conservation group appreciated the collaboration between the police and the BKSDA.
However, Osmantri said, that the arrest of the five suspects had indicated that the level of wildlife crime in Riau was alarming and needed serious attention.
"In less than a month, the Riau Police managed to uncover two wildlife organ trading cases. They have now uncovered an illegal trade in elephant tusks, having recently revealed a case of tiger skin trading. Surveillance activities must be tightened," he told thejakartapost.com. (ebf)
You might also like :
Comments