Swiss national reported missing on Mt. Semeru
News Desk

The Jakarta Post
Jakarta |

Thu, June 9, 2016

| 12:28 pm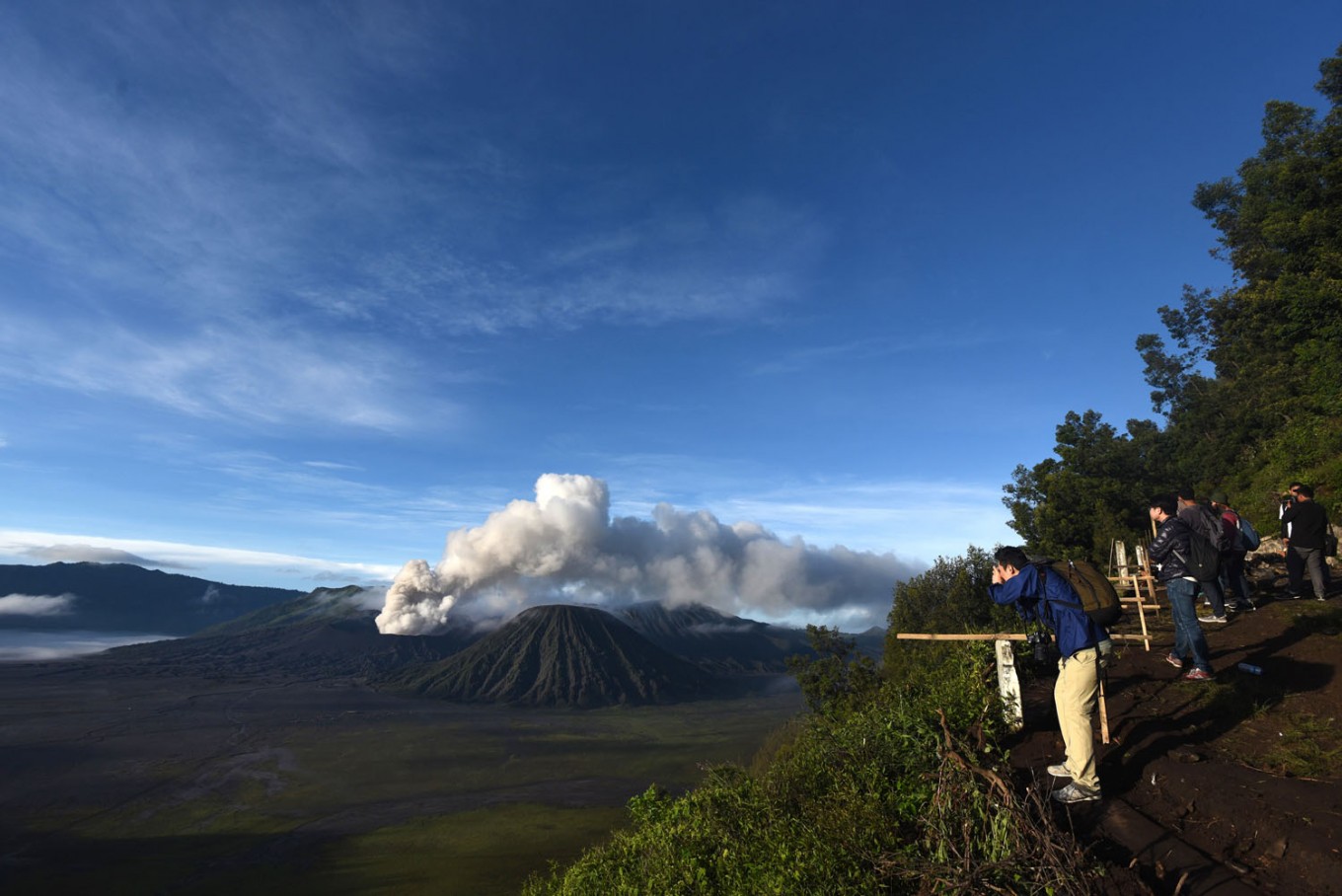 Visitors enjoy the view in the Mount Bromo area in Probolinggo, East Java, on April 3. The Bromo Tengger Semeru National Park Agency (TNBTS) plans to limit the visitors numbers before 2017 to preserve the ecosystem in the mountainous area. (ANTARA FOTO/Zabur Karuru)
A Swiss national is reportedly missing on Mount Semeru, East Java, after going climbing earlier this month without following procedures, an official has said.
Lionel Du Creaux, 26, and his friend Alice Guignard from France left to climb Mt. Semeru from Malang on June 3. They went to Ranupani village in Lumajang regency, and after taking a short break they left to climb the mountain. However, they did not report to the Ranupani post of the Bromo Tengger Semeru National Park Agency (TNBTS), agency head John Kennedie said.
"They should have reported and paid the entrance fee [...] They acted like illegal hikers," John said on Wednesday as reported by newsportal tempo.co.
Ranupani post is the first of 10 along the Mt. Semeru track. The post, located at 2,200 meters above sea level is also the office visitors must visitors must check in and obtain permits. Visitors must submit the copies of ID cards, a list of the members of their group, a health letter as well as report what they are bringing with them.
Du Creux and Guignard reached Ranu Kumbolo, the fourth post and preferred basecamp for climbers, at around 10:22 a.m. on June 4. They then continued to the Kalimati post, located 2,800 meters above sea level: the last basecamp climbers are allowed to reach if the volcanic activity of Mt. Semeru is at alert status.
The pair continued their climb and arrived in Watugede at 2:01 p.m. At 5:47 p.m. Guignard cancelled her plan to continue to the peak of the mountain as she was exhausted and she decided to return to Kalimati, whereas Du Creaux continued climbing.
Guignard became lost during her descent and she arrived at the hills on the left side of Arcopodo, the ninth post of the last basecamp before the peak. She decided to stay there and waited for two days and two nights hoping she would meet De Creaux or other climbers.
Then, on June 6 at around 10 p.m. she was found by guide Heri Sumantri, who was accompanying another group of climbers. Guignard was screaming for help and was heard by Heri, John said. The next day she was guided down the mountain and reported to officers at the Ranunapani post.
An advance search and rescue team of 20 people, including TNBTS officials, porters and Semeru Volunteer Friends (Saver) members, was formed on Wednesday to look for Du Creaux.
The team would continue their open search and rescue, John said, adding that the agency had also informed the Swiss Embassy that De Creaux had been climbing without following the proper procedures.
De Creaux is not the first climber to go missing on Mt Semeru after attempting to climb the mountain without following the procedures. Two climbers from Cirebon, West Java, Supyadi and Zirli Gita Ayu Safitri, were missing for five days before being found by officials on May 24. (rin)
Topics :
You might also like :
Comments