Government annuls 3,143 bylaws
Ayomi Amindoni

The Jakarta Post
Jakarta |

Mon, June 13, 2016

| 07:27 pm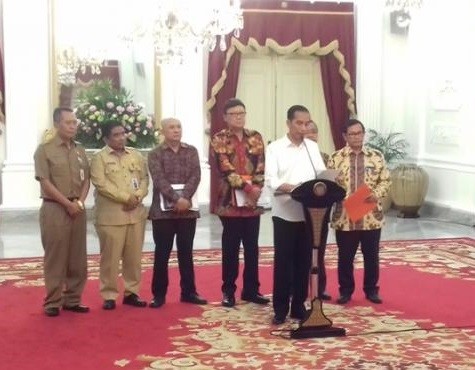 President Joko "Jokowi" Widodo speaks to reporters at Merdeka Palace on Monday. Jokowi announced that his administration had scrapped 3,143 problematic city bylaws. (Tribunnews/Imanuel Nicolas Manafe)
President Joko "Jokowi" Widodo announced Monday that his administration had scrapped 3,143 city bylaws out of a total of 3,266 problematic bylaws for contradicting higher regulations, promoting intolerance or deterring investment.
"As a result of the evaluations of city bylaws and regional government regulations, we found 3,143 regulations [subject to annulment]," President Jokowi told reporters at Merdeka Palace on Monday.
Jokowi said the regional regulations, locally called perda, were annulled for being considered to, among other things, obstruct economic growth in the regions, contravene central government regulations and being unfriendly to investment.
"I need to emphasize that this scrapping is necessary to make Indonesia big, tolerant and more competitive," said President Jokowi, who was accompanied by Home Minister Tjahjo Kumolo and Cabinet Secretary Pramono Anung.
Meanwhile, Tjahjo was quoted as saying by Antara news agency that his ministry had comprehensively studied the bylaws prior to annulling them.
In the future, Tjahjo said, all regional administrations should first seek advice from the Home Ministry prior to issuing new bylaws that also involved city councils in their deliberation. (dmr)
You might also like :
Comments