Tax amnesty approval generates positive response: BI
Ayomi Amindoni

The Jakarta Post
Jakarta |

Mon, July 11, 2016

| 02:11 pm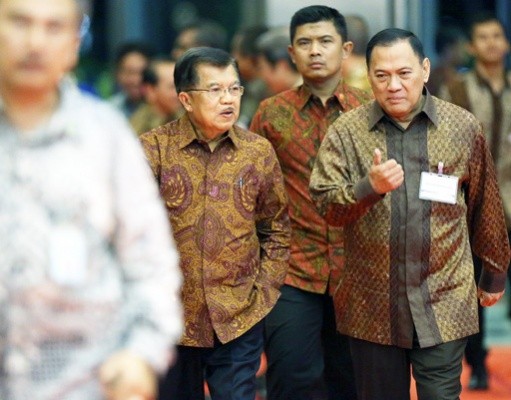 Vice President Jusuf Kalla (center) walks with Bank Indonesia (BI) Governor Agus Martowardojo (right) during BI's annual meeting at the Jakarta Convention Center in late June. (The Jakarta Post/Jerry Adiguna)
Bank Indonesia (BI) has noted a generally positive response to the recent approval of the Tax Amnesty Law and the State Budget Revision by the House of Representatives and the government.
The passage of the tax amnesty bill into law has managed to help the rupiah appreciate, BI Governor Agus Martowardojo said on Monday.
The rupiah exchange rate was quoted at Rp 13,099 per US dollar on Monday, an increase of 0.61 percent (81 points).
Investors are also becoming increasingly optimistic following the law's approval in June and the agreement between the government and the House to approve the 2016 State Budget Revision, he added.
"We are also able to maintain the inflation rate and the current account. The approval of the Tax Amnesty Law and State Budget Revision has brought confidence," Agus said at the State Palace on Monday.
As of June 24, Agus said the central bank had recorded Rp 97 trillion (US$7.37) in capital inflows, jumping up Rp 40 trillion compared to the same period of last year, which was listed at Rp 57 trillion.
Following Britain's decision to leave the European Union, funds flowed to the United States and Japan, causing both currencies to appreciate while other currencies declined. (bbn)
Topics :
You might also like :
Comments