1,500 children exposed to fake vaccines, minister says
Marguerite Afra Sapiie

The Jakarta Post
Jakarta |

Wed, August 24, 2016

| 11:26 pm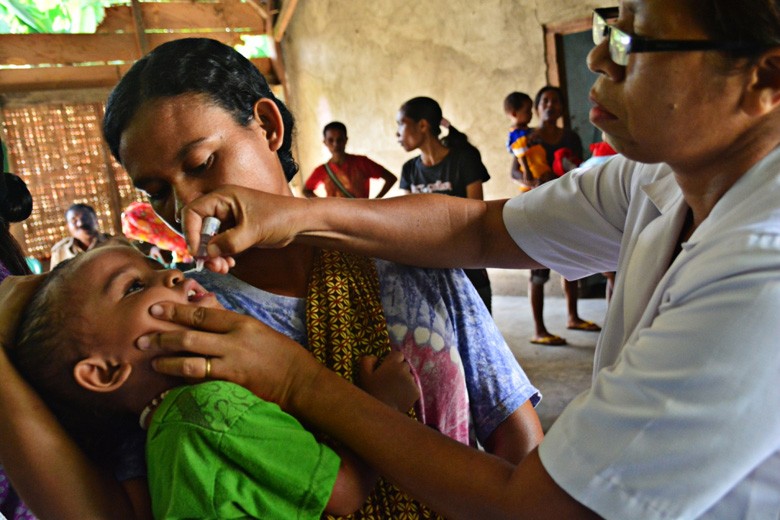 A health official from the Waelengga community health center (Puskesmas) in Watunggene subdistrict, Kota Komba district, East Manggarai regency, Flores, East Nusa Tenggara, prepares a polio vaccine for a baby on the first day of national polio immunization week in March. (thejakartapost.com/Markus Makur)
Health Minister Nila Moeloek revealed on Wednesday that at least 1,500 children in Banten, Jakarta and West Java had been exposed to fake vaccines.
She said the data was from investigations conducted by a fake vaccine investigation task force, which also included officers from the National Police's Criminal Investigation Department (Bareskrim).
The investigations were conducted in 14 hospitals and six clinics reported for having received fake vaccines since 2014, she said.
Of the total, Nila said, 915 children were exposed to fake vaccines in health facilities in Jakarta, followed by 374 children in West Java and 211 in Banten.
"After we obtained the data from Bareskrim, we carried out a verification process in those health facilities based on the medical records and data they provided to us," Nila told journalists after a meeting with the House of Representatives' Commission IX overseeing health affairs.
The minister said 975 of the children who received fake vaccines had been re-vaccinated, while parents of 303 children had refused re-vaccination. The rest were not re-vaccinated for various reasons, such as their failure to respond to re-vaccination calls or invitations. Some of them failed to show up during vaccination schedules while others refused to have their children re-vaccinated, saying there were no problems with their health.
Nila said parents should not worry about the authenticity of vaccines their children had received. She said the government would provide vaccines to children free of charge. (ebf)
Topics :
You might also like :
Comments