Hundreds of Bengkalis residents affected by respiratory infections
Rizal Harahap

The Jakarta Post
Pekanbaru, Riau |

Mon, August 29, 2016

| 12:05 pm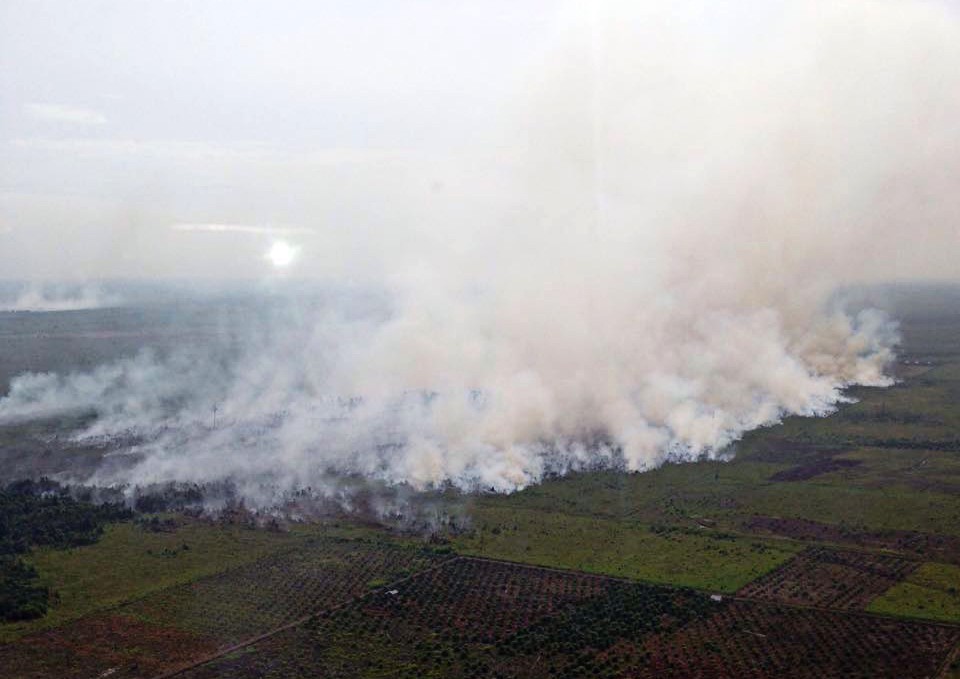 Burned — Thick smoke emanates from burning land in Sam-sam village, Kandis district, Siak regency, Riau. (Courtesy of the Riau Land and Forest Fire Post's air task force/-)
Smoke from land fires blanketing Bengkalis, Riau, for the past week has led to hundreds of residents suffering from acute respiratory infections (ISPA). Local authorities have distributed masks to prevent the situation from worsening further.
The Riau Health Agency's health crisis control unit head, Jon Kenedy, said that based on reports from related institutions in Bengkalis, 149 residents were suffering from haze-related illnesses, including 132 ISPA patients. Four residents had asthma relapses, while one person was suffering from an eye irritation and the remaining 12 people had pneumonia, he added.
"As of today, only the Bengkalis Health Agency has sent data on residents affected by haze-related health problems although other areas have also been heavily exposed to smoke from land and forest fires," Jon said during an evaluation meeting at the Riau Land and Forest Fire Emergency Task Force post at Roesmin Nurjadin Air Force Base in Pekanbaru on Sunday.
To prevent the number of ISPA increasing, Jon said, the Riau Health Agency had distributed 10,000 masks to haze-affected areas in Bengkalis. "Health campaigns to minimize the dangerous impacts of haze continue to be conducted," he said.
"We are also routinely carrying out health check-ups on land and forest fire extinguishing personnel because they are really prone to smoke-related illnesses," he added.
Based on Riau Health Agency data, the number of patients with haze-related illnesses in Riau reached 100,234 in 2015, 84,203 of whom suffered from ISPA, followed by patients with skin irritations (6,067), eye irritations (4,771), asthma (3,872) and 1,321 people with pneumonia. (ebf)
Topics :
You might also like :
Comments