Jokowi, Duterte firm friends
Ina Parlina

The Jakarta Post
Jakarta |

Sat, September 10, 2016

| 08:01 am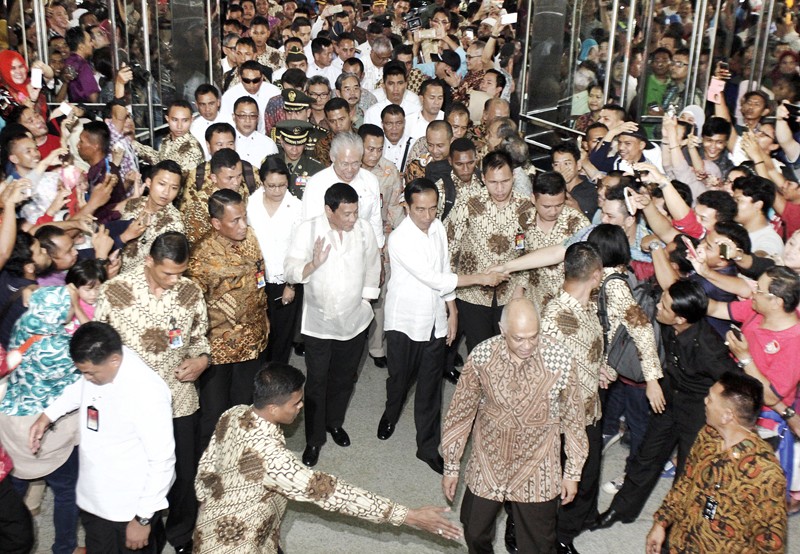 Man of the hour: Philippine President Rodrigo Duterte and President Joko "Jokowi" Widodo acknowledge the crowd during their visit to Tanah Abang Market in Central Jakarta on Friday. Duterte is in Jakarta on a state visit. (JP/Dhoni Setiawan)
Jakarta and Manila have agreed to help each other to resolve a number issues, ranging from the repatriation of Indonesian pilgrims posing as Filipinos in Saudi Arabia to the fate of the Indonesian hostages currently in the hands of Abu Sayyaf militants in the southern Philippines.

On his first visit to Indonesia, Philippine President Rodrigo Duterte took the opportunity to apologize for the recent kidnappings of Indonesian sailors by armed militants operating in Philippine waters.

Indonesia and the Philippines have long had strong bilateral ties, but the recent kidnapping incidents in the Sulu Sea have strained relations between the two neighbors.

Duterte said he valued the friendship between the two neighboring countries and acknowledged that the recurring kidnapping incidents had become a "major problem". "I'm very sorry, Mr. President, that sometimes the shipments of [...] the coal that is needed by the power plants of my country are hampered [when] crossing that area there because there is a lot of piracy," he said.

Both Jokowi and Duterte reiterated a commitment to ensuring security in their contiguous territorial waters, as the two leaders signed a joint declaration on cooperation to ensure maritime security in the area.

"We hope there will be no more such security issues in the Sulu Sea," said Jokowi as he thanked Duterte for his commitment to push for better cooperation in maritime security.

The issue of Indonesian pilgrims using fake Philippine passports, which has been in the spotlight recently, was also discussed by the two leaders on Friday, with Jokowi thanking the Philippine government for its commitment to helping resolve the problem.

Jakarta has recently secured the return of 168 of the 177 pilgrims arrested in Manila, leaving nine others who are helping local law enforcers investigate the haj syndicate in the Philippines. However, it has since been revealed that between 500 and 700 Indonesian haj pilgrims may have already entered Saudi Arabia using fake Philippine passports. They are now performing the haj in Mecca.

"We thank the Philippine government for its cooperation in dealing with the problem of 700 Indonesians who are now in Saudi Arabia to perform the haj," Jokowi said.

Before the bilateral meeting at the Palace, Jokowi took Duterte, who like Jokowi is also a former city mayor, to Tanah Abang Market in Central Jakarta to experience his famous blusukan (impromptu visits).

Duterte is the second world leader to join one of Jokowi's blusukan in Tanah Abang after Jokowi took Australian Prime Minister Malcolm Turnbull to the biggest textile market in Indonesia, reputedly the biggest textile market in Southeast Asia, late last year. Tanah Abang diplomacy appears to be a tool to help break the ice between visiting leaders and Jokowi.

Jokowi told Duterte that he believed the two shared certain similar traits, of being easygoing people who always wanted to be among their people, saying that "I am glad to take you to see the center of the people's economic activities" in Tanah Abang.

The two leaders also agreed to seek ways to intensify cooperation on the campaign against drugs, as both have claimed to share a deep concern about the harm to society caused by the illicit drug trade.

Jokowi has been criticized for launching a tough campaign of executing death row drug convicts since he took office in 2014. But Duterte has surpassed this by his even tougher stance against drug abusers and dealers — including extrajudicial killings that have sparked international controversy.

Various media have reported that more than 2,000 suspected drug abusers and dealers have been killed since Duterte launched a war on drugs after taking office on June 30.

Duterte said all were playing their part "in contributing toward the aim of a drug-free ASEAN community".

However, the meeting did not touch on the issue of death row drug convict Mary Jane Fiesta Veloso of the Philippines, despite Duterte's plan to plead with Jokowi for mercy, said Law and Human Rights Minister Yasonna Laoly, who was among the ministers joining the bilateral talks.

Veloso was spared execution in April last year after a woman, who allegedly recruited her to act as a drug courier, gave herself up to police in the Philippines, and since then the Philippine government has sought Veloso to testify as a witness against her alleged trafficker.

Before leaving for his recent ASEAN trips, Duterte said he would respect Jokowi's decision and Indonesia's judicial system if his counterpart rejected his plea on behalf of Veloso.

The South China Sea issue was also on the table yesterday, with the two leaders expressing serious concern and calling on all parties "to respect the rule of law" and to seek peaceful resolution, said Duterte.

"We understand that peace is a necessary condition for growth and progress," Duterte added.
_______________________________

To receive comprehensive and earlier access to The Jakarta Post print edition, please subscribe to our epaper through iOS' iTunes, Android's Google Play, Blackberry World or Microsoft's Windows Store. Subscription includes free daily editions of The Nation, The Star Malaysia, the Philippine Daily Inquirer and Asia News.
For print subscription, please contact our call center at (+6221) 5360014 or [email protected]
You might also like :
Comments