Sri Mulyani Indrawati: The soft side of the 'iron lady'
Esther Samboh and Prima Wirayani

The Jakarta Post
Jakarta |

Thu, September 29, 2016

| 07:19 am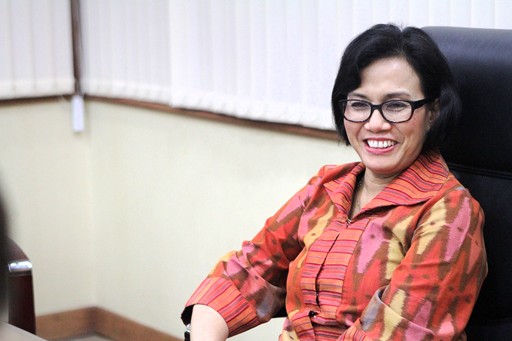 Sri Mulyani Indrawati (JP/Donny Fernando)
After traveling around the world to witness development in poor regions many would not think of visiting during her stint as World Bank managing director, Finance Minister Sri Mulyani Indrawati has learned two things: humility and optimism.
In an interview with The Jakarta Post, she tells the story of how she was touched by her trips to countries few would care to go to such as Mali and Niger to observe dam projects in the middle of the vast savanna, and see what kind of impact they in supplying electricity to millions of people. She said her experiences in resource-rich Congo showed her how ethnic conflict could make human life disposable.
"It touched me a lot. I think that it affected me, I hope in a positive way," said the mother of three, who likes to read to her two grandchildren, holding back her emotions through a wide grin.
Such encounters seem to have played a part in shaping her ultimate goal as finance minister of Southeast Asia's largest economy: to use fiscal tools to create equitable growth through targeted spending and a tax regime that can bring prosperity to those in the bottom 40 percent wealth bracket.
"Our dream is a world without poverty" is a slogan Sri Mulyani saw every day of the six years she spent at the World Bank's headquarters in Washington, DC. She knows it is a lofty ideal, considering that even rich states have poor residents, but it changed her in a way.
One would imagine that one of the world's most powerful women, according to Forbes magazine, keeps her chin up and is authoritative. At the outset Sri Mulyani may look so, but her years at the World Bank taught her humility and optimism.
"Humility in the sense that we cannot solve all the problems in a period, or even in a generation, but we are optimistic that humankind has the ability to collect evidence and learn from history, which enables us to continue to do better," she said.
Sri Mulyani earned her reputation as a tough reformist, and even an "iron lady", during her years as finance minister from 2005 to 2010, when she helped the nation transition from the 1997-1998 Asian financial crisis and sail through the US-led 2008-2009 global crisis. The tough code of ethics and sanctions she applied on the tax office during the period were lauded by many.
Expectations are high for a repeat, at least those coming from the market.
"Knowing her credentials and experiences, the market is generally encouraged by what she can bring to the table for Indonesia's economic growth," said Singapore-based DBS Bank economist Gundy Cahyadi, who expects her to push for reforms in solving structural problems that have hindered the nation's economy.
At the Finance Ministry, Sri Mulyani, a former economist with the University of Indonesia's renowned think thank, the Institute for Economic and Social Research (LPEM UI), will be responsible for billions of dollars of state assets, including funds for the country's development programs.
Sri Mulyani said she would not take for granted the opportunity to lead the ministry for a second time, and that just because she was familiar with the issues and institution, she did not assume that she knew everything.
"It can be a recipe for disaster if you feel like a smart aleck," said the former lecturer, whose father and mother were both professors at the Semarang National University.
That attitude might have helped her overcome the tough months of grilling by lawmakers at the House of Representatives on the Bank Century bailout from 2009 to 2010, for which she was accused of causing huge state losses for saving an ailing bank using state funds, prior to her departure to the US.
"I tell myself almost every morning and every night that I still have the energy to learn, to listen and then to design and define. I hope I still have those kinds of capacities," she said, ending the 75 minutes interview with a beaming smile.
Topics :
You might also like :
Comments