State mining holding company to mark US$20b assets
Jakarta |

Thu, September 29, 2016

| 09:44 am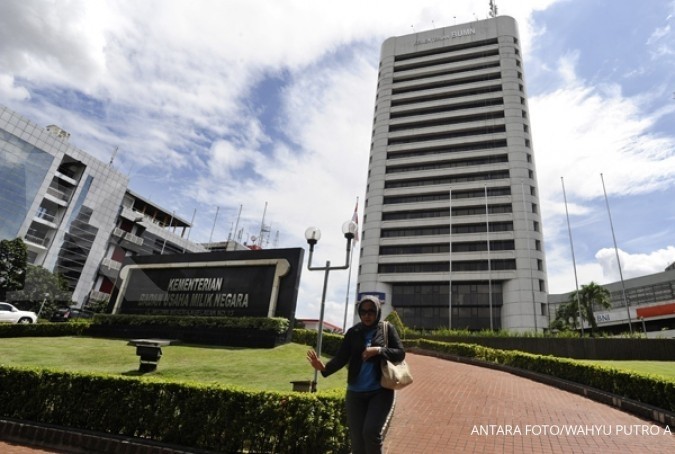 State-Owned Enterprises Ministry building on Jl. Medan Merdeka Selatan in Central Jakarta. (Antara/Wahyu Putro)
The establishment of a holding company for mining state-owned enterprises (SOEs) will potentially bulk up corporate assets worth Rp270 trillion (US$20.83 billion), skyrocketing from existing assets worth Rp65.6 trillion scattered among separated SOEs.
The SOE Ministry is expected to finish the establishment of six holding companies in pivotal sectors, namely mining, oil and gas, food, financial service, toll road, as well as housing and construction, by the end of this year.
The existence of a holding company for mining SOEs is crucial amid mineral price fluctuations and the global economic slow down. Rising non-performing loans, 6.8 percent as of July, double that of July last year, signals mining business sluggishness.
The holding company will also play a pivotal role in changing the grim reality that most Indonesian mining products are exported as raw materials with low added value.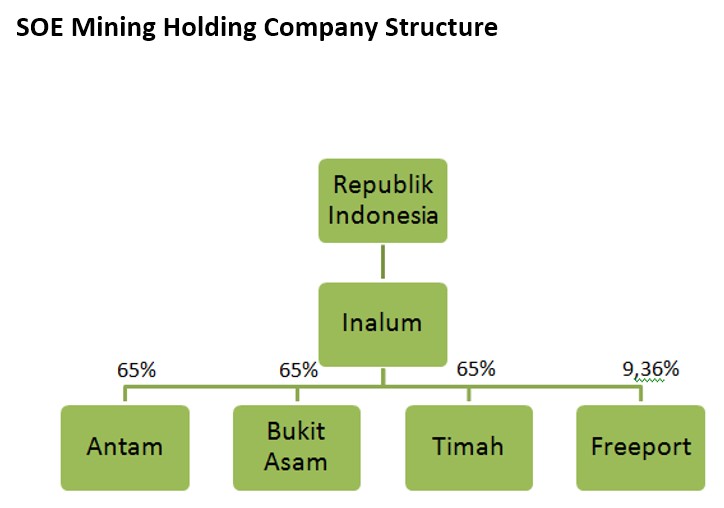 Source: SOE Ministry(Bareksa/Chart)
According to SOE Ministry data, four mining SOEs namely Aneka Tambang (ANTM), Bukit Asam (PTBA), Timah (TINS) and Inalum will be incorporated into a holding company called the Indonesia Resource Corporation (IRC), with Inalum as the parent company.
The government, through Inalum, will hold 65 percent in each SOE mining company. The holding company will also control the 9.36 percent minority shares the government owns in Freeport Indonesia, which may increase in the future as stipulated in the contract.
Leverage & efficiency
The holding company is expected to book Rp 182 trillion in assets, a significant increase compared to the previous Rp 65.6 trillion.
The additional assets of Rp116 trillion came from the increase in debt leverage worth Rp 114 trillion and the efficiency as well as synergy amounting Rp 2 trillion.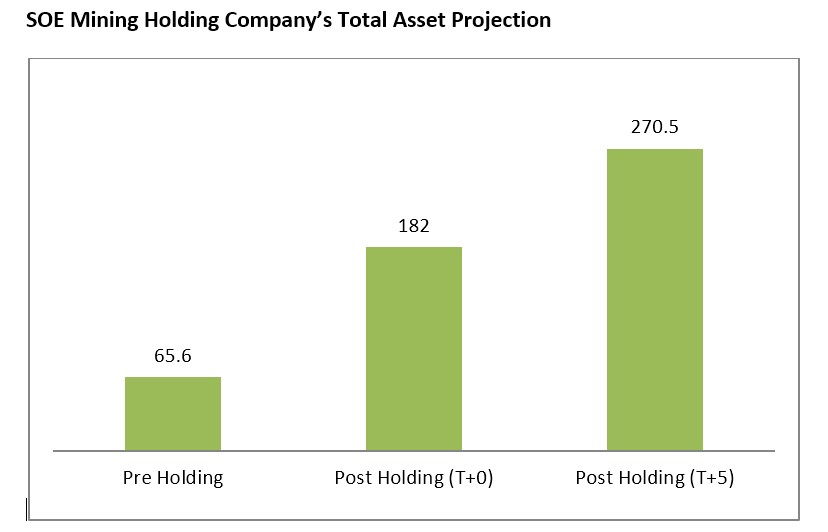 Source: SOE Ministry(Bareksa/Chart)
After the establishment of IRC, the leverage—a technical term used to estimate a company's ability to raise external debts based on the debt-to-equity ratio (DER)—will increase three times.
Currently, mining SOEs have Rp 42.8 trillion in total equity, with Rp 14.1 trillion in outstanding debts
Aside from the increasing debt-raising capacity, the IRC will also get two additional benefits. First, from the lower cost of fund, saving at least Rp 1.3 trillion per year, and second from the operational efficiency that may reach Rp 1.1 trillion per annum.
In the next five years after the establishment, the holding company has the potential to quadruple assets to Rp 270.5 trillion on the back of Rp 44.3 trillion in earnings increment. (ags)
Source: Bareksa.com
Topics :
You might also like :
Comments