Indonesian markets panic over Trump's policies
Prima Wirayani

The Jakarta Post
Jakarta |

Sat, November 12, 2016

| 06:47 am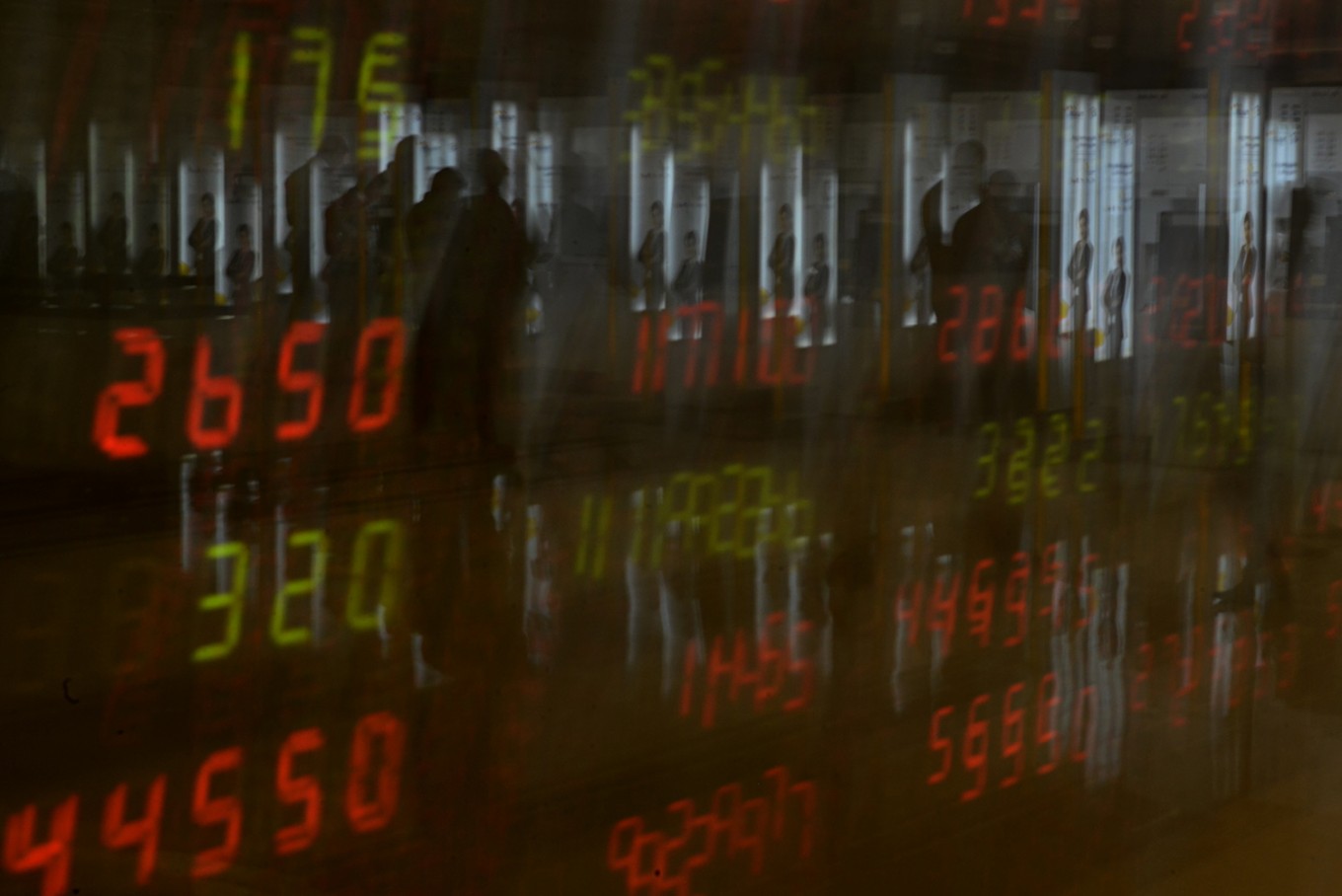 The shadows of people are reflected on a Jakarta Composite Index (JCI) board at the Mandiri Plaza in Jakarta in September. (Antara/Rosa Panggabean)
Panic hit domestic financial markets on Friday as investors showed concern over the anticipated policies of US president-elect Donald Trump that may negatively affect Indonesia's economy.
The Jakarta Composite Index (JCI) — the benchmark of the Indonesia Stock Exchange (IDX) — ended in the red on Friday after falling 4 percent to 5,231.97 points, its lowest level in the past two months.
Almost all sectors ended in negative territory, as investors sold a net of Rp 2.46 trillion (US$184.27 million) worth of securities throughout the trading day.
Net sales jumped more than eightfold from the previous day, when investors ditched less than Rp 300 billion worth of securities.
The situation was just as bad in the foreign exchange (forex) market, with the rupiah sinking as low as Rp 13,865 per US dollar, the lowest point since June 24. Market intervention by Bank Indonesia (BI) propped up the currency, enabling it to end at Rp 13,383 to the greenback.
Friday's development sent the government, financial authorities and analysts rushing to calm panicked investors.
They attributed the market rout to speculation that Trump might push up fiscal spending after taking office.
Higher spending may translate into higher inflation and interest rates in the US, which is not good news for Indonesia and other emerging markets that rely heavily on foreign funds, as some of those funds would return to the US.
"Up to this day, the developments of the rupiah, the JCI and securities are greatly affected by regional and global sentiment impacted by the US political situation," Finance Minister Sri Mulyani Indrawati said Friday.
"It is natural to see that every decision made in the US, as the world's largest economy, even in the form of a statement, can have a significant impact."
She said investors, including those holding government debt papers (SUN), did not have to be worried, as Indonesia had a low debt risk with a relatively long maturity profile and a relatively small state budget deficit.
Moreover, with various fiscal measures to control the state budget deficit, spending and tax revenues, government debt papers had a very low risk profile.
"There is no need to be trapped in groundless fear," she stated.
The IDX and the Financial Services Authority (OJK) also tried to calm investors, saying any impact of Trump's policies would be temporary.
BI senior deputy governor Mirza Adityaswara admitted the central bank had intervened in local forex and sovereign bond markets to stabilize the rupiah.
Selling by forex traders, particularly in non-deliverable forward (NDF) derivative contracts, he went on, had triggered the market volatility.
NDF contracts, unlike forex forwards, are settled in dollars determined by reference to a daily fixing, which in some jurisdictions is set by a survey of lenders.
"The NDF market weakened and affected traders without considering Indonesia's economic fundamentals. That's why the rupiah was traded at Rp 13,400 [per US dollar] during opening, because the market followed what occurred in Mexico, Brazil and other places," he said.
Mirza emphasized that the country's fundamentals remained strong, with economic growth of 5.02 percent in the third quarter, higher than in most of Indonesia's Southeast Asian peers.
Meanwhile, stock market analysts deemed investors' reaction exaggerated and urged a more cautious manner. They said the market should actually have priced in the expectation of a December rate increase in the US, with further increases in 2017 and 2018.
Separately, Trade Minister Enggartiasto Lukita said investors should wait until Trump formed his team. He expressed optimism that economic relations between the two countries would remain positive, despite Trump's seemingly protectionist stance.
"But we also need to keep our market strong. With a population of 250 million people, we have enough bargaining power," he said.
We'll push local industries here, so that money circulation will happen much more domestically," he added. (wnd)
Grace D. Amianti, Viriya P. Singgih, and Stefani Ribka contributed to this story.
Topics :
You might also like :
Comments