Group threatens to burn refugees' tents in Batam

Batam |

Mon, November 14, 2016

| 01:49 pm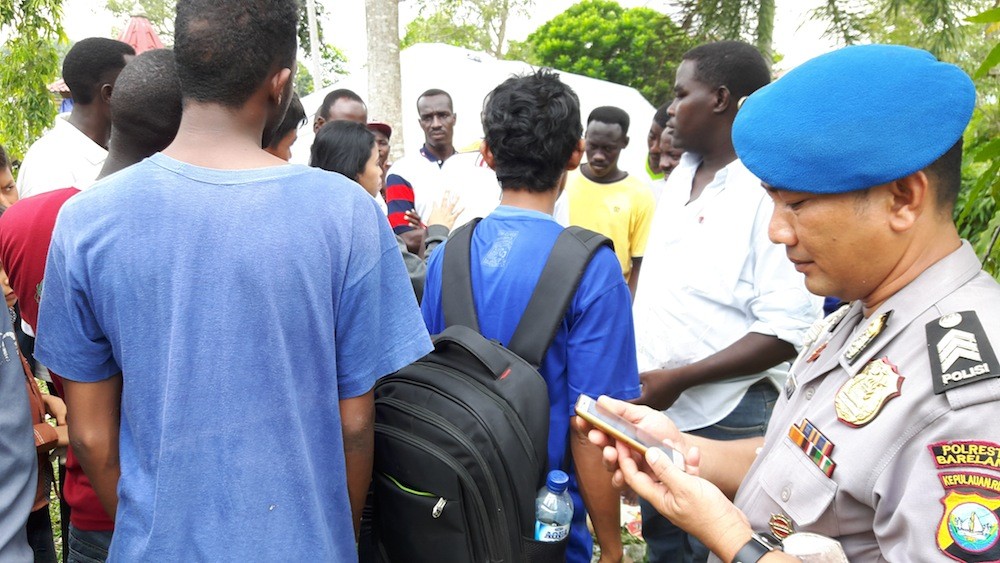 People's Information Center (Lira) members visit Aspirasi Park on Sunday and talk with refugees. The group threatened to dismantle and burn the tents of 102 refugees who have been living in the park for several months. (JP/Fadli)
Dozens of people under the banner of the People's Information Center (Lira) gathered on Sunday at Aspirasi Park in Batam, where scores of refugees have been staying for months, and threatened to burn their tents.
The Lira crowd visited the park at noon and ordered the refugees to leave their tents and assemble in one place. Aksa Halatu, the leader of the Lira group, asked the refugees to follow him so his friends could dismantle and burn the tents.
However, the mob was prevented from burning the tents by volunteers from Batam University and nearby police officers. The Lira members then went to the Batam Immigration Office to air their grievances.
Ayu, one of the volunteers defending the refugees, said she and her friends had heard about Lira's plan to kick out the refugees. "After we heard about it, we contacted the police. The refugees are illegal, but Lira's actions are unacceptable," she said.
"The refugees are in a state of panic right now," Ayu said.
Aksa, known in Batam as a member of the Democratic Party, said Lira wanted the refugees out of the park to keep the area clean. "Illegal houses are demolished everywhere; why are these refugees not evicted as well?" Aksa said.
Batam Immigration Office head Teguh Prayitno said his office regretted Lira's actions. "I told them, evacuating [people from] the park without providing replacement [accommodation] is not the solution. I don't know why they became emotional," Teguh said.
Teguh said his office would discuss relocating 102 refugees to another place. "Relocating 100 people is not easy. They are not chickens; we have to pay attention to their rights," he said.
Soleh Waziq, 28, a Sudanese refugee, said he was afraid that the mob would try again to kick them out. "We fear they will come again at night. Who will help us? We also do not want to stay here."

Soleh said he had been living in a tent for six months because he did not know where else to go.
The Batam Immigration Office said there were 280 migrants at the Kolekta Hotel in Batam and 61 in an immigration detention center. (evi)
Topics :
You might also like :
Comments