More policies needed to boost Indonesian geothermal use
Fedina S. Sundaryani

The Jakarta Post
Jakarta |

Mon, November 14, 2016

| 06:46 am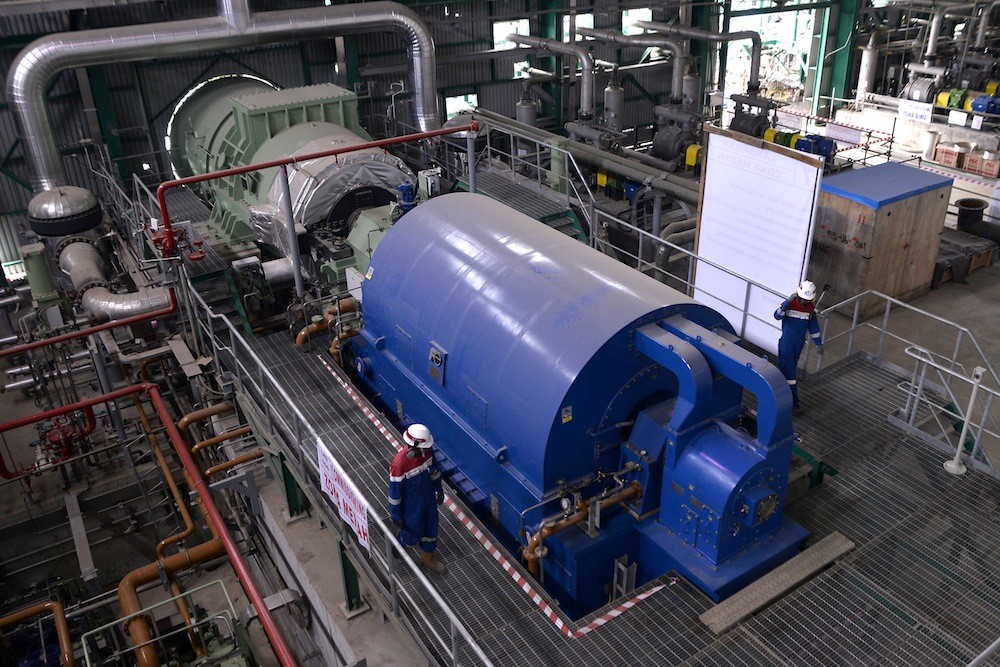 Two workers inspect high-pressure pipelines at the Lahendong geothermal power plant in Tompaso, Minahasa, North Sulawesi, on Sept.26. (Antara/Adwit B. Pramono)
A new regulation aimed at setting a fixed feed-in tariff for geothermal power is about to come, clearing uncertainties for investors. However, a lack of accurate data on geothermal reserves in existing fields seems to have curbed investor confidence and impeded price negotiations.
Geothermal energy, the Earth's internal heat, which can be harvested to generate consistent power, produces zero greenhouse gas, making it the perfect alternative to replace fossil fuels. Sitting on the ring of fire, Indonesia is said to have massive potential in geothermal reserves in almost 330 fields across the nation.
The government's estimates, in a report published in 2013, cited around 29 gigawatts (GW) of geothermal potential. However, the country's geothermal sector has remained sluggish with only 1.5 GW of geothermal power produced since the first geothermal power plant in Garut, West Java, in 1982.
The government has since set an ambitious goal to increase the national geothermal capacity to 7,155 megawatts (MW) by 2025, which would make Indonesia the largest geothermal energy producer in the world.
PLN in its business plan (RUPTL) has set a target of increasing geothermal-based power to 6,150 MW by 2025. If successful, the stateowned electricity company will see almost a quarter of all its electricity production, an estimated 42,485 gigawatts per hour (gWh), come from geothermal resources.
However, a problem appeared as PLN's business plan cited a 2007 report by West Japan Engineering Consultants, Inc., which states that there are 9 GW of exploitable potentials in 50 existing geothermal fields.
A 2010 report by Castlerock Consulting argued that there were inconsistencies in the past studies of Indonesia's geothermal potentials, leading to an overestimation of existing reserves. Castlerock's detailed field-by-field assessment suggests that a total of only 3,435 MW will be established by 2020.
The lack of accurate data on the geothermal potentials has discouraged banks from handing out loans to companies that have won the geothermal tenders in Indonesia. Thus, many investors must rely on their equity before they can receive loans for the explorations.
The Energy and Mineral Resources Ministry's geothermal energy director Yunus Saefulhak said that it was the government who ideally conducted the thorough exploration in the fields, before putting them on auction. Due to a lack of funds, the government could only rely on geological, geophysical and geochemical tests to estimate the geothermal reserves.
"We all know that it costs around US$10 million for drilling one exploration well, and even we don't have a warrant [for any reserve finding]. The government just does not have enough funds to drill the 330 potential reserves," he told the Jakarta Post.
A joint report by the ministry, the World Bank and the Asian Development Bank has estimated that it takes $4 billion in equity and $9.5 billion in debt finance just to produce 3 GW of geothermal power, assuming a 30 percent equity and a $4,500 selling price per kilowatt (kW).
What the government can do amid the limited condition, Yunus continued, was to lure investors' appetites into the geothermal potentials by issuing a new regulation that establishes a fixed price depending on the real capacity found after the exploration.
"Soon the government will issue a regulation on a fixed feed-in tariff based on an appealing internal rate of return [IRR] starting from 5 MW to 220 MW. So during the auction, companies will no longer have to propose a price, and will only need to propose their exploration commitment and the amount of funds they are willing to invest," he said.
Currently, ministerial regulation No.17/2014 stipulates the price ceiling of electricity from geothermal energy at 10.4 to 29 US cents per kilowatt hour (kWh) depending on the capacity. Room for negotiation is available but mostly ends up into months and even years of talks.
The impending regulation is expected to boost investors' eagerness to bid on the country's fields, especially amid drama within the PLN and Italy's Enel Green Power, both of which were warned to pull out of the bidding race on Chevron's two Indonesian geothermal assets.
Indonesian Geothermal Association chairman Abadi Poernomo claimed that many domestic and foreign investors had decided to opt out of bidding on the country's geothermal fields as they were waiting for the new regulation to be issued.
Many companies have had past experiences where they discovered a lower proven reserve — from the government's initial estimate — in a field that they won. Thus, they demanded tariff renegotiations with the PLN.
"The problem is that there are only two 'base load power plants' – the coal-fired and the geothermal power plants. Thus, the geothermal power plant is always compared to coal, which is much, much cheaper despite environmental costs," he said.
However, unlike coal, which is dependent on the global market, the geothermal feed-in tariff is fixed for the whole 30-year contract, with only an additional fee encompassing 25 percent of the operation's cost. The new regulation is reportedly to include a retroactive tariff with prices that will be adjusted based on proven capacity.
Abadi, who is also a member of the National Energy Board (DEN), said he was also working with the ministry to prepare a regulation on the assignment of preliminary surveys and exploration for the geothermal sector.
It will allow the government to hire geothermal consulting firms through a limited auction to gather more accurate data in the fields. "This data could slightly decrease the prices as it would minimize a company's risk," Abadi said.
BMI Research, a subsidiary of Fitch Group, appraised the government's move to reshape the regulation on geothermal power, and expected that well-established domestic geothermal industries would be attracted due to their expertise in developing geothermal power capacity.
"In particular, US and Japanese firms will likely have a strong foothold in the market as they look for international contract opportunities amid a slowdown in their domestic geothermal markets," BMI Research's head of power and renewables Georgina Hayden said.
Topics :
You might also like :
Comments