Fintech Talk: Peer-to-peer lending: A new form of financial inclusion
Reynold Wijaya

Coordinator for the P2P lending task force at the Indonesian FinTech Association and the CEO and cofounder of Modalku.
Jakarta |

Tue, November 29, 2016

| 08:15 am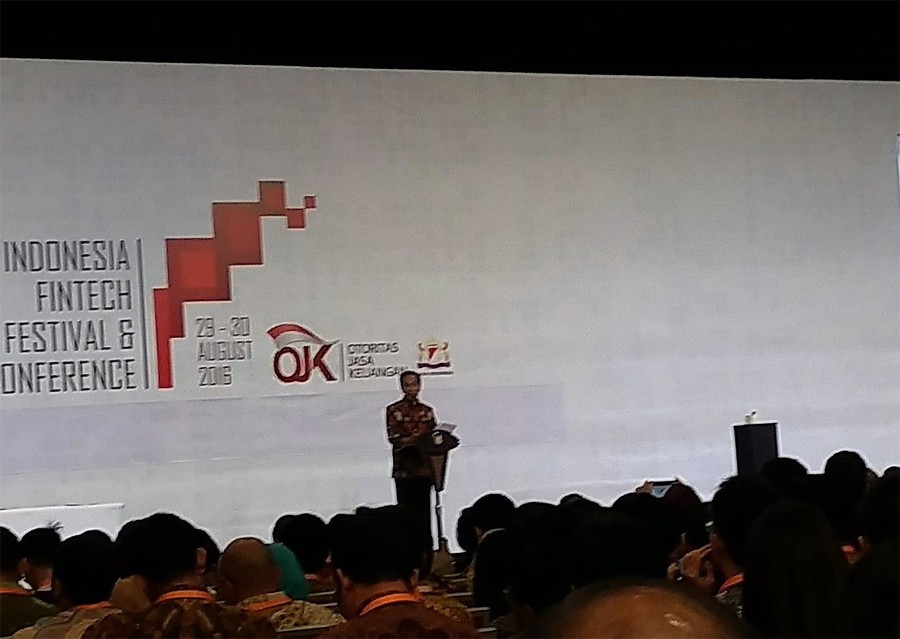 Fintech talk: President Joko Widodo delivers a speech at the Indonesia Fintech Festival and Conference at the Indonesia Convention Exhibition (ICE) Serpong, Tangerang, on Aug. 30. (JP/Anton Hermansyah)
The involvement of financial technology (fintech) companies in the field of peer-to-peer (P2P) lending has attracted attention from the public and regulators, namely the Financial Services Authority (OJK) and Bank Indonesia (BI). Players within the financial services ecosystem expect P2P lending to become a solution for the lack of access to financial services in the country and to achieve financial inclusion through synergy with other financial institutions and technology companies.
Business model
P2P lending is a digital platform that brings together borrowers – mostly small and medium enterprises (SMEs) – seeking a capital injection and lenders aiming for competitive returns.
The platform offers numerous advantages over banking services. For example, its flexibility allows it to channel capital to virtually anyone, in any amount, effectively and transparently, at low interest rates.
Financial services like P2P lending promise to be a solution for Indonesia, which has been struggling to overcome a bundle of problems: First, Indonesia still has to increase financial inclusion. The Indonesian FinTech Association has reported that 49 million SMEs are not bankable, as they are unable to provide collateral to access conventional loans. P2P lending can help creditworthy SMEs by providing loans without collateral.
Second, Indonesia must overcome regional disparities in financing across the archipelago. Some 60 percent of financing services are now concentrated in Java. P2P lending, meanwhile, can reach anyone in any place.
Third, there is a gap in infrastructure financing of Rp 1,000 trillion (US$73.9 billion) annually. The existing financial institutions can only provide about Rp 700 trillion in loans of the total annual demand of Rp 1,700 trillion. With lower overhead costs, combined with innovative credit scoring algorithms, P2P lending can close the gap in the infrastructure financing.
These potential opportunities show that P2P lending is actually the essence of financial inclusion. It can offer financial services to a new market segment, particularly to those who have not yet been reached by existing financial institutions.
Development trend
P2P lending has been growing significantly to reach a huge number of transactions in China, the United States and the United Kingdom.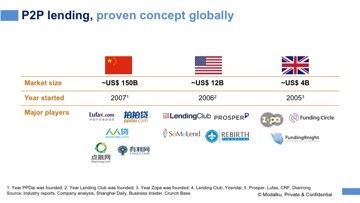 Peer-to-peer lending, a proven concept globally(JP/File)
Learning from other countries, the potential of P2P lending can be optimized through collaboration with banks. China, for instance, has a dynamic SME ecosystem that allows support from financing services. In that environment, the number of P2P lending companies has soared over the past five years, while that of banks in China has doubled.
As one of the pioneers in P2P lending in Indonesia, Modalku, along with its sister company Funding Societies in Singapore and Malaysia, has successfully established collaboration with several prominent banks, such as Bank Sinarmas, DBS and RHB.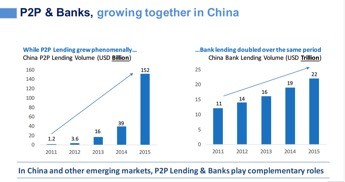 P2P and banks, growing together in China(JP/File)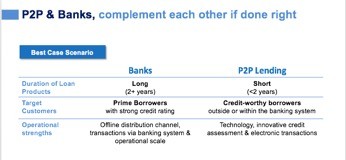 A comparison between P2P lending and conventional loans.(JP/File)
Comprehensive policies
Despite its huge potential, P2P lending should be regulated carefully. The role of regulators is highly needed to nurture a healthy business ecosystem. There should be comprehensive policies regarding fintech business establishment and operation, the creation of innovative services that are safe for customers and efforts to maintain healthy competition. Business players, through the Indonesian FinTech Association, support policies that are both pro-business and pro-user.
To ensure business safety, a significant capital ownership requirement (above Rp 20 billion) would be an important part in a selection mechanism and for quality control, since P2P lending is a capital-intensive and scalable business.
Hendrikus Passagi, a senior executive researcher at the OJK's strategic policy development department, has repeatedly emphasized that P2P lending providers should have capacity and ability to mitigate risk to protect customers and national interests.
P2P lending firms must also guarantee the security of public funds and data while maintaining reasonable interest rates to ensure the financial health of the public.
As for the protection of national interests, P2P lending firms must be able to prevent the risks of money laundering and terrorism financing, while anticipating any disruption to the financial system. Hence, service providers are not allowed to touch customers' funds and instead must use escrow and virtual accounts.
Even though P2P lending is the 'new kid' in the financial ecosystem, the service, with the help of new regulations, is believed to be able to grow progressively and provide solutions to improve welfare.

You might also like :
Comments