Wings Air connects Yahukimo to Jayapura
Nethy Dharma Somba

The Jakarta Post
Jayapura |

Mon, December 5, 2016

| 07:14 pm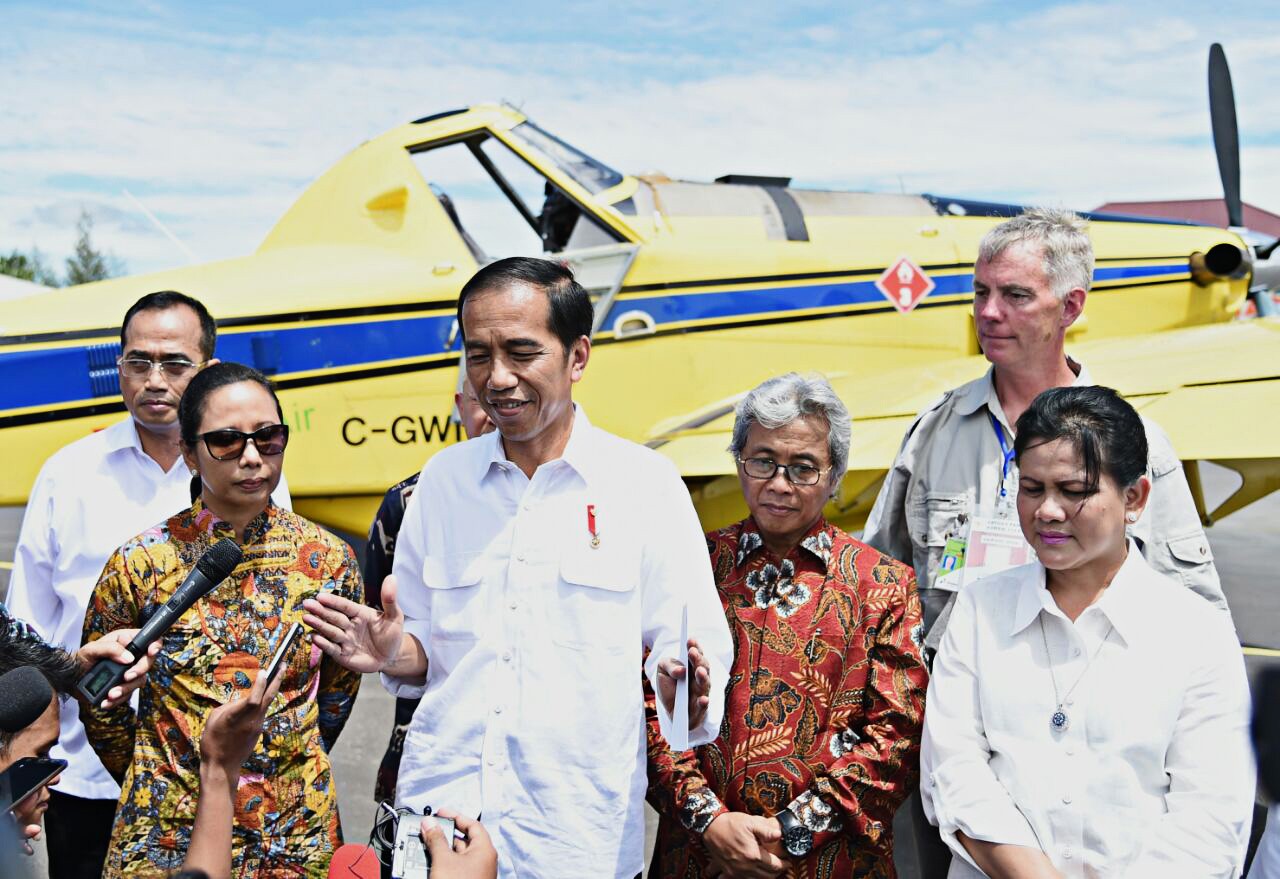 Breakthrough policy -- President Joko "Jokowi" Widodo (center) explains to journalists the government's One Fuel Price policy he announced during his visit to Yahukimo, Papua, on Tuesday. (Courtesy of the Presidential Office/Rusman)
Wings Air, part of the Lion Air group, is now serving routes from Nop Goliat Airport in Yahukimo regency in Papua, an airport newly opened by President Joko "Jokowi" Widodo on Oct. 18.
The airline's first flight from the airport in Dekai was on Nov. 30, carrying 72 passengers in a ATR-72 plane to Sentani Airport in Jayapura.
Yahukimo Regent Abock Busup said the residents of his regency had long wanted to have an airplane route to Jayapura.
"Wings Air with an ATR plane has landed in Dekai. It's not enough. We hope for a Boeing to arrive here too. Two weeks ago I met with the airport manager and the transportation minister to allow for a bigger plane to land in Dekai. This was a follow-up from Jokowi's visit," he said.
The Lion Air manager in Papua, Agung Setio Wibowo, said Dekai residents had been enthusiastic about the Wings Air service, which flies every day from Sentani to Nop Goliat in Dekai at 1:30 p.m. local time in 50 minutes and from Nop Goliat to Sentani at 2:45 p.m. local time.
The ticket price is about Rp 900,000 (US$67).
Before Wings Air, Trigana Air flew round-trip from Sentani to Dekai.
Wings Air will open routes from Dekai to Timika next year. (evi)
Topics :
You might also like :
Comments