Indonesia raises Rohingya concerns with Suu Kyi: Retno
Tama Salim

The Jakarta Post
Jakarta |

Thu, December 8, 2016

| 09:55 am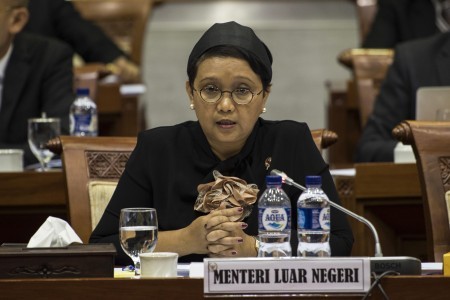 Foreign Affairs Minister Retno LP Marsudi attended a working meeting with the House of Representatives' commission I overseeing defense and foreign affairs at the House complex on Aug. 31. (Antara/Sigid Kurniawan)
Indonesia remains one of the few actors able to speak frankly to Myanmar about the escalation of violence in Rakhine state, amid the latter nation's souring relations with another regional neighbor.
"Once again I conveyed Indonesia's concerns to State Counsellor Daw Aung San Suu Kyi regarding the situation in Rakhine state," Foreign Minister Retno LP Marsudi said after her meeting with Myanmar's de facto leader in Naypyidaw, late on Tuesday.
Suu Kyi hosted a dinner and talked with Retno at her residence in the Myanmar capital after extending an invitation to Indonesia to openly discuss the situation in Rakhine state, the region where the persecuted Muslim Rohingya mostly reside.
Myanmar has been on the defense ever since the outbreak of violence in northern Rakhine.
Turmoil erupted following a spate of attacks on police posts near the frontier with Bangladesh on Oct. 9 by Rohingya militants, which left nine officers dead. Myanmar authorities hit back with a crackdown placing Rakhine under military lockdown and displacing thousands of people.
One report by London-based Burma Human Rights Network (BHRN) states that at least 30,000 people in Rakhine have been internally displaced, while ongoing violence has led to shortages of food and aid for more than 70,000 people in the area.
ASEAN remains tight-lipped on the situation, even though delegates are expected to meet for a round of informal talks over recent developments on regional peace, security and stability, a diplomatic source said.
Indonesia's measured advances and disdain for megaphone diplomacy has apparently won the confidence of the Myanmar government.
Retno and Suu Kyi openly discussed the developments in Rakhine state, said Foreign Ministry spokesman Arrmanatha Nasir.
"The Indonesian Foreign Minister emphasized how important it was for security and stability to be swiftly achieved so that efforts in inclusive development can continue in Rakhine state," he said in a statement.
Retno also conveyed her hopes that the Myanmar government would continue to uphold human rights for all the people of Rakhine, including the Muslim minority, as well as the importance of allowing access to humanitarian aid.
While Myanmar authorities could not be reached for comment, Arrmanatha claimed that Suu Kyi responded positively to the minister's comments.
He also said that the former rights activist conveyed her utmost appreciation for Indonesia's support for her country, including humanitarian aid sent into the troubled state following the Oct. 9 incident.
Jakarta's continued support has been instrumental in bringing Myanmar closer to becoming a democracy, with the ASEAN chairmanship in 2013 underpinning Naypyidaw's ongoing transition.
Indonesia has also provided other forms of support, including the building of two schools and a medical facility in Rakhine state.
Leveraging their similarly heterogeneous cultural make-up, Indonesia and Myanmar have also agreed to increase cooperation in interfaith dialogue, as well as capacity building in good governance, democracy and human rights.
Suu Kyi also met with former United Nations secretary general Kofi Annan and his commission to investigate the conflict in Rakhine state on Wednesday.
Suu Kyi said the international community should give Myanmar enough time to deal with its decades-long problems and advised that they try to better understand Myanmar's situation, Myanmar Eleven reported.
Annan presented his findings during his week-long inspection tour of Rakhine state, the Myanmar Foreign Ministry said in a statement.
Pressure has also mounted on Suu Kyi to respond to pressures from Malaysia and other critics further afield, with Naypyidaw being swift to differentiate between perceived friends and foes.
Myanmar banned workers from going to Malaysia late on Tuesday when the immigration ministry announced it had ceased to issue new licenses for its citizens to work in Malaysia — for years a top destination for migrant labor.
The ban came after Malaysian Prime Minister Najib Razak lashed out at Suu Kyi for allowing "genocide" on her watch during a rally in Kuala Lumpur.
You might also like :
Comments