IDX allows greater price swings with reintroduction of old rule
Prima Wirayani

The Jakarta Post
Jakarta |

Thu, December 15, 2016

| 07:51 am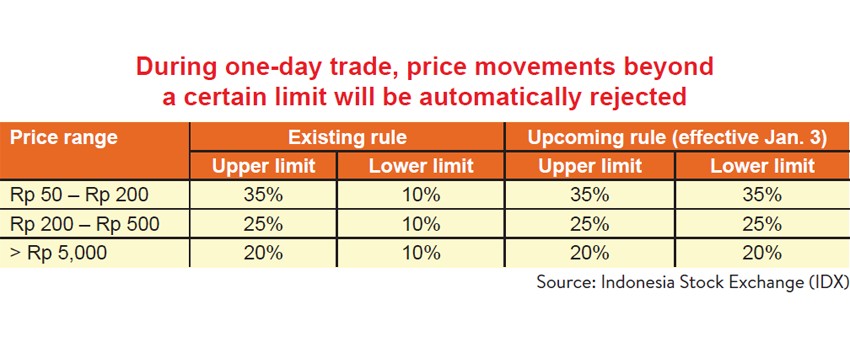 The Indonesia Stock Exchange (IDX) has opened the way for greater price swings with the reinstatement of a former regulation.
The auto-rejection regulation, to be reinstated starting Jan. 3, will allow share prices to move in a broader range than is permitted at the moment.
For instance, shares priced at Rp 5,000 (38 US cents) apiece and higher will be able to climb or fall by 20 percent in a single trading day, as opposed to the present situation, in which they can increase by 20 percent, but decrease by 10 percent only.
The regulation was originally put in place in 2009, but was revoked in August 2015 because of concerns over global market volatility, especially stemming from the US Federal Reserve's plan to increase its key rate, which affected domestic financial markets.
Back then, the bourse and the Financial Services Authority (OJK) argued that they were mitigating a panic-selling spree by revoking the rule because they suspected the price drops to be mainly caused by the global economic situation, rather than fundamental changes in stock values.
IDX development director Nicky Hogan said on Wednesday the market seemed to have returned to normal and that had prompted the IDX and OJK to revive the old regulation.
The Jakarta Composite Index (JCI), the IDX's benchmark, lost 12 percent of its value in 2015, making it one of the worst performing indexes in the region.
The stock market recorded Rp 22.59 trillion in capital outflows as foreign investors ditched their Indonesian assets and the outflow figure became the largest foreign equity losses in at least 12 years.
However, the situation has slowly changed. As of Wednesday, the IDX had posted 14.6 percent growth and reaped Rp 16.55 trillion in inflows since the beginning of this year.
In Southeast Asia, the IDX is listed as the second-best market after Thailand.
"This is the right moment to bring [the auto-rejection] to its original position because we think the situation will not be too volatile again," OJK commissioner for capital market supervision Nurhaida said.
The market has anticipated a Fed fund rate hike this month and such a hike will be less likely to shock the market, she went on.
Meanwhile, the move to re-implement the old auto-rejection regulation was warmly welcomed by analysts as they claimed the market was ready for the change.
"This may cause greater market movements, but what the bourse wants is to make the market trade as fairly as it can," Minna Padi Investama analyst Christian Saortua said by phone.
Analysts also say the re-implementation will educate investors, especially speculative ones, to be more prudent and serious in investing in the stock market as the regulators remove the "safeguard" against deep losses.
"They should be more aware of risks because they will no longer be taken care of [by the current regulation]," Asjaya Indosurya Securities analyst William Surya Wijaya said.
Topics :
You might also like :
Comments