Indonesia to boost tea exports in 2017
Dylan Amirio

The Jakarta Post
Jakarta |

Wed, January 4, 2017

| 02:55 pm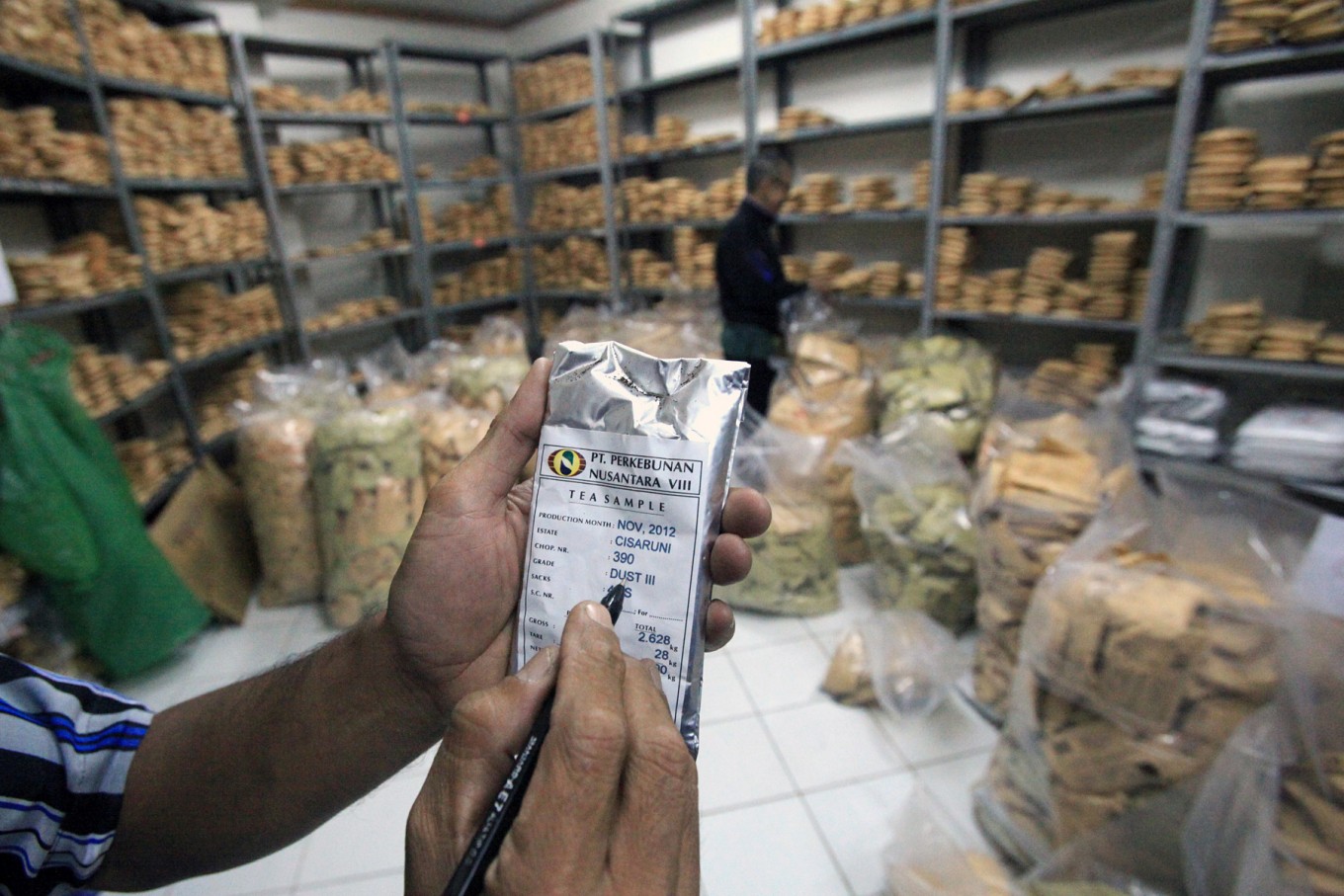 An official writes down information on a special bag containing a tea sample inside a tea archive room belonging to state-owned tea and coffee distributor, PT Kharisma Pemasaran Bersama Nusantara. (JP/R. Berto Wedhatama)
Struck by a saturated local beverage market and a lack of price control, tea distributor PT Kharisma Pemasaran Bersama Nusantara (KPBN) aims to drive its focus toward the international market in 2017, which has also fallen amid global economic conditions.
Selling their supply of tea from PT Perkebunan Nusantara (PTPN), KPBN aims to move up to 40,000 tons of tea in 2017, compared to 36,000 tons in 2016. About 39 percent of Indonesian tea was exported, while 61 percent was for the local market.
KPBN president director Iriana Ekasari said they aimed to restore Indonesia's tea export levels to how it was back in 2008, when nearly 100 percent of Indonesian tea was exported to international markets.
(Read also: Booming tea imports expose irony for Indonesia)
During its first auction of the year on Wednesday, 397,000 tons of tea leaves went up for sale, with local tea exporter company PT Trijasa Prima International buying most of it.
The prices, however, were still relatively low given the high production and planting costs that goes into producing tea, Iriana said.
Indonesia is currently the seventh largest tea exporter in the world, falling behind heavyweights such as Kenya, Sri Lanka and Vietnam. Around 27 percent of Indonesian tea exports go to Malaysia, which is the largest buyer today, along with 14 percent to the United States.
The strength of Indonesian tea exports also depend on trends overseas, such as the instant coffee and tea phenomenon of Starbucks in the United States, which is a major factor in keeping export numbers healthy in that market. (bbn)
You might also like :
Comments