King of 'dangdut' promotes tolerant, peaceful Islam through politics
Nurul Fitri Ramadhani

The Jakarta Post
Jakarta |

Sun, January 8, 2017

| 04:37 pm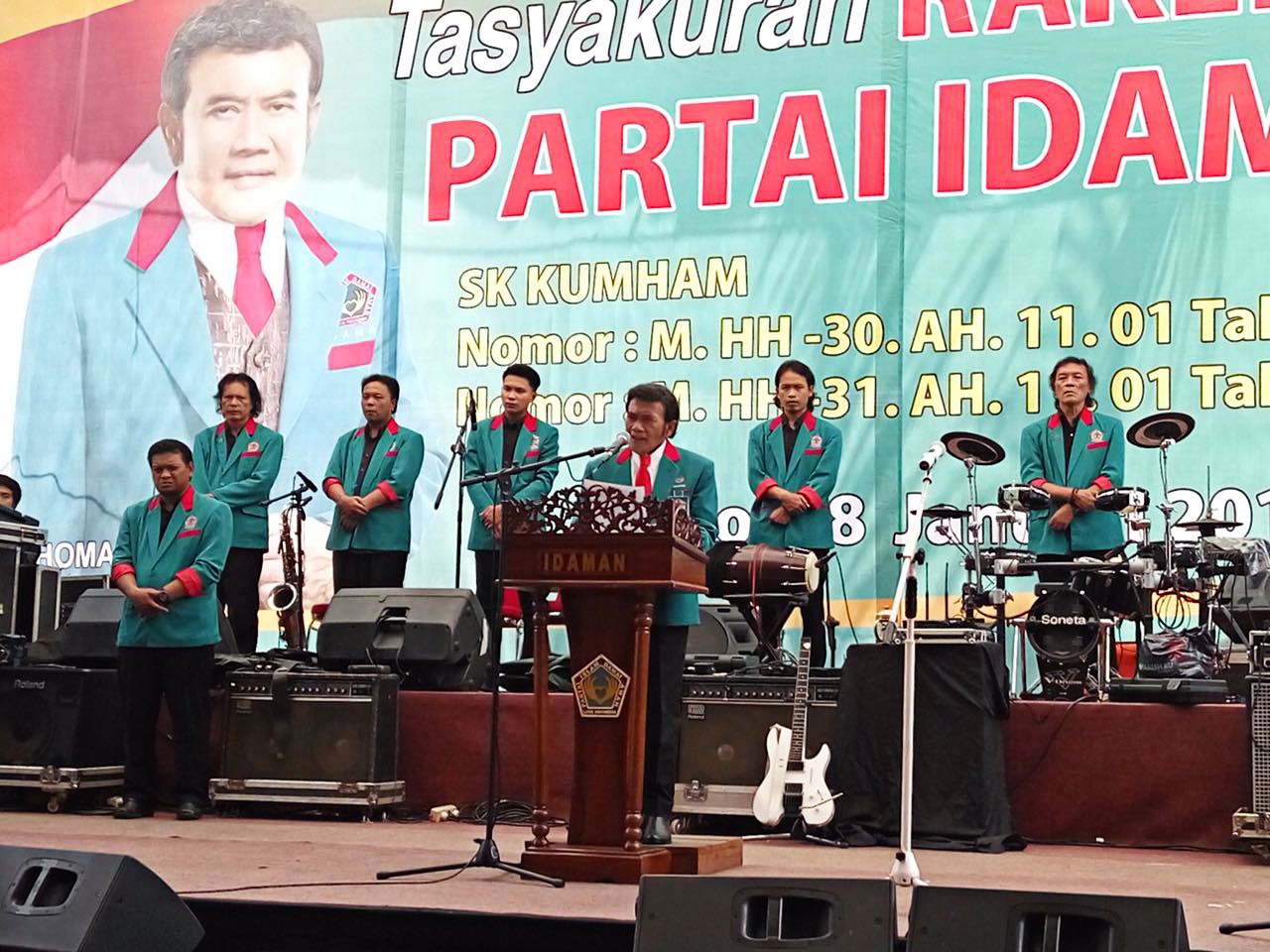 Gearing up -- The king of 'dangdut', Rhoma Irama, gives a speech during the Peaceful and Benign Islam (Idaman) Party's national meeting in Depok, West Java, on Jan. 8. (JP/Nurul Fitri Ramadhani)
The self-styled king of dangdut, Rhoma Irama, appeared on stage on Sunday to mark the very first national meeting of his new political party, the Peaceful and Benign Islam (Idaman) Party.
Rhoma, who established the party in 2015 and serves as its chairman, elaborated the Idaman Party's political vision and mission by singing five songs accompanied by his band, the Soneta Group.
Among the songs he sang were "Persatuan" (Unity), "250 Juta Jiwa" (250 Million Indonesian People) and "Adu Domba" (Playing One against Another). They tell about the need of everyone to maintain unity in diversity and to avoid provocations that might divide the nation.
Known as a singer who promotes moral values through his songs, such as "Begadang" (Stay Up All Night) and "Judi" (Gambling), Rhoma said the party would adopt the Indonesian ideology of Pancasila and promote Islamic values, namely tolerance and pluralism.
"Through these songs, I want to express that Idaman has a mission to show all people that Islam brings peace and tolerance, that Islam respects other religions and doesn't accept any acts of terrorism," he said.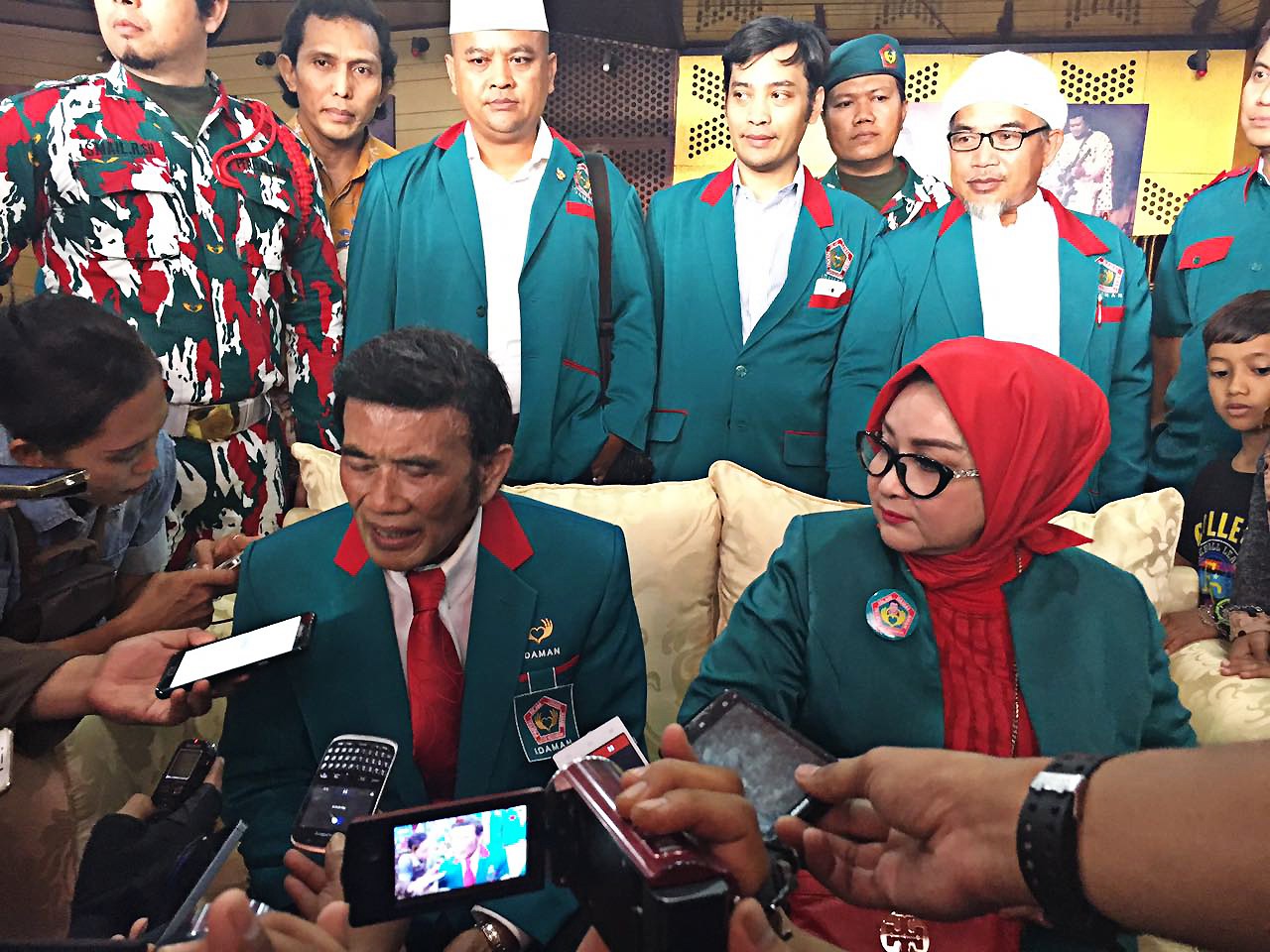 Enthusiastic -- The king of 'dangdut', Rhoma Irama, (front, center) responds to journalists' queries during a press conference after the Peaceful and Benign Islam (Idaman) Party's national meeting in Depok, West Java, on Jan. 8.(JP/Nurul Fitri Ramadhani)
Idaman obtained legal status as a political party on Dec.13 last year after it previously failed to pass verification with the Law and Human Rights Ministry because it could not meet minimum requirements.
Now legal, the party aims to be among the top five in the 2019 legislative elections, Rhoma said.
However, Idaman must first get verification from the General Elections Commission (KPU) before it can compete in the campaign.
Idaman Party secretary-general Ramdansyah said he was confident it could achieve its high expectations because Rhoma and the dangdut-related characteristics of the party might attract voters.
"The public wants a well-known figure for politics. At the end, we should have a cultural approach. With Rhoma and dangdut we'll have our own characteristics in politics and attract people," Ramdansyah said. (ebf)
Topics :
You might also like :
Comments