More experts speak at court to have casual, LGBT sex criminalized
Ina Parlina

The Jakarta Post
Jakarta |

Thu, January 12, 2017

| 05:05 pm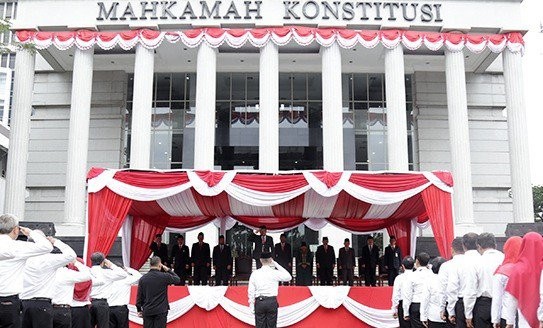 Constitutional Court justices stand on a podium during a ceremony to mark its 13th anniversary in front of the court building in Jakarta on Aug. 15. (mahkamahkonstitusi.go.od/Ifa)
Experts taking the witness stand at the Constitutional Court argued that allowing extramarital sex between unmarried couples and lesbian, gay, bisexual and transgender (LGBT) sexual activities might turn Indonesia into an uncivilized nation, in a controversial judicial review that seeks to criminalize both consensual extramarital sex and homosexual sex acts.
Three experts took the witness stand on Thursday in support of the Association of Muslim Housewives (Persistri), which supports the petition filed by a number of individuals from various backgrounds, including lecturers, housewives and private employees grouped under the Family Love Alliance (AILA) to alter provisions in the Criminal Code (KUHP) for their cause.
Elly Risman, an expert on psychology and parenting, said the existing provisions were outdated in the era of technology and the internet, where information could negatively affect children.
"Extramarital sex has turned into a lifestyle," she told the hearing. "How we can save the nation if we don't have the tools [the laws]?"
Another witness, education expert and scholar Syamsu Yusuf, said many educators considered the number of people leading such lifestyles as having reached an alarming level, deeming it a "moral disaster".
The KUHP does not cover extramarital sex between unmarried couples or same-sex relationships, and the articles in question criminalize only extramarital sex between married couples and child sexual abuse.
The government has opposed the case, demanding the bench to reject the petition.
Presiding justice Anwar Usman adjourned the hearing, which was initially the last session before the bench held closed-door deliberations, until next Thursday to give opposing sides more time to let their witnesses speak. (evi)
Topics :
You might also like :
Comments