Petition calls for disbandment of FPI
Arya Dipa

The Jakarta Post
Bandung, West Java |

Wed, January 18, 2017

| 11:28 am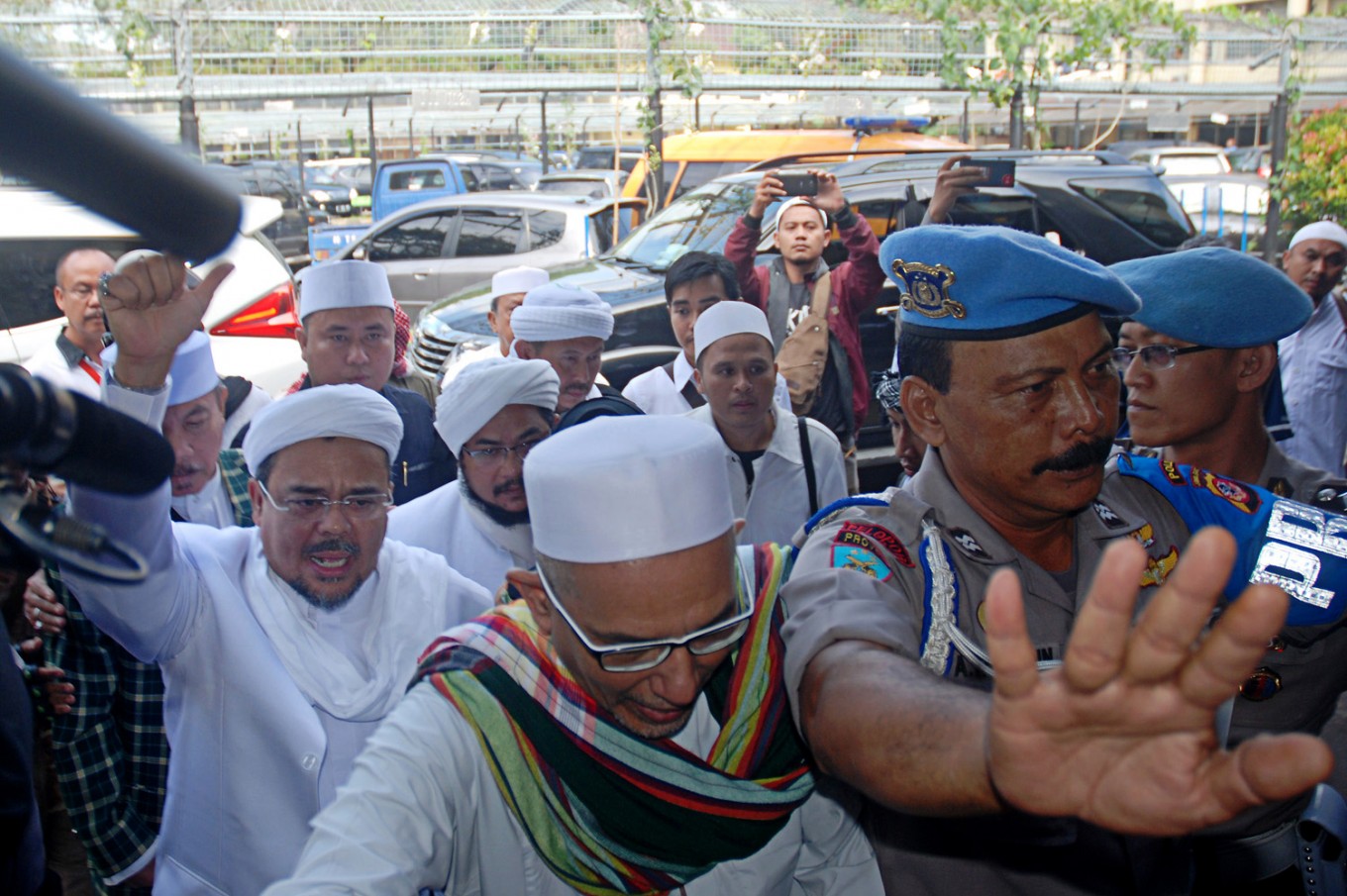 Under investigation: Islam Defenders Front (FPI) leader Habib Rizieq (left) arrives at the West Java Police headquarters in Bandung to attend a questioning on Jan.12. Rizieq was questioned in the police's investigation of a case involving defamation of the Pancasila (state ideolgoy), which was reported by Sukmawati Soekarnoputri. (Antara/Fahrul Jayadiputra)
Hundreds of members of mass organization Gerakan Masyarakat Bawah Indonesia (Indonesian General Society Movement, or GMBI) have urged the government to immediately take tougher measures against the Islam Defenders Front (FPI), a hard-line group with a track record of religious-related violence.
In a petition they signed on Tuesday, GMBI members asked the government to disband the FPI. The GMBI started the petition because they argued the FPI had been causing division in society. In the latest incident, a group of people suspected to be FPI members attacked and burned down GMBI secretariats in three cities, Bogor, Ciamis and Tasikmalaya, following a clash between the two groups during the police's questioning of FPI leader Rizieq Shihab at the West Java Police headquarters in Bandung last Thursday.
"They [FPI] have insulted the Pancasila [state ideology] and values of Sundanese culture," said GMBI chairman Fauzan Rahman on the sidelines of a hearing with lawmakers at the West Java Legislative Council complex.
Apart from the council, the petition has also been sent to the West Java National and Political Unity Agency (Bakesbangpol).
Fauzan claimed 12 mass organizations and non-government organizations supported the petition. He asserted that the petition was not an attack on ulemas but was specifically aimed at Rizieq, who had been appointed as the FPI's "great leader".
(Read also: Police refute FPI's accusation of unfair handling of Bandung clash)
Rizieq was questioned on Thursday as a witness of a case involving defamation of a state symbol as reported by Sukmawati Soekarnoputri. The report was based on a two-minute video of Rizieq's speech at Gasibu Square in Bandung last year. In his speech, which went viral on social media, Rizieq could be seen explaining what he called as the "differences" between the Pancasila that was proposed by first president Sukarno and the one stipulated in the Jakarta Charter.
"In the Sukarno-proposed Pancasila, God is on the buttock. Meanwhile, in the Pancasila proposed by the Jakarta Charter, God is on the head. Which one is better? The Sukarno-proposed Pancasila or the one in the Jakarta Charter?" said Rizieq. Sukmawati reported the alleged insult of the Pancasila to the National Police's criminal investigation department (Bareskrim), which later handed over the case to the West Java Police.
Rizieq has been accused of violating Article 154 on insulting state symbols, and Article 310 on defamation of the Criminal Code (KUHP). (ebf)
You might also like :
Comments