Adhi Karya's revenues increase but net profit decreases
Anton Hermansyah

The Jakarta Post
Jakarta |

Fri, February 17, 2017

| 11:50 am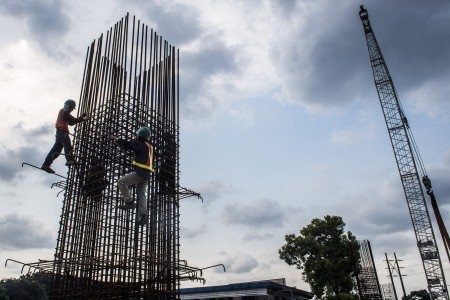 Infrastructure is worked on for the light rail transit (LRT) system in Jakarta. The project is being handled by state-owned construction company PT Adhi Karya. (Antara/M. Agung Rajasa)
State-owned construction company PT Adhi Karya collected more revenues in 2016 but experienced a decrease in profit, the company's annual financial report reveals.
Its revenues increased by 17.83 percent to Rp 11.06 trillion (US$818.44 million) from Rp 9.39 trillion in 2015, while its net profit decreased by 32.24 percent to Rp 315.11 billion from Rp 465.03 billion, mainly due to increased short-term liabilities, says the report, which was published on Friday.
The revenues mainly came from construction services revenue, which increased 15.11 percent year-on-year (yoy) to Rp 9.2 trillion, and engineering, procurement, construction (EPC) services revenue, which increased 57.05 percent yoy to Rp 998.09 billion.
(Read also: Government considers asking Adhi Karya to invest in LRT)
Meanwhile, its infrastructure investment revenue rose 29.1 percent yoy to Rp 192.37 billion.
However, Adhi Karya's accounts payable also increased 29.02 percent to Rp 8.37 trillion as the company had to pay more suppliers.
The company also reduced its long-term debt and shifted to short-term bank loans and bonds.
Adhi Karya also saw higher loan and accounts payable expenses. Its financial charges increased 88.68 percent yoy to Rp 257.96 billion.
With higher payments and a reduction in net profit, Adhi Karya's operating cash flow dropped into negative territory of Rp 1.75 trillion compared to positive territory of Rp 241.05 billion in 2015. Negative operating cash flow led to a Rp 952.28 billion reduction in corporate cash holdings. (bbn)
You might also like :
Comments