Whale shark dead after being caught up in trawl
Severianus Endi

The Jakarta Post
Sambas |

Sun, February 26, 2017

| 10:03 pm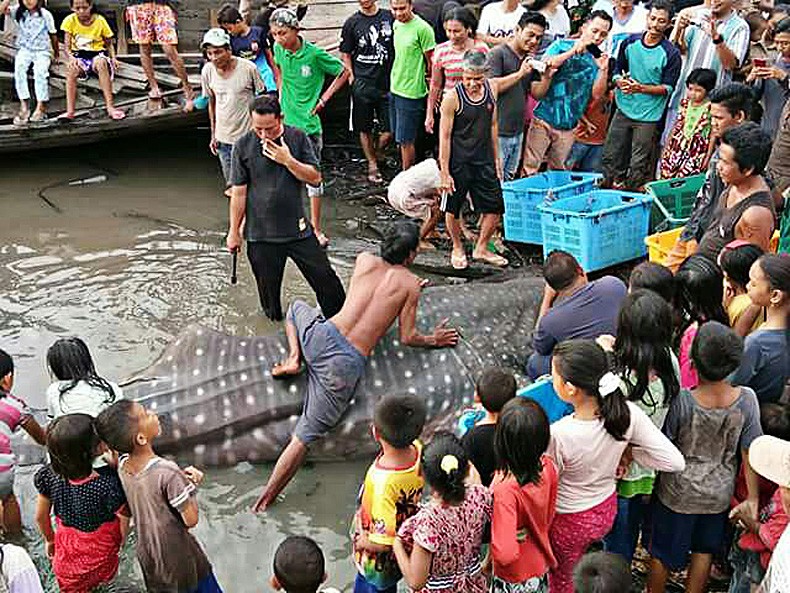 Rare species: Residents crowd around a whale shark caught in a trawl in Selakau waters, Sambas regency, West Kalimantan, on Friday. (Courtesy of Facebook/File)
A 6-meter whale shark weighing more than 1 ton got caught in the trawl of a fisherman in Selakau waters, Sambas regency, West Kalimantan, on Friday. Residents later cut the protected animal up and distributed the pieces.
Officers from Selakau Police and the Natural Resources Conservation Agency (BKSDA) questioned the fisherman, identified as Gustian, over the incident. He said the animal had accidentally become caught up in a trawl he had put out in waters around 20 kilometers off the shore. When he had discovered the shark in the net, Gustian claimed, it had already been dead.
Gustian, who had been out fishing with his son that day, said they had been unable to release the whale shark from the trawl, so he decided to pull it to the pier.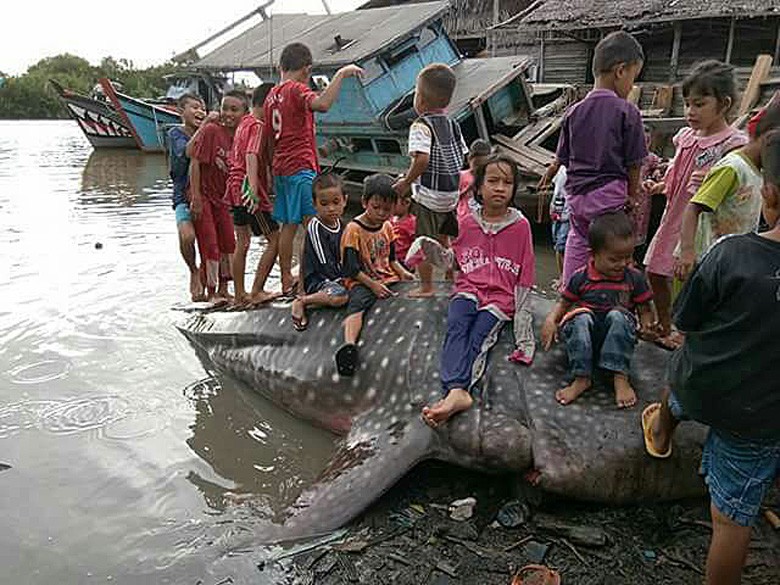 Playground: Children sits on the back of a whale shark caught in a trawl in Selakau waters, Sambas regency, West Kalimantan, on Friday. (Courtesy of Facebook/File)
Gustian said he was not aware that whale sharks were a protected species. He said he did not know who had ordered the local residents to cut the shark into pieces and take them home.
Pictures of the whale shark went viral on social media, showing local residents, including children, crowded around the carcass of the animal on Selakau Beach.
The World Wildlife Fund (WWF) Indonesia's West Kalimantan program manager, Albert Tjiu, told The Jakarta Post on Sunday there had been no clear information on whether Selakau waters were the habitat of whale sharks. However, he said, a WWF researcher conducting a survey in the area had heard of a similar incident last year. (ebf)
Topics :
You might also like :
Comments