US vice president to visit Indonesia
News Desk

The Jakarta Post
Jakarta |

Mon, March 13, 2017

| 08:32 pm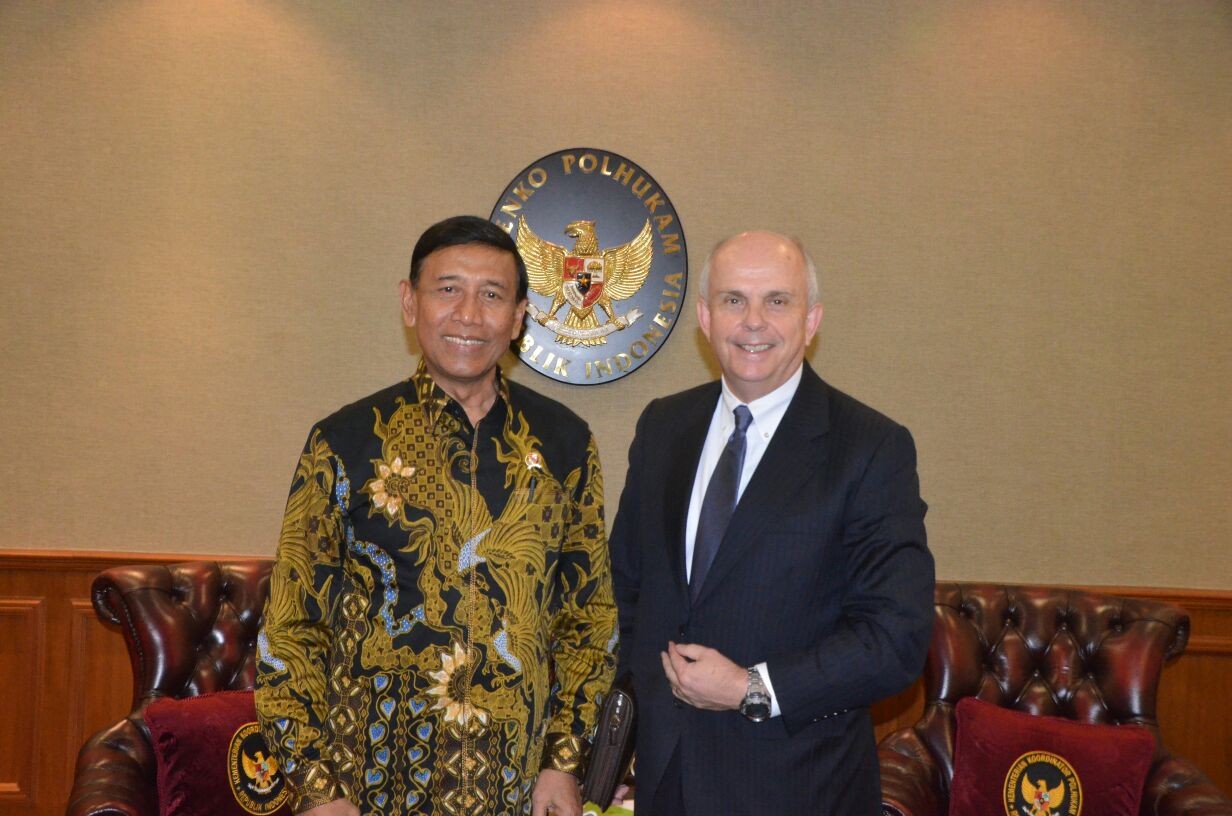 US Ambassador to Indonesia Joseph R. Donovan paid a visit to Coordinating Political, Legal and Security Affairs Minister Wiranto at his office in Jakarta on March 13, to discuss agenda that might be on the discussion table for planned US Vice President Mike Pence's visit to Indonesia. (The Office of Coordinating Political, Legal and Security Affairs Minister/-)
Indonesia and the United States are preparing for a visit by US Vice President Mike Pence to Indonesia, believed to be scheduled for next month.
US Ambassador to Indonesia Joseph R. Donovan paid a visit to Coordinating Political, Legal and Security Affairs Minister Wiranto at his office in Jakarta on Monday to discuss what Wiranto deemed as "strategic issues" that might be on the discussion table for Pence and President Joko "Jokowi" Widodo.
"We discussed matters that might be used for President Jokowi as a reference [in his upcoming meeting with Pence]," Wiranto said, as quoted from a press release.
In Monday's meeting, Wiranto also expressed Jakarta's hope for the two countries to continue forging the bilateral partnership enhanced under the leadership of US President Donald Trump's predecessor, Barack Obama, in 2015 when Jokowi visited Obama. At that time, the two countries, which have cooperated under a comprehensive partnership since 2010, agreed to forge a strategic partnership.
"Under Trump's leadership, we hope the partnership will continue," Wiranto said.
Wiranto did not reveal the dates of Pence's visit, but, reportedly Pence will be heading to Asia next month.
Pence's Asian tour will include Japan, amid concerns the Trump administration is rolling back Obama's "pivot to Asia", says Reuters.
Trump has withdrawn from the Trans-Pacific Partnership (TPP) trade agreement, which was seen as an economic pillar of the strategy.
Reuters also reported Pence would visit South Korea and Australia, with North Korea's missiles, which has sparked tensions on the Korean Peninsula, likely be among topics of discussion. (ipa)
Topics :
You might also like :
Comments