Ahok empathetic toward Muslims: Witnesses
Callistasia Anggun Wijaya

The Jakarta Post
Jakarta |

Tue, March 14, 2017

| 03:11 pm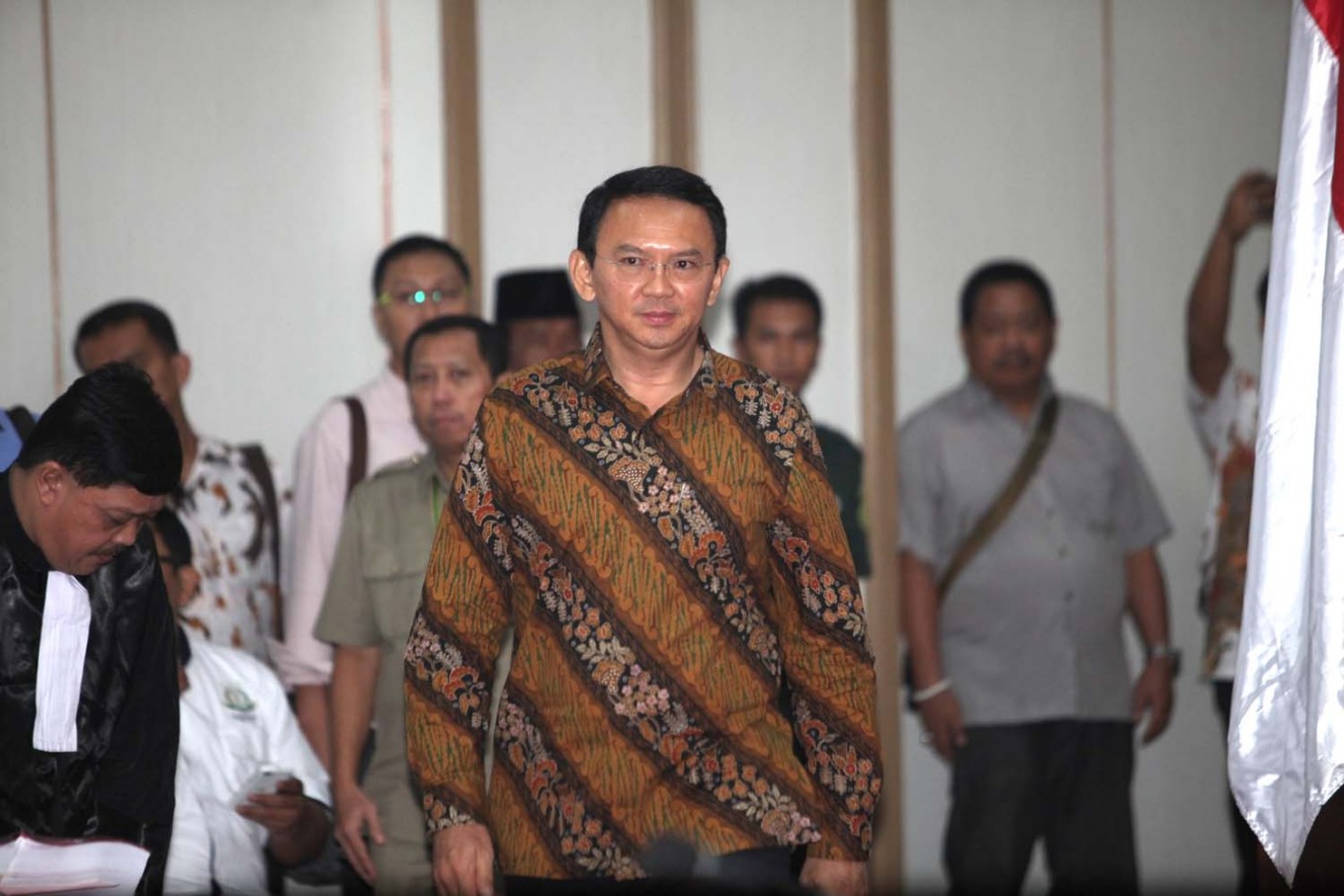 Jakarta Governor Basuki Tjahaja Purnama enters the courtroom ahead of his 11th hearing in his blasphemy trial in the North Jakarta District Court on Feb. 21. (JP/Donny Fernando)
Witnesses testifying in Jakarta Governor Basuki "Ahok" Tjahaja Purnama's defense on Tuesday said that he always showed concern and empathy toward Muslims, demonstrating that he had not intended to insult the Quran or clerics as accused by prosecutors in his blasphemy trial.
Suyanto, Ahok's driver when the latter was in Bangka Belitung, said Ahok always insisted on stopping at a mosque when it was time for Suyanto to pray on Fridays. "Pak Basuki would say, 'just pray first, I'll wait in the car'."
He added that in East Belitung, his hometown, Ahok often lent money to Muslim neighbors who were in need and even financed some to go on the umrah (minor haj) in Mecca, Saudi Arabia.
Another witness, Fajrun, one of the defendant's neighbors in Bangka Belitung, echoed the statement, saying Ahok cared about Muslims.
Fajrun added that he was aware that a lot of people had tried to foil Ahok in the 2007 Bangka Belitung gubernatorial election by quoting Surah Al Maidah 51, a Quranic verse that has become the basis of the blasphemy trial at the North Jakarta District Court.
"There were a lot of pamphlets [in Bangka Belitung] quoting Surah Al Maidah 51, which urged people not to vote for a non-Muslim leader," Fajrun said.
His testimony was in line with that of another witness, Juhri, former election supervisor head in Belitung, who said that in 2007 a lot of pamphlets tried to discredit Ahok for his religious background.
Topics :
You might also like :
Comments