Anti-cement plant rally goes on after farmer's death
News Desk

The Jakarta Post
Jakarta |

Wed, March 22, 2017

| 07:51 pm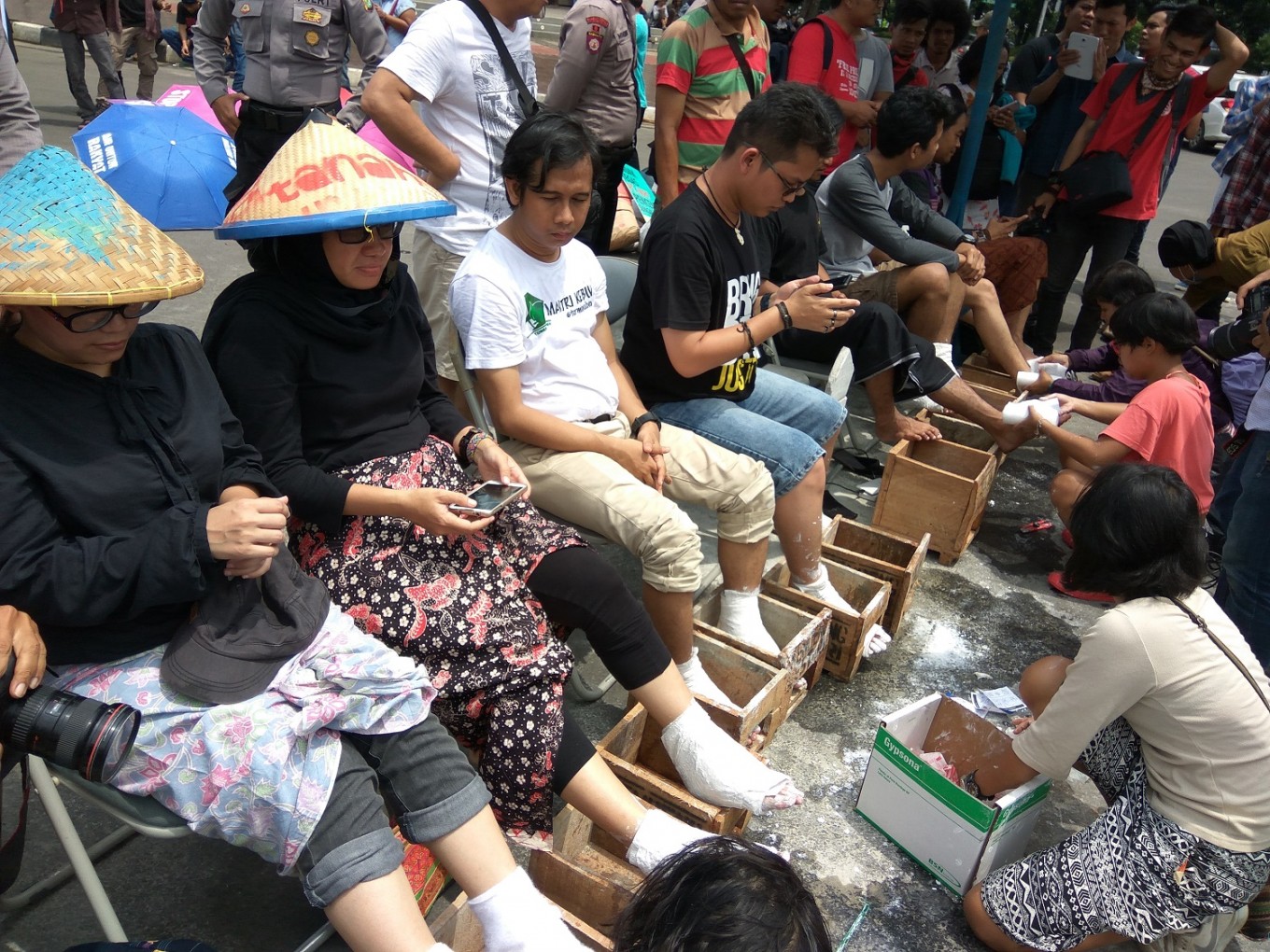 A show of solidarity: Activists cement their feet in concrete blocks to show their solidarity to the death of Patmi, a Kendeng farmer, at a rally in front of the State Palace in Jakarta on March 22. (JP/Holly Cahya)
Following Tuesday's death of a farmer demonstrator, about 100 NGO activists joined the Central Java farmers' protest across from the State Palace on Wednesday, protesting a cement factory that they deem as endangering the villagers' livelihood.
The activists replaced hundreds of farmers who had held a daily rally since March 13. The farmers went back to their home villages to bury their community member, Patmi, who died of heart attack early Tuesday.
Representing various civic organizations, such as Agrarian Reform Consortium (KPA), Legal Aid Institute (LBH), Mining Advocacy Network (Jatam) and Commission for Missing Persons and Victims of Violence (KontraS), eight of the activists buried their feet in concrete blocks the way the protesting farmers had done to dramatize their demand.
"Now we all are Kendeng," said Dewi Kartika, the KPA's secretary general, in reference to the mountainous area in Rembang regency where the factory is being built. "We swear we won't stop until our demand is met."
(Read also: Kendeng protester's death triggers calls for activists, NGOs to step up resistance)
The protesters took turns addressing the crowd, announcing their demands and praising the late Patmi's courage.
"Patmi was right here Monday and buried her feet in concrete blocks, just like what we're doing now. She fought with us because she had faith that the Kendeng people would eventually retain their land. We should share her faith," Adi Wibowo of KPA said.
The activists said they were unhappy with the government's stand on the issue. Presidential Chief of Staff office head Teten Masduki told the protesters on Monday the government was reviewing the disputed project, but he was short of saying the government would cancel it as they have demanded. (hol)
Join the discussions