Indonesian Ulema Council member rejects caliphate
News Desk

The Jakarta Post
Jakarta |

Thu, May 18, 2017

| 01:52 pm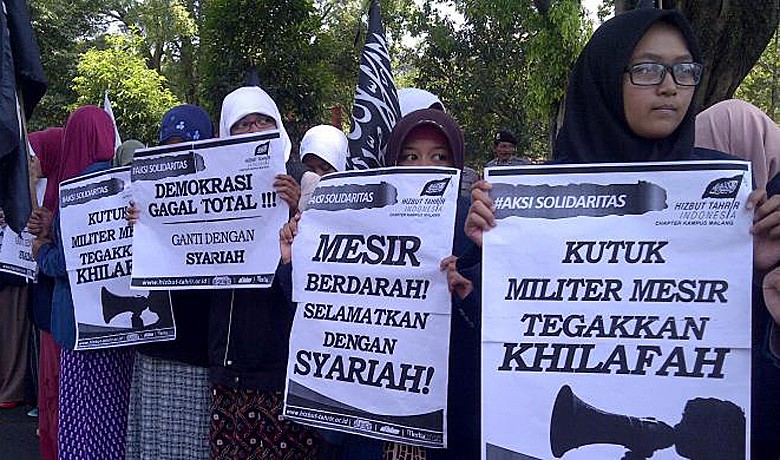 Female members of Islamic organization Hizbut Tahrir Indonesia (HTI) stage a rally to promote the establishment of an Islamic caliphate in Malang, East Java. (Kompas.com/File)
A member of the Indonesian Ulema Council (MUI), the nation's top Islamic clerical body, has said that people who want to replace the country's political system with khilafah (an Islamic caliphate) are betraying the consensus agreed upon by the nation's founding fathers.
"Establishing a caliphate in Indonesia is a religious deviation and a political betrayal," M Cholis Nafis, who chairs the MUI's Islamic propagation commission, said as quoted by Tribunnews.com.
Cholis said a caliphate, in which a caliph leads a global Islamic government under Islamic rule, is merely an ijtihad, or an interpretation of the teachings of Islam. It is not the only interpretation found in the Islamic world, he added.
He argued that even the Prophet Muhammad promoted governance based on pluralistic values when he established Madina as the first Islamic polity.
"Therefore, we agree with the government's policy of cracking down on any movement that threatens the nation's unity," he said.
The government is currently preparing to ban Hizbut Tahrir Indonesia (HTI). HTI declares that the values of democracy contravene the fundamental vision of Islam. The organization has called for the creation of a global Islamic caliphate. (ary/af)
Topics :
Join the discussions