Japan's shrinking population: Aging nation faces shortage of workers
Isabel Reynolds

Bloomberg
Tokyo |

Sun, May 21, 2017

| 10:16 am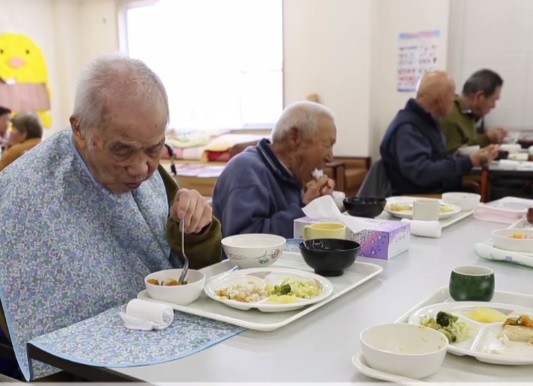 With a life expectancy of 87 years, Japanese are among the longest-living people on Earth (Bloomberg/File)
Japan is the world's senior citizen. Decades of improving life expectancy and falling birth rates have produced a rapidly aging and shrinking population. The demographic shift is threatening the existence of rural communities, contributing to a ballooning public debt and starving the economy of labor.
In Tokyo, there are twice as many job vacancies as applicants.
The government is scrambling to cope, with policies aimed at boosting fertility and support for working mothers, a push for greater job automation and a softening of the nation's traditional aversion to immigration.
Japan's population of 127 million is forecast to shrink by about one-third in the next five decades. The proportion of over-64-year-olds — currently about a quarter — is expected to reach 38 percent in that time frame, intensifying the financial and care burden on the working-age population.
In a country where over-50s are commonplace on building sites, 86 percent of employers struggled to fill vacancies last year. Prime Minister Shinzo Abe, who aims to keep the population above 100 million, has introduced policies to curb excessive working hours and provide more care facilities for children and the aged.
But progress has been slow, and moms and pensioners alone cannot plug the labor shortfall.
Other remedies include Abe's "robot revolution," a plan to quadruple the size of the robotics industry by encouraging automation in everything from rubber factories to care for the elderly.
The prime minister, sensitive to the public's reluctance to open the doors to foreigners, has relaxed restrictions in a piecemeal fashion while avoiding the term "immigration."
His measures since taking office in 2012 have contributed to an increase in the number of overseas workers to more than a million, double that in 2008.
A so-called internship program attracted cheap labor from Asia to farms and factories, and foreigners can now become housekeepers or tourist guides in special deregulated zones.
With a life expectancy of 87 years, Japanese are among the longest-living people on Earth.
After a post-World War II baby boom that lasted only three years, birth rates dwindled as people flocked to Tokyo and grew richer. Thanks partly to cramped housing, long commutes and a lack of nearby family support, the capital has the nation's lowest fertility rate.
Annual births in Japan dipped below 1 million for the first time on record in 2016. Yet high-quality health care has helped extend life expectancy by nearly three decades over the past 60 years. That longevity comes at a cost: Swelling spending on health and pensions mean Japan's unable to rein in public debt that's more than double its gross domestic product. (The US national debt is 6 percent bigger than GDP).
In the government budget, social security accounts for one-third of spending and debt servicing one-quarter. And while numerous European countries, from Italy to Ukraine, experience fewer births than deaths, many have higher unemployment than Japan and are more open to immigration.
An aging population brings "dire" implications for a country's finances, according to the International Monetary Fund. Yet the electoral muscle of the elderly — who are far more likely than the young to vote — has made it hard for politicians to do much more than trim their pensions and other benefits.
Faced with spiraling retirement payouts, Abe has pushed the national pension scheme to invest in riskier assets in a bid to improve returns.
And while the Japanese recognize more than any nationality that an aging population is problematic, most remain wary about immigration.
Among the reasons: the desire to preserve the country's cultural identity and the potential impact on ultra-low crime rates. That hasn't stopped Abe vowing to provide the world's fastest path to permanent residency for skilled workers.
With other Asian countries also getting older, experts warn Japan may struggle to attract the numbers of foreigners it needs (647,000 a year, according to a United Nations report).
The internship system, which attracts mostly Chinese workers and pays less than the minimum wage, has been cited by the US State Department for cases of forced labor.
Meantime, efforts to lure people away from family-unfriendly Tokyo, including relocating government agencies, have been largely unsuccessful, except for the promotion of Fukuoka, an expanding magnet for startups. (dmr)
Topics :
Join the discussions