Demand to demolish statue stirs criticism
Wahyoe Boediwardhana

The Jakarta Post
Surabaya, East Java |

Wed, August 9, 2017

| 09:00 am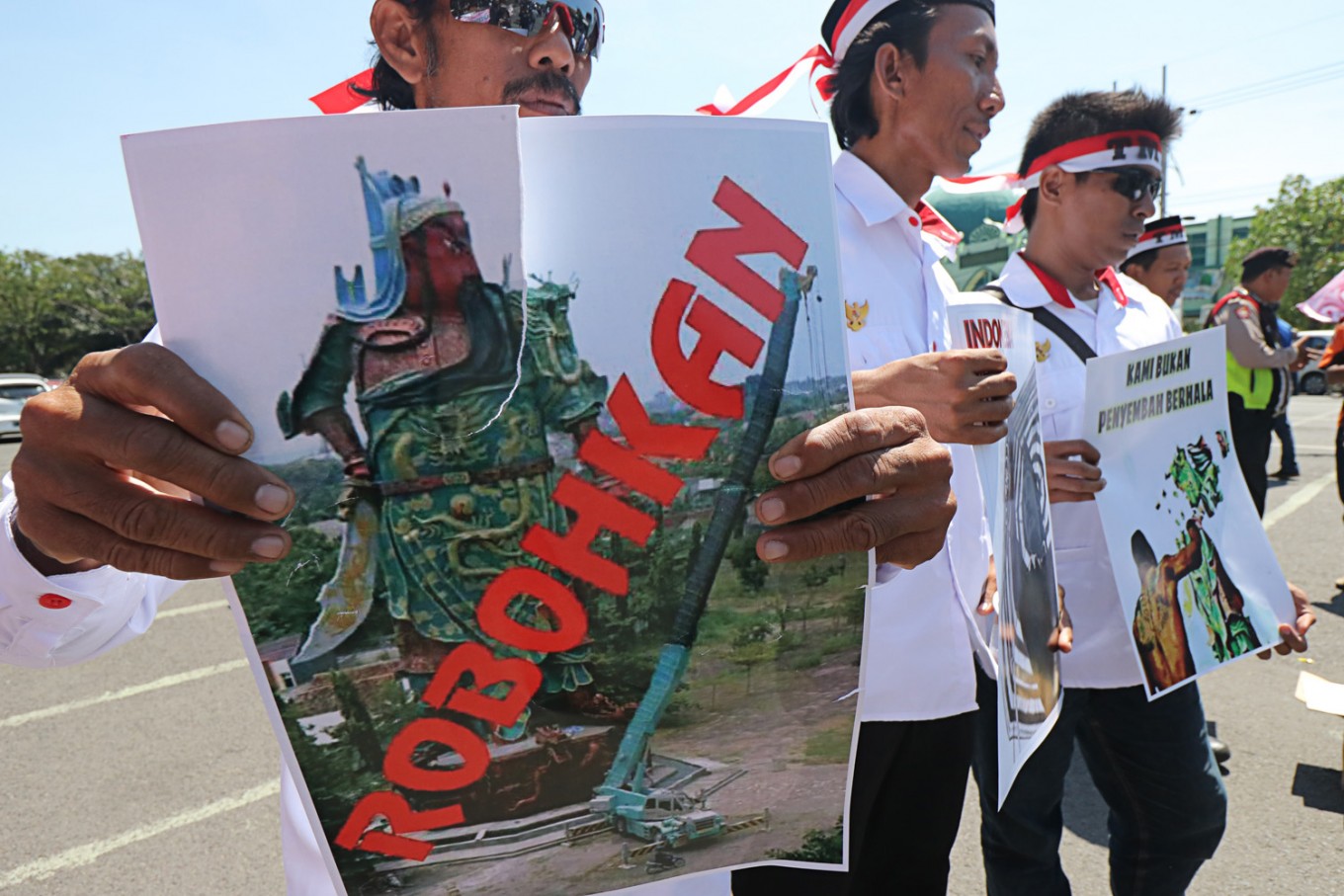 In protest: A coalition of NGOs stages a rally calling for the demolition of the statue in front of the East Java Legislative Council (DPRD) building in Surabaya, East Java, on Aug.7. (Antara/Didik Suhartono)
The recent demand of a group pushing for the demolition of a statue of war god Kongco Kwan Sing Tee Koen at the Kwan Sing Bio Chinese temple in Tuban, East Java, has provoked criticism.
It is suspected that the brouhaha was triggered by internal conflicts among managing staff members of Kwan Sing Bio, Southeast Asia's biggest Chinese temple.
The 30.4-meter statue, which cost Rp 2.5 billion (US$187,786) to construct, looks out onto Java's northern sea and has reportedly been a great source of support for Tuban's fishing communities and residents living around the temple.
Ronggolawe Women Coalition director Nunuk Fauziyah said the soaring-high statue has acted as a guide for fishermen toiling in the waters nearby.
"Each time they head back home, the fishermen use the statue as a sort of beacon directing their way. When they see the statue, they know this is Tuban," Nunuk said on Tuesday.
She rejected demeaning accusations raised by a coalition of NGOs that had staged a rally calling for the demolition of the statue in front of the East Java Legislative Council (DPRD) building in Surabaya, East Java, on Monday.
Rally coordinator Didik Muadi said Kongco Kwan Sing Tee Koen had no place in Indonesia.
"The figure [...] has no historical relation to the Indonesian people. There are many Indonesian heroes or local independence fighters who better deserve to be memorialized as a statue in Tuban," Didik said during the rally.
But according to Nunuk, it does not make sense to fulfill the protestors' demands.
"The statue has been there for a long time. It has not been a problem for the people of Tuban," she said. "It all began as a 'coffee shop joke,' which was then uploaded as a racist status on Facebook. This later went viral on social media."
She said people living around Kwang Sin Bio actually benefitted from the temple, because many earned money by working as street vendors. Every day, the temple receives around 100 visitors for religious services. Three major events take place in the temple each year, attracting tourists from across Southeast Asia.
Chairman of East Java's chapter of the Chinese Indonesian Association (PD INTI), Gatot Seger Santoso, said there was no need to connect the matter to nationalist issues, let alone worry that the statue would threaten Indonesia's sovereignty.
"It's an absurd accusation. It is reported that the presence of the statue cannot be separated from China's interests in our country. This has been politicized. This temple is fully a house of worship," he said. "The real problem is that the statue does not have a building construction permit [IMB]. The Tuban administration does not dare to issue such a permit because the temple's management has not yet been officially determined."
Gatot said the statue's lack of IMB may have been used by certain parties involved in an internal conflict to turn the case into a political, ethnic, religion, race and inter-groups [SARA] problem.
Topics :
Join the discussions