Protected Malayan tapir suffers abuse in North Sumatra
Apriadi Gunawan

The Jakarta Post
Medan, North Sumatra |

Tue, December 19, 2017

| 05:14 pm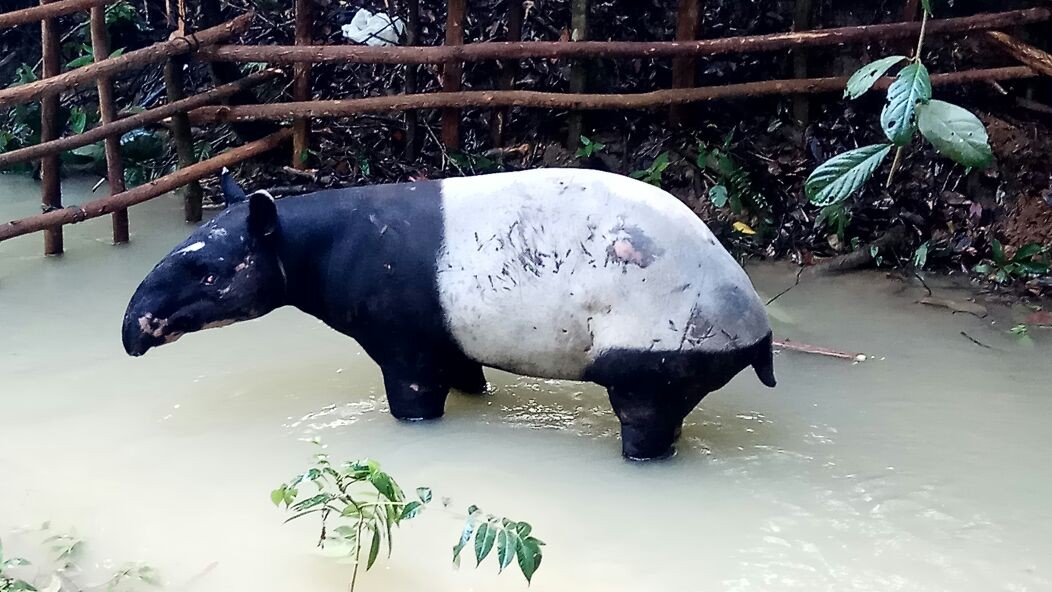 A tapir stands in a pond at the Barumun Nagari Wildlife Sanctuary in Padang Lawas regency, North Sumatra, on Tuesday. Local authorities will release the tapir into the wild as soon as it recovers from severe wounds it suffered after being caught by local residents. (JP/Apriadi Gunawan)
A Malayan tapir received treatment for wounds at the Barumun Nagari Wildlife Sanctuary in North Padang Lawas regency, North Sumatra, on Tuesday after being caught by local residents.
The 300-kilogram male tapir suffered severe wounds -- including peeled skin, wounded ankles and removed nails -- that were spread across its entire body when it was found by local authorities, said the head of the Padang Sidempuan branch of the Natural Resources Conservation Office (BKSDA), Gunawan Alza.
Locals of Kristen village in Kotapinang district, South Labuhan Batu, caught the large herbivorous mammal as it entered a residential area on Monday, then tied its four feet so that it could not escape.
"Perhaps the local people didn't know that the animal they caught was protected," Gunawan told The Jakarta Post on Tuesday.
BKSDA officials transported the tapir to the sanctuary, where doctors gave it several shots and vitamins to help it recover.
The tapir's condition was improving, Gunawan said, adding that it would be released into the wild once it fully recovers.
The population of the Malayan tapir, he said, was on the decline. The protected species, which is endemic to Sumatra, is most commonly found in the southern parts of Tapanuli, such as South Labuhan Batu, Mandailing Natal, Barumun and Sipirok.
The animal's habitat has mostly been destroyed because of deforestation, human interference and the conversion of its natural habitat into plantations, resulting in increased cases of the wild animal entering villages in search of food. (rin)
Join the discussions