Batam customs office uncovers delivery of khat leaves

Batam |

Thu, January 11, 2018

| 08:37 am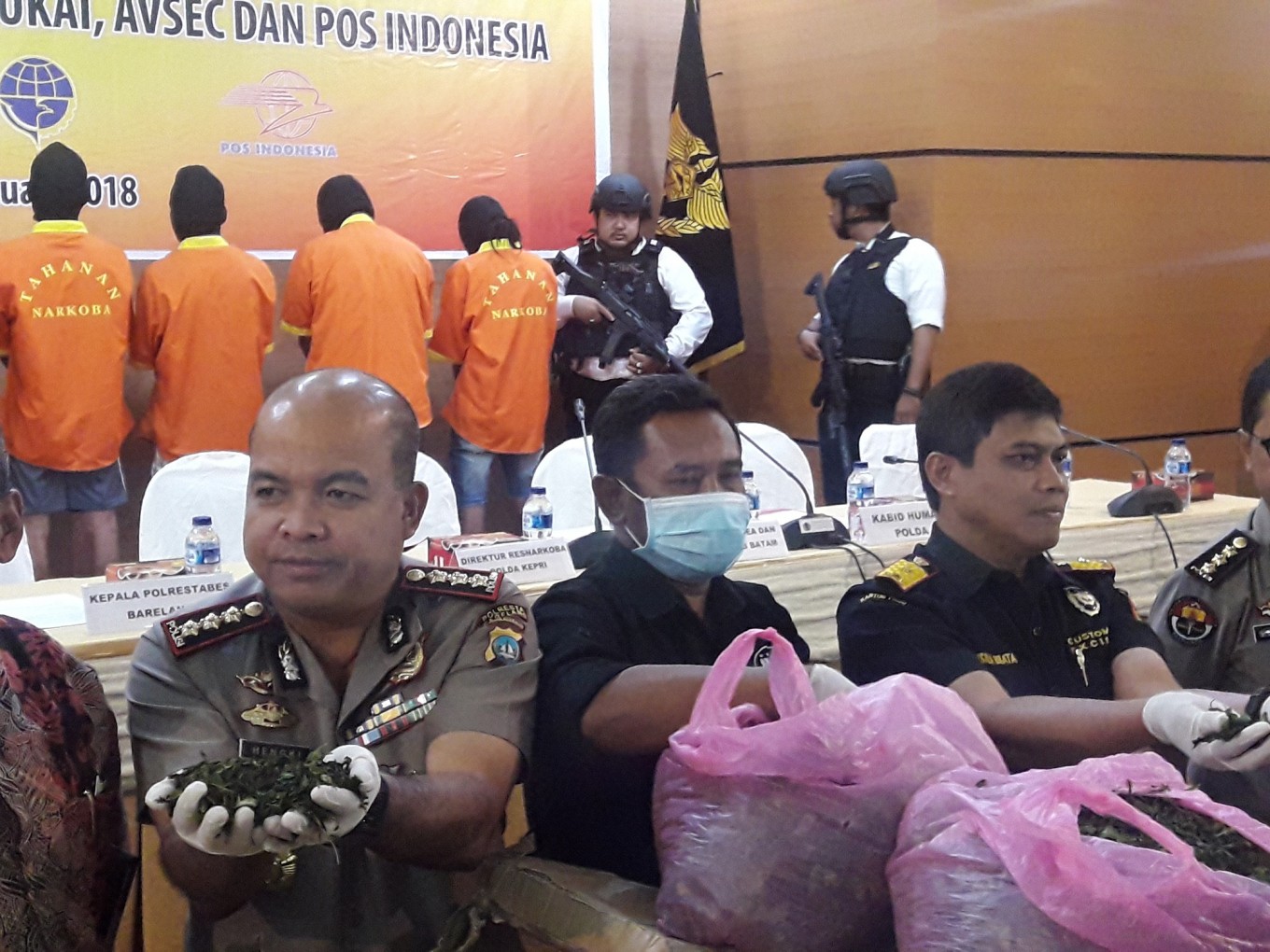 Barelang Police chief Sr. Comr. Hengky shows khat leaves allegedly smuggled from Ethiopia in this file photo. (JP/Fadli)
Personnel at the Batam Customs and Excise office in Riau Islands province have arrested a woman named Yatrika Faradiba for allegedly being involved in smuggling 55 kilograms of khat leaves, a flowering shrub classified as a drug, from Ethiopia to Batam.
Yatrika was arrested at the Batam post office upon receiving the package of khat, also known as Arabian tea, on Monday. The leaves were allegedly ordered by a refugee from Yemen who resided in Malaysia, said the head of the Custom and Excise office, Susilla Brata.
Raw materials used for ecstasy pills allegedly would be brought to Malaysia later, he added.
The delivery was discovered on Dec. 30 when customs personnel at the Pasar Baru post office in Jakarta detected the 55 kg of illegal leaves from heading to Batam from Ethiopia.
"We then followed the delivery until the recipient picked up the package in the post office in Batam," Susila said on Wednesday.
He explained that Yatrika allegedly was paid 1,500 ringgit (US$375) for receiving the package and then taking it to Malaysia based on the order by the Yemen national.
Susila's office had handed over the case to the police for further investigation.
Yatrika told officials that there had been 11 deliveries of khat from Ethiopia to Batam.
Meanwhile, Narcotics Division director at the Riau Islands Police Sr. Comr. Yani Sudarto said khat, containing the major psychoactive component cathinone, is illegal in Indonesia and is included in category I of drugs as stipulated in the Narcotics Law, and carries a maximum penalty of death.
Topics :
Join the discussions