Indigenous people urge Jokowi to fulfil promises
Gemma Holliani Cahya

The Jakarta Post
Minahasa, North Sulawesi |

Fri, March 16, 2018

| 02:05 pm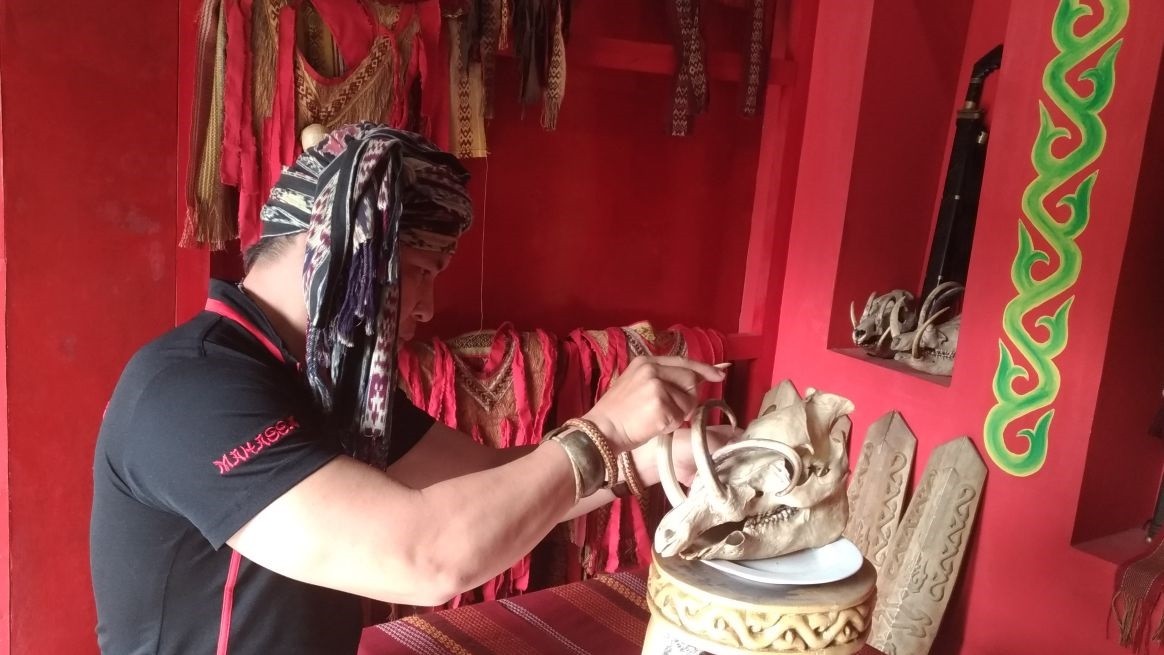 Preserving culture: Rinto Tarore, a Tona'as (spiritual leader) of Tombulu tribe, the oldest and largest indigenous community in North Sulawesi, cleans the skull of a babirusa, which is a symbol of bravery in his traditional community. (JP/Gemma Holliani Cahya)
Indigenous Peoples Alliance of the Archipelago (AMAN) secretary general Rukka Sombolinggi has urged President Joko "Jokowi" Widodo to fulfill the promises he made to indigenous communities in Indonesia.
She said that during the 2014 presidential election, AMAN threw its support behind Jokowi after he revealed that six out of his nine key development programs, known as Nawacita, were related to indigenous people.
Few of the six points have been realized during his three years in office. Meanwhile, several other points, including the deliberation of an indigenous people bill, the establishment of a special task force for indigenous people and the implementation of a law on customary villages, have not yet been realized.
"[Since Jokowi was elected as President] only about 20,000 hectares of customary forests have been given back to the indigenous people," Rukka said during the 5th AMAN National Working Meeting scheduled for March 14 to March 17 in Minahasa, North Sulawesi.
(Read also: Millions of indigenous people may lose voting rights: Alliance)
The alliance estimates that around 9.3 million hectares of customary forests across Indonesia belong to indigenous people.
AMAN represents 17 million people belonging to more than 2,300 indigenous communities across Indonesia. It declared its full support for Jokowi during the 2014 presidential election.
However, in the alliance's national meeting, representatives of the country's indigenous communities are evaluating whether or not they will continue to support the incumbent president in the 2019 election, Rukka said.
"We never know. There's no guarantee that after we supported him in 2014, we will continue to support him. It's not absolute. What we value are his actions because we still hold his promises," said Rukka. (ebf)
Topics :
Join the discussions