In North Sumatra, farmers prefer mangroves to oil palm
Moses Ompusunggu

The Jakarta Post
Langkat, North Sumatra |

Wed, May 9, 2018

| 11:00 am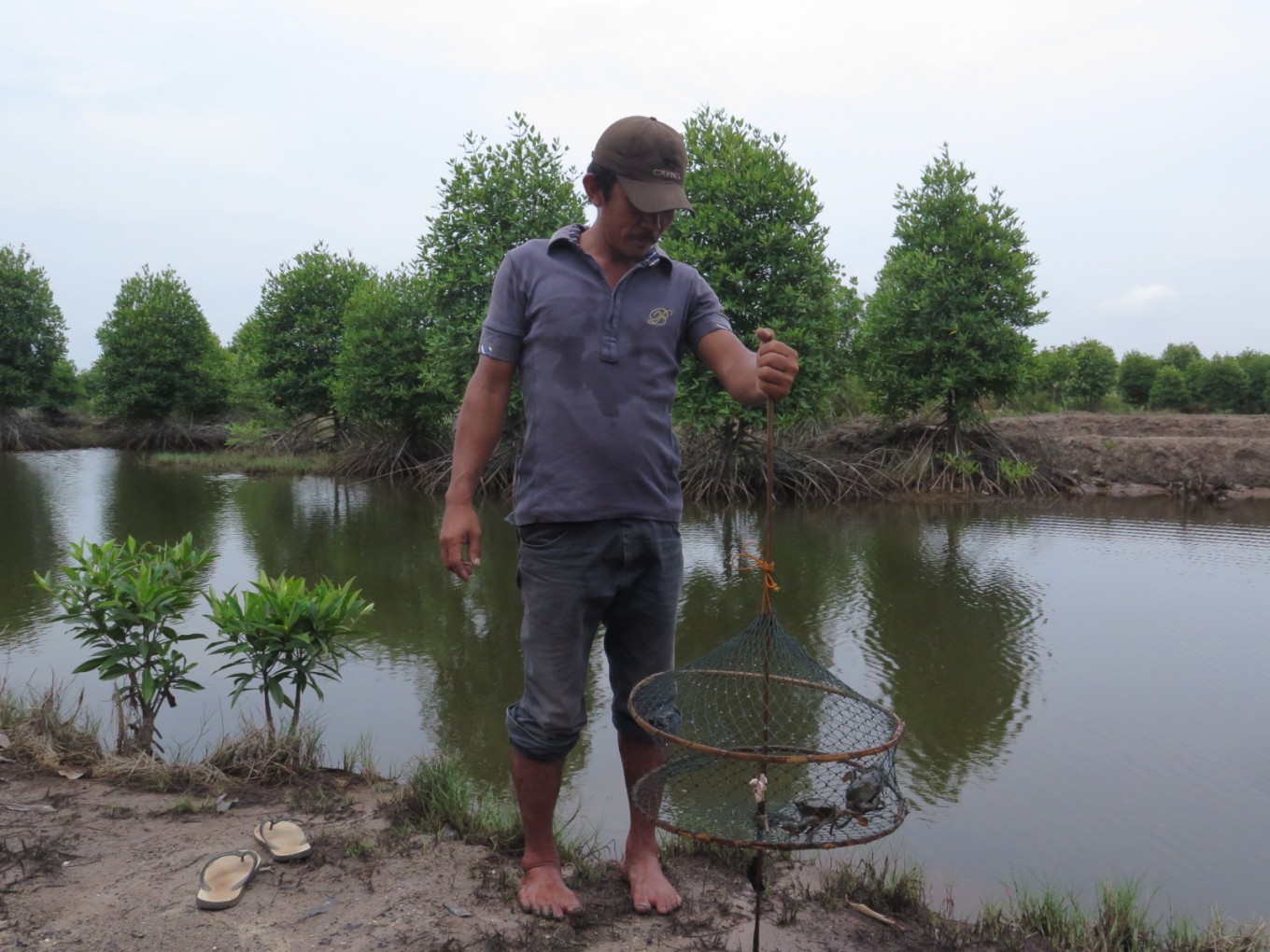 Sapari, 36, holds a bubu (fish trap) containing two crabs at a pond in Lestari Mangrove's HKm in Lubuk Kertang village in Langkat regency, North Sumatra. (JP/Moses Ompusunggu)
In a coastal village in Langkat regency, a three-hour drive north from North Sumatra's capital of Medan, locals have started to reap the benefits from the hundreds of hectares of rejuvenated mangrove forests that had previously been illegally converted by companies into oil palm plantations.
After securing a forest management permit in March 2017, Lubuk Kertang farmers and fishermen have constructed 20 eco-friendly ponds to farm shrimps, crabs and several local varieties of fish, as well as to produce snacks and syrups from mangrove leaves and mangrove apples. They also plan to construct an ecotourism site.
Jokowi's social forestry initiative
As part of President Joko "Jokowi" Widodo administration's social forestry program, a permit was issued by the Environment and Forestry Ministry to Kelompok Lestari Mangrove, a group of 108 Lubuk Kertang farmers and fishermen, to manage 410 hectares of mangrove forests for a period of 35 years.
The Jokowi administration, through its social forestry policy, aims to grant permits to forest-dependent Indonesians to manage 12.7 million ha of state forests across the country. Yet it was an arduous journey for the locals before obtaining the permit.
Prior to the government's initiative, residents fought for nearly eight years to restore the area's mangrove forests, during which they faced a number of bloody encounters with the palm oil companies. Several local leaders were apprehended for allegedly destroying oil palm plantations, which were planted on a massive scale in 2006.
"We stood up to the companies, and the thugs and security officers on the companies' payroll who protected the plantations," said Rohman, chairman of Kelompok Tani Lestari Mangrove, which translates to Mangrove Conservation Farmers' Group, as he stood beside one of the group's eco-friendly shrimp ponds.
The massive 2009 flash floods in Langkat, including in Lubuk Kertang, provided momentum for local activists to muster the support of fellow citizens to deal with the issues caused by the area's depleted mangrove forests. In October 2010, locals from seven villages surrounding the mangrove forests began a rehabilitation crusade, gaining support from civil society organizations like the North Sumatra branch of the Indonesian Forum for Environment (Walhi), the Indonesian Traditional Fishermen's Association (KNTI) and the People's Coalition for Fisheries Justice Indonesia (Kiara).
The organizations also reported one of the oil palm businessmen to the local police for alleged illegal land conversion. In 2013, the Medan District Court sentenced the businessman to eight months' probation. While the ruling was deemed lenient by activists, it proved effective in deterring the oil palm cultivators from attacking locals who tried to grow mangrove trees.
Losses from diminishing mangroves
The mangrove forests in Langkat have suffered from numerous kinds of land conversion in the past, but none have inflicted more severe economic losses than oil palm plantations, locals and activists interviewed by The Jakarta Post said.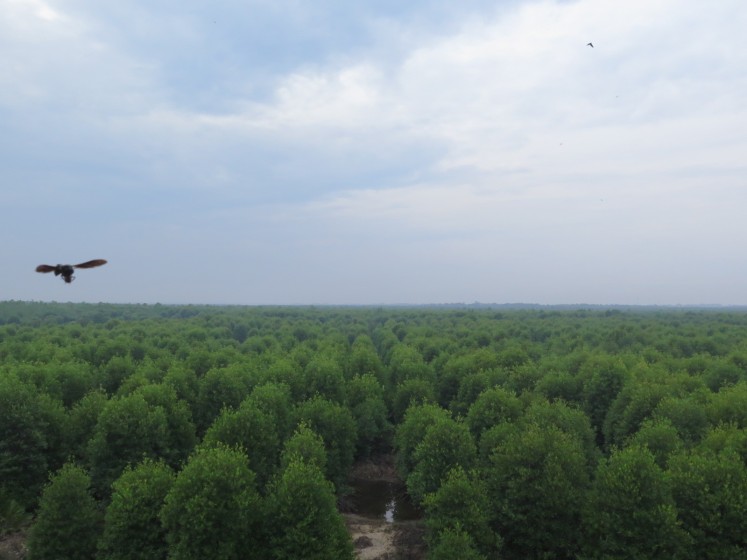 A view of the revitalized mangrove forest in Lubuk Kertang village, Langkat regency, a three-hour drive north from North Sumatra's capital Medan. In 2010, locals started a rehabilitation project to bring back the mangrove forest, which was converted into an illegal oil palm plantation in 2006. (JP/Moses Ompusunggu)
"The reason we got involved was the real economic value of the mangrove ecosystem for locals compared to how things were after the forests were converted into oil palm plantations," said Doni Latuperisa, program manager of Walhi North Sumatra.
In the 1990s, around 100,000 hectares of mangrove forests could be found in North Sumatra. Nearly half, however, have been converted, mostly for oil palm plantations or illegal fish ponds.
Some 20,000 ha of mangrove forests have also been cut down by the charcoal industry, which flourishes in Langkat. There are around 300 charcoal factories that produce 6,000 tons of charcoal per year in Langkat, according to data from the North Sumatra Forestry Agency.
Nationwide, there are around 3.49 million ha of mangrove forests, equal to 21 percent of the Earth's total mangrove forests. However, according to the Food and Agriculture Organization (FAO), Indonesia has lost around 40 percent of its mangrove forests in the last three decades, with scientists calling it the fastest rate of destruction on the planet.
In 2011, Kiara estimated that some 400,000 ha of Indonesia's mangrove forests were converted into oil palm plantations, in at least six regions across the country, including in Langkat.
Lubuk Kertang fishermen had been the worst affected by the disappearance of mangrove forests, said Tajrudin Hasibuan, chairman of KNTI Langkat and social leader of Lubuk Kertang mangrove defenders. Embankments built by companies on the mangrove mud flats to protect their plantations drastically reduced the flow of freshwater into the area, preventing the process of fish spawning from occurring in the area.
"When the embankments were built on the coast, fishermen who used fish traps could no longer catch fish or other marine species in the mangrove forests. The fishermen's yields decreased because the suitable locations for spawning had disappeared," said Tajrudin.
New way, new challenge
Under the permit they obtained in 2017, the locals are protected from outsiders seeking to destroy the mangrove forests or claim unilateral ownership over the land. They were also given the responsibility to look after and protect the forests from destruction.
To protect the forests, Lubuk Kertang shrimp farmers used the "silvofishery" concept, Rohman said. Through silvofishery, which combines conservation and land utilization, the total area used for ponds cannot be larger than the areas designated for protection.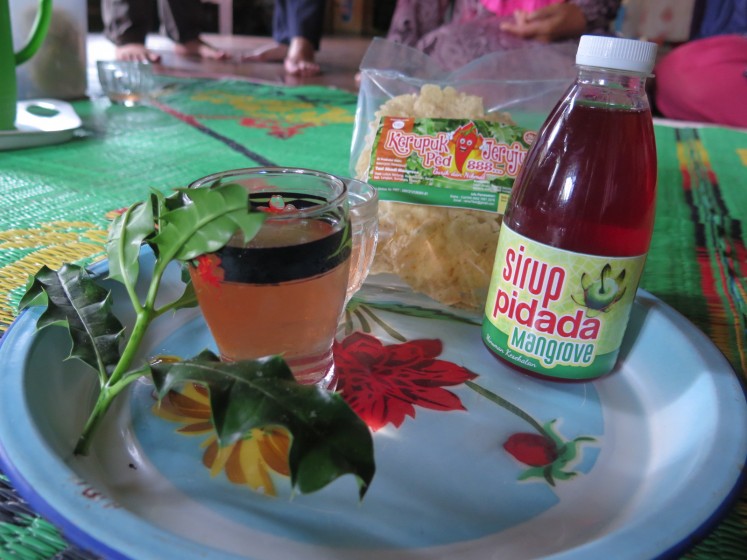 A pack of kerupuk jeruju, a snack made from acanthus leaves, and a bottle of pidada, a syrup made from mangrove apples, are arranged on a plate. After the HKm permit issue in 2017, some 14 Lubuk Kertang women established their own group named Kelompok Tani Abadi Mangrove to produce kerupuk jeruju and pidada syrup. (JP/Moses Ompusunggu) (JP/Moses Ompusunggu)
Lubuk Kertang women have also been involved in harnessing the economic value of their rejuvenated mangrove forests. Some 14 women in the village have established their own group, called Kelompok Tani Abadi Mangrove, to produce snacks from acanthus leaves, or jeruju in the local language, and syrup from mangrove apples, known locally as pidada.
Despite the recent progress, however, several constraints persist, that locals claim hamper them from harnessing the full potential of the rejuvenated mangrove ecosystem.
Juminah, a member of Kelompok Tani Abadi Mangrove, explained that the local snack and syrup businesses were hampered by a lack of marketing, while Rohman, the leader of the shrimp farmers' group, said the group still needed financial assistance from the government to develop their businesses and to achieve their future goal to establish an ecotourism site.
Head of Sumatra's Social Forestry and Environment Partnership Agency, Sahala Simanjuntak, said the implementation of social forestry in Lubuk Kertang could be replicated in other damaged mangrove areas in North Sumatra, despite the lingering challenges.
"To find a leader who aims both to rejuvenate degraded mangrove forests and to reap economic benefits from the rejuvenated forests" was one of the challenges, Sahala said.
Topics :
Join the discussions