'Adat' communities want their own special law: Why?
Moses Ompusunggu

The Jakarta Post
Jakarta |

Fri, May 11, 2018

| 12:00 pm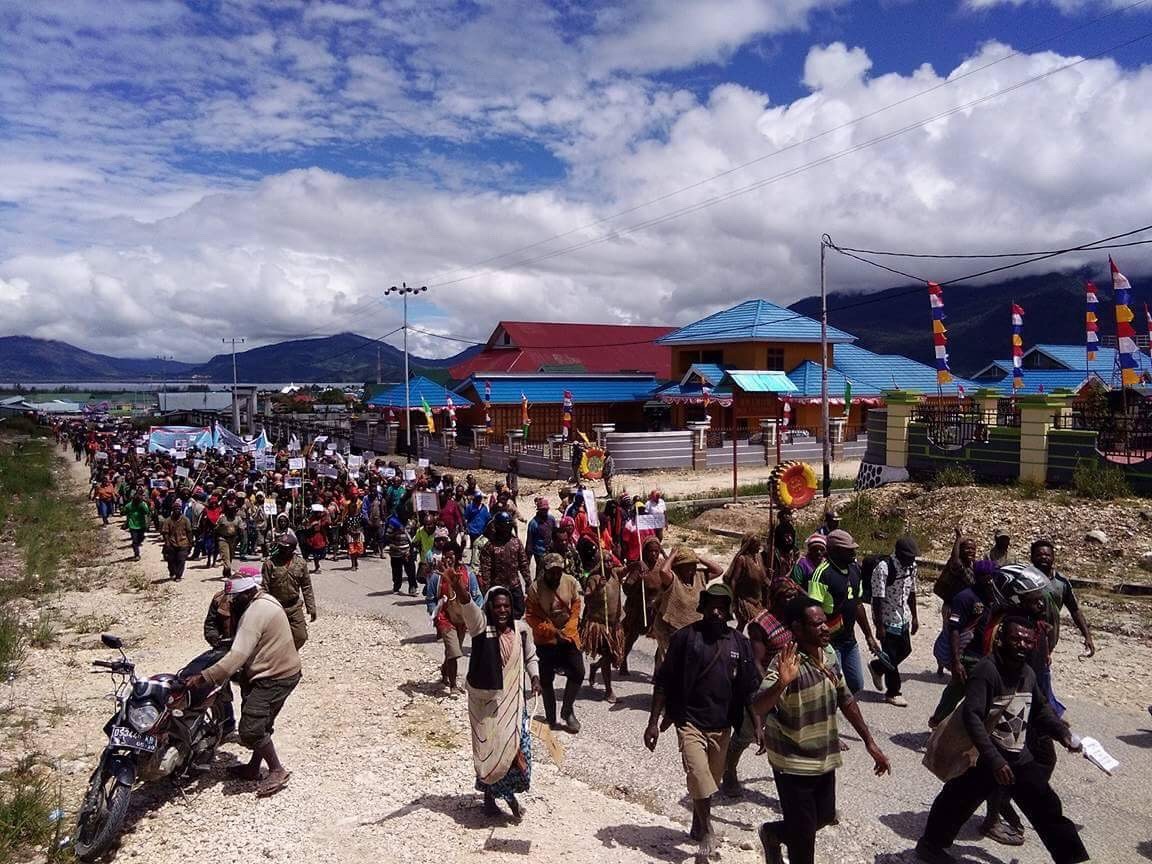 Thousands of residents rally in Deiyai, Papua on Aug. 21, 2017, calling on contractor firm PT Putra Dewa Paniai and the police's Mobile Brigade (Brimob) personnel to be forced out from the Mee Pago indigenous area. Numerous rights violations against indigenous communities have been documented by activists and media reports, such as land conflicts and criminalization. (Courtesy of/Abeth Amoye You)
The country's adat (indigenous) communities have pushed for a law regulating and protecting their rights, hoping it would end decades of neglect and abuse.
Here's a brief explanation about Indonesia's adat communities and the bill:
Who are the adat communities?
There has been no agreement among international scholars on the exact definition of indigenous people, which has become also a subject of intellectual debate.
Indonesia itself has numerous regulations on adat communities and some of the documents give different definitions of indigenous people. This lack of clarity is considered problematic by the communities.

Kurnia Warman, an Andalas University customary law expert and director of rights group Epistema Institute, says there are four laws offering different definitions of indigenous people. All of them use the term masyarakat hukum adat (customary law community) for the internationally used term "indigenous people".
The 2009 Environment Protection and Management Law, for instance, defines a customary law community as a group that inhabits a particular geographical area from generation to generation, has a tie with the origin of its ancestors and has a strong relationship with the environment.

Another definition can be found in the 1999 Forestry Law. It stipulates that a customary law community as a group whose members still live in a paguyuban (traditional community) has clear customary boundaries, has a prevailing system of laws that is abided by its members and still utilize forest areas to meet daily needs.
The other two laws, the plantation law and village law, also have their own definitions.
There is no official estimate of the number of indigenous people in Indonesia.

The Indigenous Peoples Alliance of the Archipelago (AMAN), however, claims in its website that the group represents around 17 million individuals from 2,332 customary law communities who have lived in their respective customary areas for generations, have sovereignty over land and natural resources and have their cultural and everyday lives regulated by customary law.

Does the Constitution recognize adat communities?
According to Article 18B (2) of the Constitution, the state recognizes and respects kesatuan masyarakat hukum adat (integrated adat law communities) along with their traditional customary rights, as long as these remain in existence and are in accordance with societal development and the principle of Indonesia, and shall be regulated by law.

Article 28I (3) of the Constitution also says that the cultural identity and rights of traditional communities are respected in accordance with current developments in society.
Why the special law, then?
Numerous rights violations against indigenous communities have been documented by activists and media reports, such as land conflicts and criminalization.

Rikardo Simarmata, a customary law lecturer at Gadjah Mada University (UGM) in Yogyakarta, says the land conflicts stem from overlapping claims by indigenous communities, the government and companies.

In a national inquiry released in March 2016, the National Commission on Human Rights (Komnas HAM) reported that the number of complaints it received from indigenous people reached 117 in 2012, 113 in 2013 and 213 in 2014. The inquiry said most of the cases were related to welfare, including the right to a livelihood and a place to live.
One of the root causes, the commission reported, was a state development agenda that is strongly biased toward economic growth and the dismissal of indigenous communities' rights as a mere issue of legality and administration.

In 2012, AMAN filed a judicial review with the Constitutional Court to challenge several articles in the 1999 Forestry Law that prevent indigenous people from collectively using the natural resources in their customary territories, arguing that the Forestry Law contradicted the Constitution.

The apex court finally approved the judicial review in May 2013, triggering hopes that indigenous communities could regain their customary forest areas. But the ruling did not approve one request by AMAN for the revocation of an article that requires any indigenous community to be officially recognized by the local government.

What is the customary law community bill?
The House of Representatives initiated the bill during the 2009-2014 tenure of then-president Susilo Bambang Yudhoyono's administration after receiving a draft proposal from AMAN. The bill has been included in the House's top priority list for the past two consecutive years.

Rikardo, who assisted AMAN in creating the draft bill, says there are two important provisions in the document. First, the bill stipulates the establishment of a special team to coordinate efforts to protect and expedite the recognition of indigenous people's rights.
Second, the bill stipulates that indigenous people no longer need to be officially recognized by their local government to have the rights to their customary land.

Rikardo remined concerned, however, that the latest decision by President Joko "Jokowi" Widodo's administration could be seen by many as a sign that the government is not serious in fulfilling its promise to improve the livelihood of Indonesia's indigenous people.
Will such law be good for Indonesia as a whole?
Studies have shown that the environment benefits from customary-based natural resources management.
Indigenous people in the Maluku Islands, North Maluku, in the eastern part of Indonesia, for instance, have for nearly 400 years utilized a sea management system named sasi laut, which prohibits the premature harvesting of marine products.

However, the implementation of customary principles that govern social behavior in some regions in Indonesia has become a subject of debate among scholars, because the principles have had an adverse impact on the communities' vulnerable groups, such as women.

A 2016 study conducted by a group of University of Indonesia (UI) academics found that customary-based settlement of rape case in some regions in East Nusa Tenggara (NTT) often failed to protect the victims, who were forced to marry the perpetrators.

The study also found that women were prone to domestic violence committed by their husbands as a consequence of the "shifting perspective" toward the tradition of belis (dowry).

"Husbands consider wives as their possession, because they think they have spent a lot of money to marry their wives," the scholars said in the study.
Topics :
Join the discussions