Surabaya church bombings: Woman, children deliberately used in suicide mission, expert says
Gemma Holliani Cahya

The Jakarta Post
Jakarta |

Sun, May 13, 2018

| 05:56 pm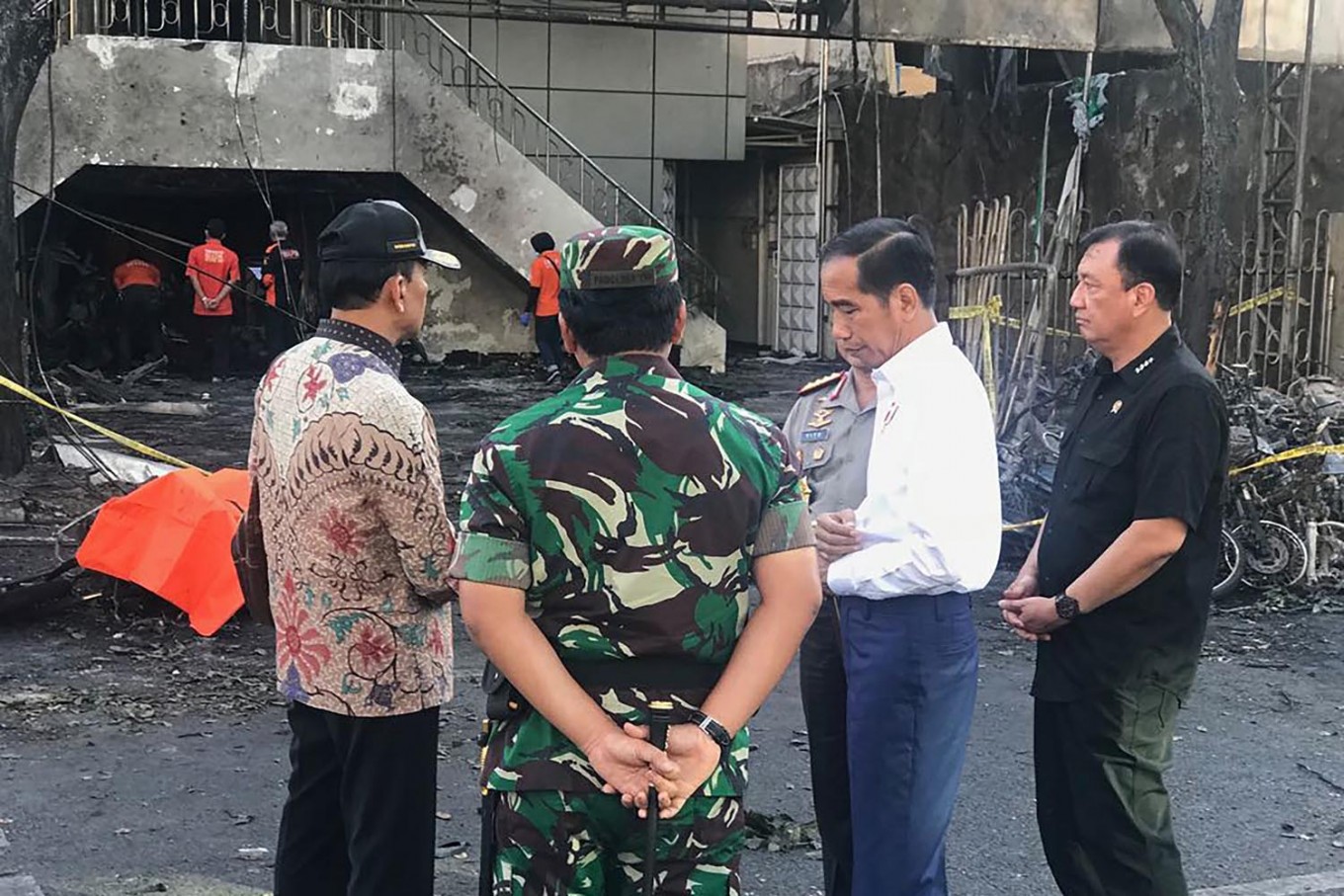 This handout photo released by the Presidential Palace on May 13 shows President Joko "Jokowi" Widodo (second right) with officials at the scene of an attack outside the Surabaya Pentecostal Church. A series of blasts, including at least one suicide bombing, struck churches on Sunday, killing at least 13 people and wounding dozens in the deadliest attack in years in the world's biggest Muslim-majority country. (AFP/Presidential Palace)
Three alleged suicide bombers, a woman and two children who reportedly detonated bombs at Diponegoro Indonesian Christian Church (GKI) on Jl. Diponegoro in Surabaya, East Java, on Sunday morning, were deliberately selected to carry out the attacks to draw less attention, an expert has said.
Solahudin of the University of Indonesia's Center for Terrorism Studies and Social Conflict said terrorist groups used women and children in suicide missions because they drew less suspicion from security officers.
Women and children bombers also attract more media attention, Solahudin added.
"Terror without media will not successfully spread the fear. The news value of [using] women and children as bombers is higher than using male bombers," he told The Jakarta Post on Sunday.
Mulyanto, 55, a parking attendant at the GKI church, was quoted by kompas.com as describing the suicide bombers as "a woman along with two children in black veils and vests" who entered the church's front yard before the bomb went off.
Solahudin said he believed the attack was also meant to encourage others to be braver in launching other terror attacks given the fact that the alleged bombers were women and children.
"This attack is also a message to provoke the group [of the alleged attackers]," he said.
Bomb attacks also struck two other churches, Santa Maria Tak Bercela Catholic Church on Jl. Ngagel Madya in Gubeng and Surabaya Pentecostal Church on Jl. Raya Arjuna, on Sunday morning. At least 13 people were killed and dozens others wounded in the attacks. (dmr)
Join the discussions