Police thwart alleged terror attack on Palu church
Ruslan Sangadji

The Jakarta Post
Palu, Central Sulawesi |

Mon, May 14, 2018

| 11:09 am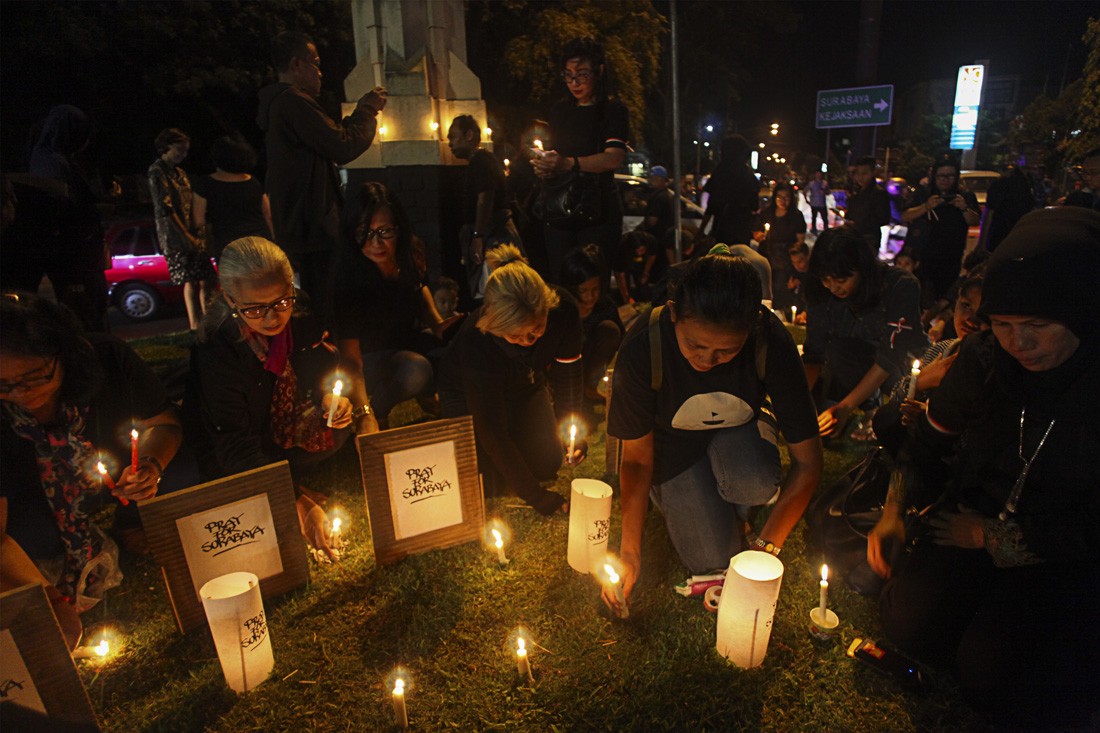 In mourning: Residents attend a candlelight vigil in Surakarta, Central Java, on May 13, to pray for victims of church suicide bombings in Surabaya, East Java, and terror attacks across Indonesia. (Antara/Maulana Surya)
Security personnel reportedly thwarted on Sunday morning an attempted terror attack on Pniel Protestant Church in Palu, Central Sulawesi.
"Around 250 people were attending a religious service led by Rev. Wilson Lampie when the incident occurred," a congregant told The Jakarta Post on Sunday.
The police said an unidentified person traveling on a motorcycle approached the church at around 9:25 a.m. The man had two boxes with him, arousing officers' suspicion.
The man, who was described as being tall and thin, had on a black helmet and was wearing a white, long-sleeved shirt, according to community security and public order supervisory officer Brig. Syaiful.
He had been driving a Vega ZR motorcycle.
"The unidentified person tried to enter Pniel Church, but the entrance was locked. He later fled east," Syaiful said.
After the religious service ended at around 11 a.m., officers asked church officials to check CCTV recordings of the building.
CCTV footage confirmed that a man had attempted to enter the church, but upon finding the door locked and spotting police officers standing guard nearby, the man ran to his motorcycle and fled the scene. (ebf)
Join the discussions