Police continue terrorism crackdown in Java, Sumatra
News Desk

The Jakarta Post
Jakarta |

Sun, May 20, 2018

| 05:22 pm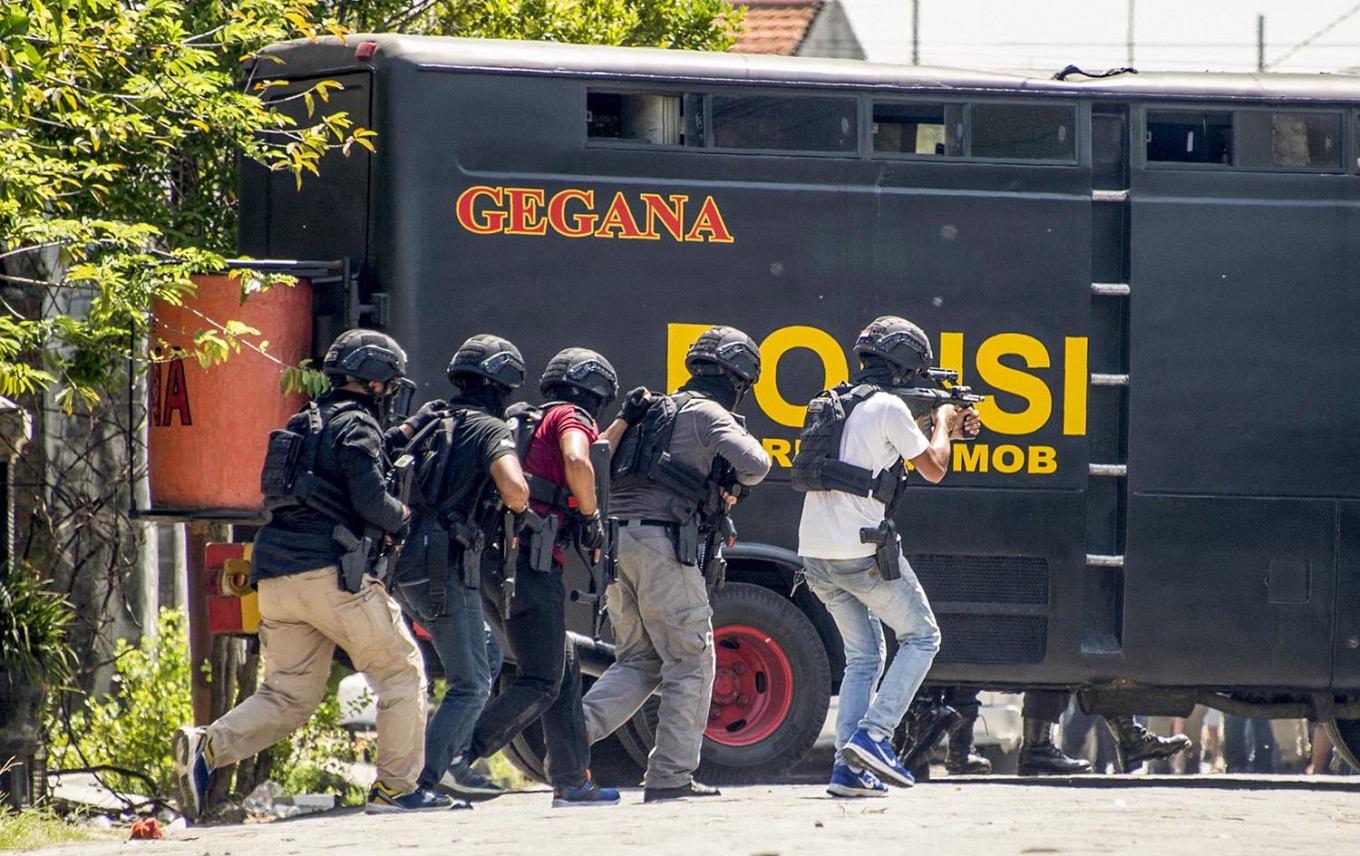 Members of the National Police's Densus 88 counterterrorism squad raid the house where a family suspected of taking part in the recent suicide bombings resided in Surabaya on May 15. Indonesia's elite counterterrorism force Densus 88 conducted raids nationwide on May 15 in the wake of a deadly wave of suicide bombings as calls grow to pass a stalled security law. (AFP/Juni Kriswanto)
The National Police's counterterrorism squad Densus 88 has made a string of arrests and raided several places in Sumatra and Java on Friday, the police announced over the weekend.
News agency Antara reported three people had been arrested in three separate locations in Sumatra on Friday. One, YR, was arrested in Ogan Komering Hulu in South Sumatra; another, HS, in Pekanbaru, Riau; and the third, Sup, in Pesawaran in Lampung.
All three were accused of being linked to the attack on the Riau Police headquarters in Pekanbaru on Thursday, the day before the arrests.
The suspects were members of Jamaah Anshar Daulah (JAD), a local terror group affiliated with the Islamic State (IS), said South Sumatra Police chief Insp. Gen Zulkarnain Adinegara.
Earlier, the police had arrested eight others in connection with the Riau Police headquarters attack in several places in Dumai, Riau. The eight were identified as HAR, NI, AS, SW, HD, YEP, DS and SY.
Also on Friday, the police raided four houses in one kampung in Mangun Jaya, South Tambun. Four suspects were thought to reside in the houses, but no tenants were found at the time of the raid.
The four tenants were identified as AG, IL, YH and IN, and they lived close to each other, Tambun Police chief Comr. Rahmat Sudjatmiko said as quoted by Warta Kota.
From the raid, the police confiscated several items such as books, a computer, CDs on religious teachings, a cell phone and a bag of nails.
"We are still investigating the suspects' involvement in terrorist networks," Rahmat said.
The landlord of the four houses, Abu Sofyan, said AH, YH and IN had been renting the houses for more than eight months, while IL had been there for only two months. "All four individuals whose houses were raided have families," Abu Sofyan said.
He said the four tenants rarely interacted with other residents in the neighborhood. "None of them mingled with the residents; they were all introverted," he said. (roi/ami/evi)
Topics :
Join the discussions