Singapore denies entry to Batam resident over Islamic State video

Batam |

Sun, June 10, 2018

| 01:31 pm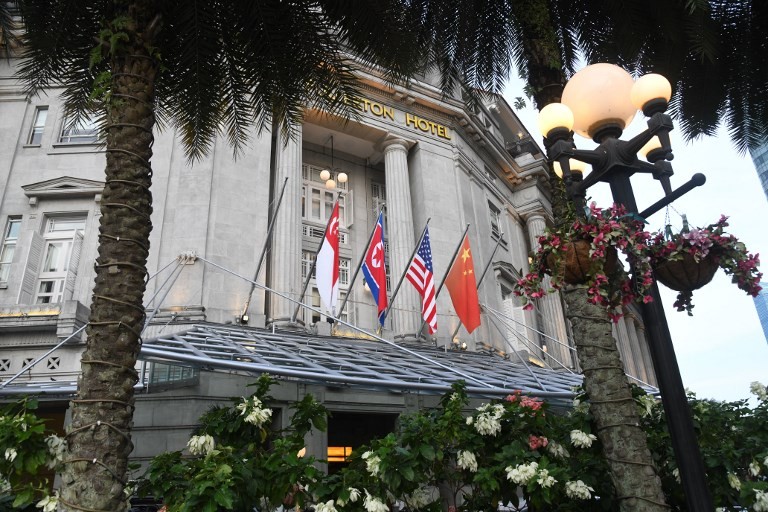 A North Korean flag is seen along side the US, China and Singapore flags at the facade of the Fullerton hotel in Singapore on June 8. (AFP/Roslan Rahman)
Singapore's Immigration and Checkpoints Authority (ICA) denied entry to a Batam resident on Saturday after discovering Islamic State (IS) related materials on his mobile phone.
Batam Immigration Office head Lucky Agung Binarto confirmed on Sunday that an Indonesian citizen named Wahyudi had been deported by Singaporean authorities and was currently being interrogated by Indonesian police.
Lucky said that Singapore was ramping up its security measures ahead of the planned summit between United States President Donald Trump and North Korean leader Kim Jong Un on Tuesday and had asked Batam immigration authorities for their assistance.
"We have been requested to tighten the inspection of Indonesian citizens who are heading to Singapore and we have maximized that," he said.
Wahyudi arrived at the Harbourfront Center checkpoint on Saturday morning after leaving from the Batam Center port.
At the passport inspection counter, Wahyudi, who was wearing Islamic garb, was ushered into an interrogation room for further assessment. During the course of the inspection, authorities found photos and videos related to IS on his mobile phone.
Lucky said that if Wahyudi was proven to be part of a terrorist network, the immigration office would revoke his passport.
"But we are still waiting on word from the police," he said. (kar/ahw)
Join the discussions