Taboo prevents Indonesians from buying condoms
Gemma Holliani Cahya and Nurul Fitri Ramadhani

The Jakarta Post
Jakarta |

Thu, June 28, 2018

| 11:22 am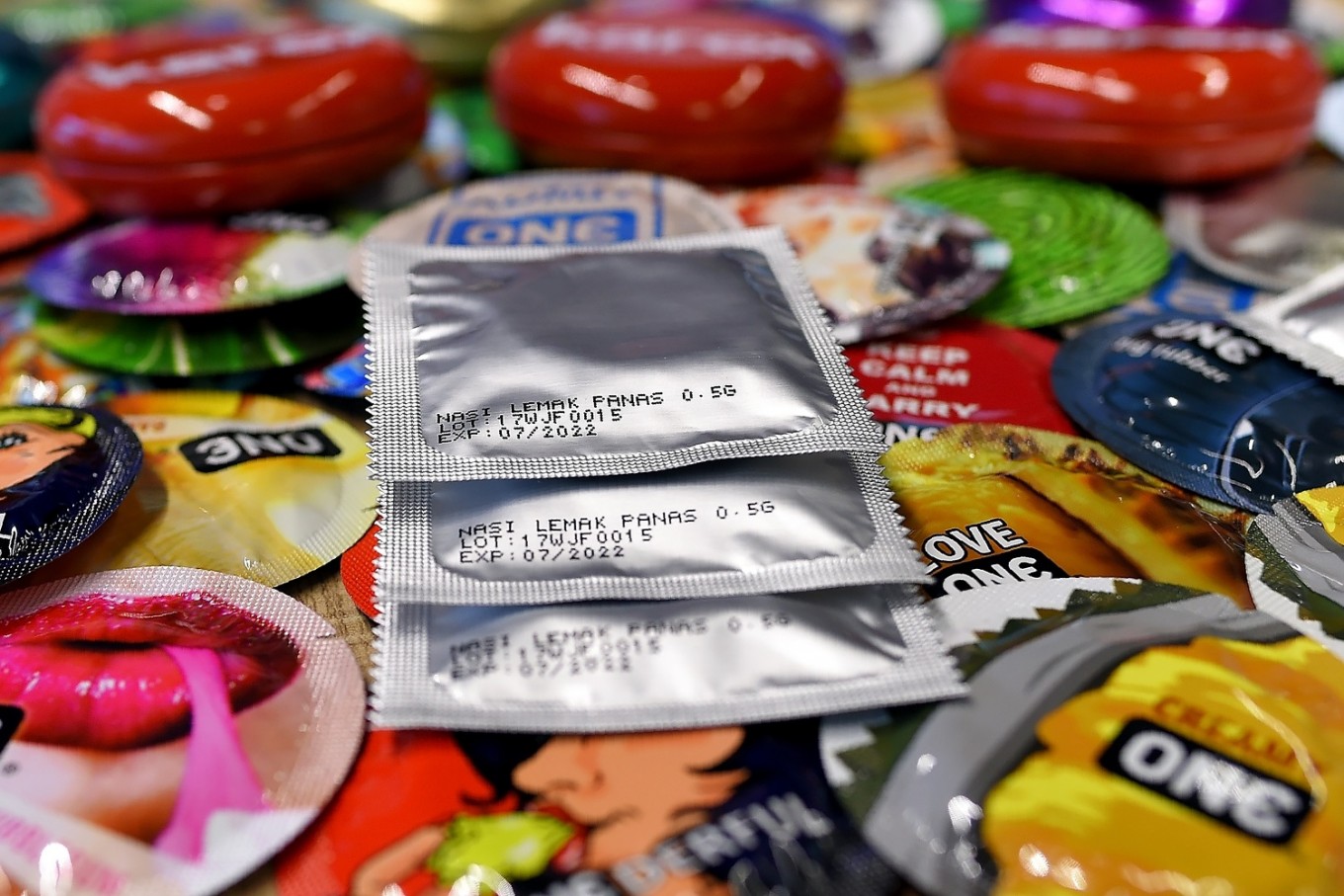 Birth control shots are the most popular form of contraception, while condoms, used by only 3.23 percent, stand in third place from the bottom after tubal ligation and vasectomy. (AFP/Manan Vatsyayana)
In big cities in Indonesia, condoms, which can be as cheap as US$1.19 a dozen, are as ubiquitous as convenience stores. Nonetheless, even with such easy access, making it the easiest form of contraception, cultural norms hamper the use of condoms.
A good sexual education and general awareness about the benefits of condoms appear not to help much in getting Indonesians to buy the rubbers. Being married, and thus having a license of sorts to have sex, also does not seem to help people overcome the cultural barrier.
Many men, and women even more so, find it hard to waltz into a convenience store and buy a pack of condoms without blushing in embarrassment.
Embarrassed to buy condoms
Jakarta resident Naufal, 26, who has been married for almost two years, said he never bought condoms at the same store and always made sure to buy it far away from his home, so that the cashiers would not recognize his face.
Naufal said he had developed this habit after an unpleasant situation. When he was a university student, he had bought condoms at a store near his campus. Later, when he was getting ready to leave the store, an elderly woman approached him and asked him whether he was a college student.
"When I said yes, she looked at me and said, 'be careful with your way of life, son'. I just nodded and quickly walked away," Naufal recalled.
Since that day, Naufal has set his mind on avoiding such awkward situations, even if that literally means going the extra mile to buy the rubbers.
His mother-in-law's wish for a grandchild as soon as possible is another factor.
"The cashiers know my wife and my mother-in-law, because they often shop there. If my mother-in-law finds out we have been buying condoms, it might spark drama, because she is expecting grandchildren from us," he told The Jakarta Post.
More difficult for the unmarried
The moral burden of buying condoms is heavier for those engaging in pre-marital sex. Too embarrassed to be seen buying condoms, a lot of couples choose to have sex without protection.
Sasha, 25, not her real name, and her boyfriend of three years, who live in Yogyakarta, have decided to no longer use condoms in the past two years. They decided to just go with their feeling; "now we know when to pull it out," she said.
"We used condoms in the first months of our relationship, but nowadays, we don't use them anymore. My boyfriend said he was too embarrassed to buy them at the store. He was afraid people would judge him or someone he knew would see him," she said on Sunday.
Sasha said they had tried to buy them online, because that was less embarrassing. However, recently they had decided it was easier to just stop using them.
Unintended pregnancies
In Indonesia, the proportion of contraception users among about 48 million fertile-age couples stood at about 60 percent in 2017, data from National Population and Family Planning Board (BKKBN) show.
Birth control shots are the most popular form of contraception, while condoms, used by only 3.23 percent, stand in third place from the bottom after tubal ligation and vasectomy.
The BKKBN's undersecretary for population control, Wendy Hartanto, said the low condom usage was caused by the cultural barriers, as many men think contraception is the responsibility of women.
Research on global trends published in 2014 in Studies in Family Planning shows that 85 million of 213 million pregnancies in 2012 were unintended. Of these, 50 percent ended in abortion, 13 percent ended in miscarriage and 38 percent resulted in an unplanned birth.
The same research shows that, in 2012, there were 8.3 million unintended pregnancies in the Southeast Asian region. Of that number, 57 percent were aborted, 12 percent were miscarriages and 31 percent resulted in unplanned births.
There's no specific data on unintended pregnancies in Indonesia, but 2016 data from the BKKBN show that there were about 4 million births each year in Indonesia, and an estimated 14 percent were unplanned.
Some of the unplanned births see the babies abandoned by their parents.
On June 21, a three-month old girl was found alive in Palmerah, West Jakarta, and a newborn boy was found on the same day in Pasar Minggu, South Jakarta.
On June 19, police in Magelang arrested a masseuse, Yamini, after they found 20 bags of fetus skeletons buried in her backyard. Yamini said she had offered such service for 25 years.
On June 18, a newborn was found dead wrapped in a plastic bag in North Lombok.
Authorities add to taboo
In several areas, the taboo is strengthened by government and religious authorities that frown upon condoms.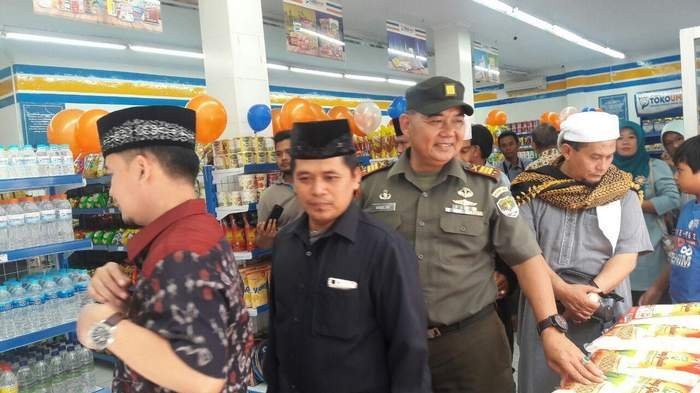 Depok authorities in West Java are seen at the inauguration of Toko Umat, a Muslim minimarket where customers will not find condoms, cigarettes or alcoholic drinks on sale, on March 18. (Warta Kota/Budi Sam Law Malau )
At Muslim convenience stores across Indonesia, condoms are not sold. One store in Depok, West Java, announced the reason: For the greater good of the Muslims.
Luwu regency in South Sulawesi forbids stores from selling condoms since 2015. In East Java, Surabaya Mayor Tri Rismaharini issued a policy in 2015 to sell condoms only to married couples.
Law No. 52/2009 on population growth and family development states that the government should provide contraception to "husband and wife" while considering "religious norms". Thus, the BKKBN is not allowed to distribute condoms to non-married people.
A culture of frowning upon pre- and extramarital sex had a positive side, BKKBN's Wendy said, but the negative side was a judgmental attitude toward sexually active singles.
"Purchasing condoms is still seen as an act of doing something sinful, even if it is to be used with the marriage partner," the BKKBN's Wendy told the Post.
Safe, responsible sex
The argument that using condoms also means safe and responsible sex does not carry much weight in Indonesia.
Several organizations, such as Dharmendra Kumar Tyagi (DKT) Indonesia, an organization that focuses on family planning services and HIV/AIDS prevention, has organized a campaign for condom usage, but they found it challenging.
"Many people still underestimate their risk and do not understand the importance of always using protection, either to prevent HIV infections or to plan their families," Pierre Frederick, deputy general manager of consumer healthcare at DKT International, told the Post on Monday.
Another challenge for condom usage in Indonesia, Pierre said, was the low distribution in rural and suburban areas, where much of the high-need population lives.
He said the use of condoms in Indonesia had not grown at the same speed as convenience stores had expanded. However, the omnipresence of convenience stores, including in small towns, was very important in increasing access to condoms for vulnerable groups, he said.
"Without access to condoms at convenience stores, many people would have difficulty purchasing condoms where and when they are most needed," he said.
Topics :
Join the discussions