Anti-Jokowi hashtag potent in West Java, says Golkar politician
News Desk

The Jakarta Post
Jakarta |

Sat, June 30, 2018

| 05:06 pm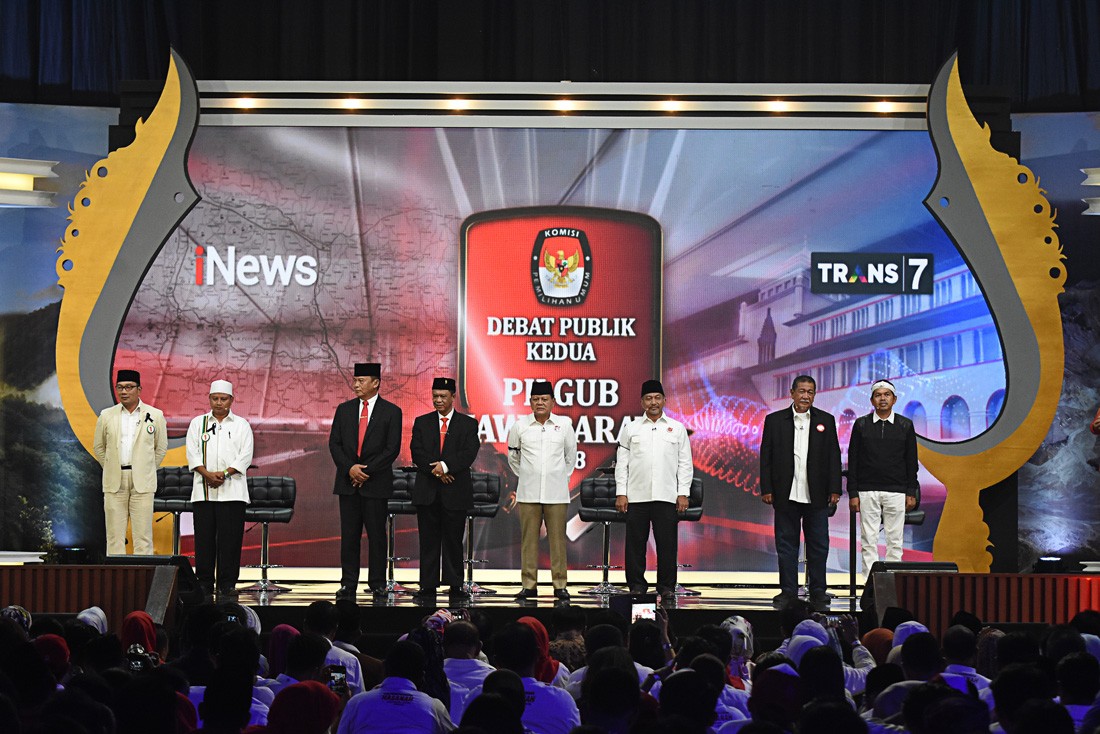 Gearing up: West Java governor and deputy governor candidates (from left to right) Ridwan Kamil-Uu Ruzhanul Ulum, TB Hasanuddin-Anton Charliyan, Sudrajat-Ahmad Syaikhu and Deddy Mizwar-Dedi Mulyadi attend the third candidate debate at University of Indonesia Hall in Depok, West Java, on May 14. (Antara/Indrianto Eko Suwarso)
West Java deputy gubernatorial candidate Dedi Mulyadi said he believed the hashtag #2019GantiPresiden (#2019ChangePresident) was responsible for his camp's loss in the province's gubernatorial election.
Dedi Mulyadi, a Golkar Party politician, ran as a pair with Deddy Mizwar in the gubernatorial election against pairs Sudrajat-Ahmad Syaikhu, TB Hasanudin-Anton Charliyan and Ridwan Kami-Uu Ruzhanul Ulum.
As quoted by tempo.co, Dedi said the hashtag increased the popularity of Sudrajat and Ahmad Syaikhu and could pose a threat for Golkar in the 2019 general elections.
Golkar is a member of the coalition supporting President Joko "Jokowi" Widodo to run for a second term in the 2019 presidential election.
Dedi said he was already aware of the threat since Sudrajat Syaikhu introduced the hashtag in a public debate in the University of Indonesia.
"This is clever," he said in Bandung on Friday.
According to Dedi, the effect of the popular hashtag could already be seen a month before the election, when the survey results showed declining popularity. "The number of those voting for me decreased from 43 percent to 37 percent. It also reduced the voters for Ridwan Kamil," he said.
A West Java quick count shows that Sudrajat-Syaikhu got 28 percent of the vote. "It was amazing […] In this situation, my camp suffered the most," he said, highlighting the fact that his running mate Deddy Mizwar was supported by the Democratic Party, which has yet to nominate a presidential candidate. (gis/ahw)
Join the discussions